Saturday, September 21st, 2013
Bulldogs second in WBL
Western Buckeye League Boys Golf
By Gary R. Rasberry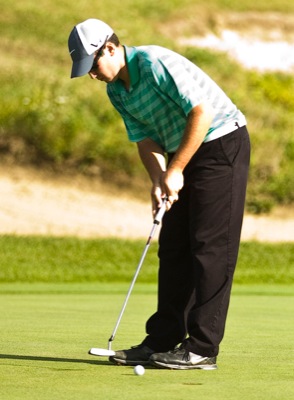 Compiled by Gary R. Rasberry

Celina's boys golf team posted its best finish in 40 years with a second-place finish at the Western Buckeye League boys golf tournament on Friday at Shawnee Country Club.
The second-place finish in the tournament allowed Celina to take the runner-up spot overall for the season.
The last time the Bulldogs finished that high was in 1973 and 1974, when Celina finished second in the fall 1973 tournament and then took second when the league played a spring tournament in 1974.
Bath, which won the regular-season title, won the tournament with a round of 322 to capture the overall WBL title. Celina was second with a 327 with Kenton third at 328 and St. Marys fourth at 339. The Roughriders finished fifth overall in the league after finishing tied for fifth in the regular season.
In the battle for Golfer of the Year, it came down to St. Marys' Carter Bowman and Elida's Trent Cutlip. Entering the tourney, Bowman led Cutlip 104 to 94 1/2 in the points standings based on finishes throughout the season in league matches.
Bowman finished with an even-par 72, tying with Kenton's Britton Hensel for low score. Bowman won in a playoff to take the tournament medalist honors and claim WBL Golfer of the Year honors with 164 points.
Cutlip finished with a 75 to claim third with Bath's Brady Garver placing fourth with a 77. Celina's Kaleb Kuhn shot a 78 to tie Wapakoneta's Drew Wayman for fifth place.
Joining Bowman on the first-team All-WBL list were Cutlip, Wayman, Bobby Crow of Wapakoneta, Colin Burke of St. Marys, Evan Hall of Bath, Kuhn, Hensel, Anthony McKee of Kenton, Garver, David Jenkins of Celina and Elida's Nate Cellar.
Jenkins finished the tournament with an 81 for the Bulldogs while Ryan Miller and Stephen Fleck each finished with an 84. Cory Guingrich shot a 94 with Jake Smalley rounding out the Celina scorecard with a 98.
Burke added an 80 for St. Marys. Hunter McMurray shot a 92 with Kyle Kiefer carding a 95. Tyler McMurray added a 99 with Jacob Hollman rounding out the Roughriders' scoring with a 103.