Wednesday, September 25th, 2013
Serving leads Cavs to victory over Bulldogs
By Gary R. Rasberry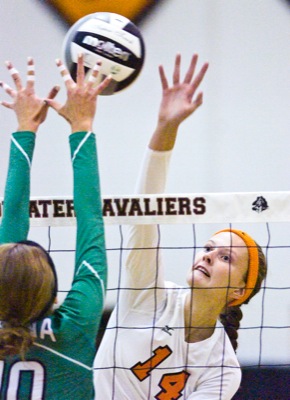 COLDWATER - After winning the first two games with relative ease, Coldwater's volleyball team had to rally to beat Celina in the third game to sweep the Mercer County matchup on Tuesday at The Palace.
The Cavaliers, ranked third in the state in Division III by the coaches around the state, improve to 14-2 on the season while the Bulldogs drop to 7-7.
After opening with a 25-19 win in the first game, thanks in large part to a six-point service run by Coldwater's Kelsey Rammel and three-point runs later by Lauren Leugers and Lindsey Kahlig, the Cavaliers again put the serve to good use in the second game.
Cavaliers' freshman Katie McKibben, who moved into the lineup after Courtney Bettinger was injured and Paige Hartings moved from setter to hitter, served up nine straight points, turning an 11-9 Coldwater lead into a 20-9 advantage. Celina managed just one more point before Coldwater took game two 25-10.
"That was the biggest thing," said Coldwater coach Mike Etzler. "We went on a bunch of big runs and we held them to 3-4 (points) at a time. In the third game, they had those (long) runs, which is why it was so tight, but we did a great job holding serve tonight."
Celina rebounded quickly in the third set, as Michaela Wenning, who was facing heavy blocking from Coldwater, and Madison Weininger registered big kills to help the Bulldogs build a 10-6 lead.
Coldwater rallied and tied the set at 14-all. The teams fought back and forth with the lead and were tied at 20-all before the Cavaliers got the lead for good at 21-20 on a Macy Reigelsperger kill. A Leugers kill and an error by Celina put Coldwater on top 23-20 before Celina was able to break the streak. However, Reigelsperger got the serve back with a kill to give the Cavs match point, with Denise Schwieterman hammering down the final kill for the win.
"Honestly, I'm at a loss," said Celina coach Amy Sutter. "We went though phases where serving wasn't so great or not finishing at the net or Mickey (Wenning) was having trouble (when) getting blocked. ... Coldwater is a nice team and they were doing a nice job."
"It's hard to beat someone 25-10, because you know they're going to fight," said Etzler. "We helped them out with a couple errors, but they played great defense and got the ball to their main hitters."
Coldwater was able to keep Wenning in check for the most part, holding her to eight kills in 25 attempts.
"She's going to get her kills. She's a great player and they're going to get it to her," said Etzler. "That was our focus, to stop her and play great defense around the blocks."
"We went back to some high 2-sets and slides, and she had more success that last (game)," said Sutter of Wenning. "I think we need to make those adjustments sooner."
Reigelsperger led the Cavaliers with 13 kills and seven blocks. Rammel and Kahlig each had two aces with McKibben setting the attack with 19 assists.
Both teams are in league play on Thursday. Coldwater travels to New Bremen while Celina will look to keep a share of the WBL lead against co-leader St. Marys at Murotech Court.