Friday, September 27th, 2013
Flyers all alone on top of MAC
D-IV's #1 ranked Marion Local tops #3 St. Henry
By Mark Ruschau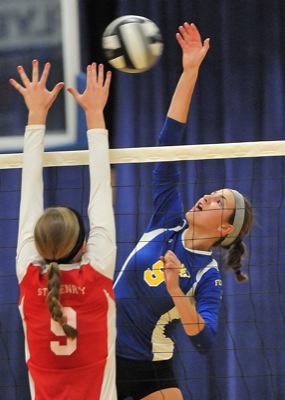 MARIA STEIN - Marion Local used a balanced hitting attack and strong defense to defeat St. Henry 25-15, 25-20, 22-25 and 25-12 during Thursday's matchup of Midwest Athletic Conference volleyball unbeatens at The Hangar
Division IV's top-ranked Marion Local improves to 14-1 overall and the Flyers remain perfect in the MAC at 6-0 while St. Henry, ranked third in D-IV, slips to 11-3 (5-1 MAC).
The Flyers' offensive attack was led by senior outside-hitter Gina Kramer, who hammered home a game-high 15 kills. What pleased Marion Local coach Amy Steininger was the balance of the Flyers' hitting attack as five others had at least one kill. Senior Brooke Winner recorded nine kills, Megan Heitbrink seven kills and Meg Schwieterman five kills.
"The big key for us tonight was that we did a good job of spreading out our offense," said Steininger. "It has been a lot of Gina Kramer for this season and tonight she led the team but Brooke Winner and Meg Schwieterman and Hannah Heitbrink also had kills tonight and it was nice to see us the spread the offense around and keep St. Henry guessing."
The other key to Marion Local's victory was how the Flyers' defense was able to contain St. Henry's offense. The Redskins recorded just 33 kills, 15 of which came in their lone victory during the third set. The Flyers did a great job of defending at the net as they recorded 13 blocks. Emily Mescher led the way with six blocks while Kramer and Heitbrink had three apiece.
"This was by far our best blocking match of the season," said Steininger. "Part of the success we had defensively tonight came because we were able to take them out of any offensive system, not letting them get a consistent first pass. If we are able to control that first pass, we can tell where they are going to be able to go offensively and we were able to set our blocks.
"We wanted to serve aggressively and pass aggressively and take them out of their offense and I thought we did a good of job of doing that for the most part," said Steininger.
In the other locker room, St. Henry coach Diana Kramer was impressed with the Flyers.
"It was really hard for us to get anything going offensively tonight," said Kramer. "Marion just beat us at the game of volleyball tonight. They beat us at the first contact, they served better than we did and they passed better than we did.
"As much as we wanted tonight it seemed like we were always a step behind," continued Kremer. "The game of volleyball begins with serving and passing and though people love to see the big hit and the big set, it comes to the pass and serve and Marion beat us at the simple game tonight."
Marion Local hits the road on Saturday, taking part in the Knight Invitational at Crestview High School. St. Henry is also in action on the road on Saturday, traveling to Piqua.