Tuesday, October 1st, 2013
Celina man's double-barrel shotgun may be linked to Hatfield-McCoy feud
By Amy Kronenberger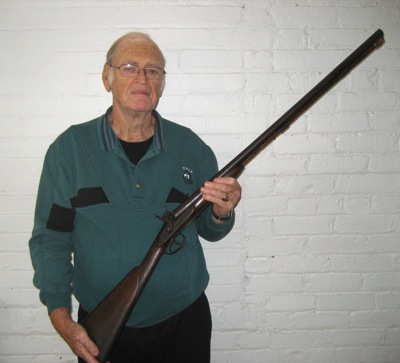 CELINA - An antique shotgun with a dubious history and a possible connection to the infamous McCoy family has found its way to Celina.
Celina resident Tom Baker recently purchased the double-barrel, hammer, black-powder, 12-gauge shotgun from a local man whose wife's maiden name was McCoy. The gun was first given to the couple by a McCoy relative from Pike County, Ky. - an alleged descendant of the notorious McCoy clan that feuded with the Hatfields.
The local man had offered to buy the antique Joseph Manton muzzleloader, which he found while helping clean an old tobacco barn. But the Kentucky woman said she would give it to him instead, Baker said.
"She said he could have it if he didn't bring it anywhere near her house," Baker said. "She said the gun had too much blood on it."
The gun sat in the man's closet in Celina for about 50 years before Baker heard about the firearm and offered to buy it. When Baker searched the gun for a serial number he discovered an 1896 Indian head penny and a small piece of paper with "Cap McCoy" written in pencil, hidden beneath the butt plate.
"I've never taken off a butt plate and found something like that," Baker said. "I researched and I looked everywhere for someone with the name Cap McCoy ... I finally found a picture that had 'Randall McCoy' written on it and 'Cap' written with it."
Baker has not found any other evidence linking the gun to the feud.
"It had to be owned by a McCoy, but that's all we got," he said.
Baker contacted several outlets to authenticate the gun, including Gold and Silver Pawn from the TV show "Pawn Stars," Mike Wolfe of "American Pickers" and a Hatfield-McCoy expert at University of West Virginia. However, no one returned his calls.
"I'm fine that 'Pickers' and the pawn shop didn't get back to me; they probably get 500 calls a day," he said.
Jack Lewis, an antique firearms expert and director of the firearms department at Cowan's Auctions, Cincinnati, said Hatfield and McCoy memorabilia have surged in popularity since the 2012 History Channel miniseries about the families. However, since the feud has no real historical significance, the gun has no historical value, he said.
"If the gun was known to be from a major battle like Gettysburg or Little Bighorn it would be worth something," he said. "But I don't see any real historical significance to it ... It's just folklore."
Baker disagrees. He thinks people are interested in the Hatfields and McCoys saga and would find value in the gun. He spoke with another antique firearms expert who recommended he take the gun to the Hatfield-McCoy Reunion Festival held every summer in West Virginia.
Besides the mysterious history, the gun could hold great monetary value. Lewis said there were two Joseph Manton gunmakers; the original one revolutionized firearms and was the top gunmaker of his day. The second Manton mass-produced firearms for the East India Trading Company, he said.
"The original Joseph Manton produced very high-quality items. I just sold a pair of his dueling pistols at auction for $175,000," he said, adding the other Manton guns were common in the 19th century and hold no real value.
Lewis offered to determine which Manton manufactured Baker's gun by viewing photos, but he turned him down and has decided not to pursue the matter further.
Baker said he would be willing to sell his antique shotgun for the right offer. However, he is equally happy to keep it as part of his collection.
"I don't mind if nothing comes of it," he said. "It's just been a lot of fun learning about it."