Thursday, October 3rd, 2013
Minster Oktoberfest Classic draws hundreds of runners from near and far
Man to make his 25th start despite cancer diagnosis
By Eric Adams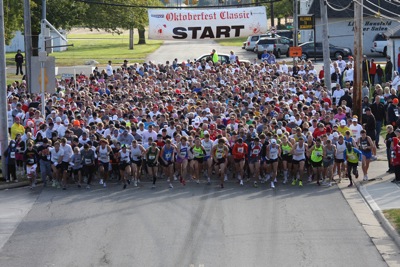 MINSTER - The unassuming agricultural landscape of southern Auglaize County may not attract many sight-seeing tourists, but it's enticing to thousands of runners and spectators who are expected to converge on Minster Sunday morning for the 35th-annual Oktoberfest Classic 10K.
Runners from across the nation regularly attend the event, some visiting from as far as Alabama and California, according to race director Deron Goodwin. A five-year veteran of his position, Goodwin anticipates about 1,800 participants this year and more than 3,000 spectators.
"Attendance is up," he said. "Over the last several years it has really taken off."
Goodwin said about 40 professional competitive runners pre-registered for the 2013 race, 26 of whom were born internationally and came to the U.S. in pursuit of a running career.
In 2012, elite Moroccan runners Julius Koskei and Malika Mejdonb each earned $4,000 by claiming Minster's male and female course records, respectively. Goodwin said those benchmarks may already be in jeopardy thanks to the highly competitive turnout anticipated.
Arguably more remarkable than the potential record breakers, however, is an inspiring athlete who lives closer to home. Springfield resident Pat Hearlihy, 61, has run the Oktoberfest Classic for 24 consecutive years. This year will mark a quarter century of uninterrupted participation.
Hearlihy's milestone achievement was nearly thwarted in April, however, when a doctor told him he had stage four lung cancer. It was a devastating and baffling diagnosis for the retiree, a longtime fitness and health enthusiast.
"I've never smoked, and ran five days a week for 30 years," he said. "To say the least, it was quite a shock to me and my wife."
Not one to wallow, Hearlihy decided early on he wouldn't allow the unexpected hurdle to prevent his goal. Equipped with a support system including his wife, close friends and a strong faith, he began walking five days a week for a minimum of two miles.
"All along I hoped that somehow, some way I would be able to run," he said. "God really saw this coming; he had me getting out of bed for 30 years, running and staying in shape."
The former finance director at Springfield Catholic Central School has kept busy elsewhere as well, spearheading a lung cancer support group in his community and fulfilling many bucket list goals such as visiting Hollywood and the Grand Canyon.
Goodwin and the Oktoberfest committee extended the race length by 30 minutes this year at Hearlihy's request, allowing him to maintain the walking pace his doctor recommended and still complete the race.
Minster's 6.2-mile course is the fastest in Ohio, according to Goodwin, and therefore one of the most popular for runners such as Koskei and Mejdonb.
Goodwin attributed speedy finishes (record times currently stand at 28:18 for men and 33:03 for women) to the course's remarkably consistent terrain. A diagram created by event organizers indicates an elevation difference of just 27 feet between the highest and lowest points.
He also cited the incentive of prize money, which again includes a $4,000 reward for male and female record-breakers as well as a cumulative $5,000 that will be distributed among the top-10 racers from each gender. Corporate sponsors, the vast majority of which are based in Minster, donated the winnings in addition to several door prizes such as iPads and electronic reading tablets.
The 35th annual Oktoberfest Classic 10K begins at 9:30 a.m. Sunday at Minster High School and finishes on Fourth Street. Race day registration will be available for $17 at the high school.

Oktoberfest highlights:
Friday
6-10 p.m. - arts and craft tents open
7-11 p.m. - Ken and Mary Turbo accordions at the gazebo

Saturday
Noon - Opening ceremonies at the gazebo
1 p.m. - Miss Oktoberfest Pageant at the Spass Platz
2 p.m. - Beer Tray Relays on Fourth Street
4-6 p.m. - Celebration Mass of German Heritage at St. Augustine's Church

Sunday
9:30-11:30 a.m. - Oktoberfest Classic 10K at Minster high school
10 a.m.-6 p.m. - A Walk Through History at elementary school gymnasium
2 p.m. - Oktoberfest Parade along Fourth and Main streets
Comprehensive schedule available at www.minsteroktoberfest.com.