Monday, October 7th, 2013
Flyers lose two starters in victory over St. John's
By Mark Ruschau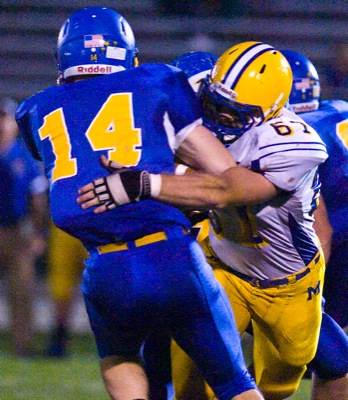 DELPHOS - Despite the loss of two of their best players because of injuries, the number-one ranked team in Division VII, the Marion Local Flyers, used a strong running game and stout defense to defeat St. John's Blue Jays 28-14 in Midwest Athletic Conference football on Saturday night at Stadium Park.
The Flyers lost the services of starting tailback Jacy Goettemoeller, who tweaked a knee during their first offensive series of the game. On the first series of the second half, Flyers' starting quarterback Adam Bertke came off the field for the remainder of the game after throwing an interception.
Out go Goettemoeller and Bertke and in come sophomore Aaron Nietfeld and junior Dustin Rethman, and the Flyers seemingly did not miss a beat. Nietfeld carried the ball 27 times for 83 yards and three touchdowns.
"If we had lost Goettemoeller and Bertke last year, we would have been in dire straits. But this year we are a year older," said Marion Local coach Tim Goodwin. "I told the kids that there will be games over the course of the year where you just have to gut them out and we did that."
Although he was not asked to throw a pass, Rethman carried the ball five times for 62 yards and a touchdown.
Defensively, the Flyers were facing their first power rushing, i-formation team of the season and allowed just 177 yards on 36 carries, with 67 of those coming on one carry. Marion Local did a great job of corralling St. John's tailback Tyler Jettinghoff, holding him to 68 yards.
Marion Local's defense also forced three turnovers.
"We were concerned coming into this game going against a power running team, since we are not very big and the defense did what it had to do," said Goodwin.
Marion Local built a 13-0 lead at halftime after a pair of short Nietfeld touchdown runs.
On the first series of the second half, Bertke was picked off by Jettinghoff, who returned the ball 43 yards for a score to cut the Flyers' lead to 13-7.
On the next Marion Local series, without Bertke, Rethman drove the Flyers 71 yards on nine plays with Rethman going the final 42 for the score. Rethman hooked up with Hunter Wilker on the two-point conversion to rebuild the lead to 21-7.
"That drive and that run by Rethman were huge plays as it turned out," said Goodwin. "That run by Rethman was the play of the game, if I had to pick one. Dustin is a good athlete, he is a good defensive back, obviously he has not had many reps at quarterback, but you have to do what you have to do."
Marion Local got a fumble recovery by Peyton Kremer at the St. John's 20-yard line, to set up an insurance score in the fourth quarter to seal the game. Nietfeld bulldozed into the end zone on a one-yard run.
Marion Local hits the road again on Friday night to take on St. Henry while St. John's is at home to play Fort Recovery.