Wednesday, October 9th, 2013
Flu data unavailable due to shutdown
By Shelley Grieshop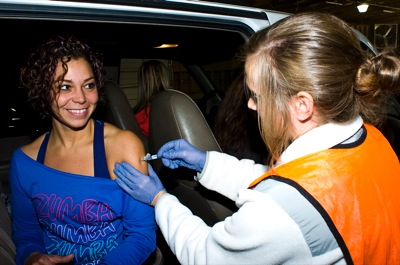 WAPAKONETA - The ongoing government shutdown may prevent local health officials from receiving seasonal flu information that could be vital for treatment.
Due to the limited shutdown, the Centers for Disease Control and Prevention - a federal agency - will not track U.S. influenza outbreaks or the types reported, or share with local health departments the drugs working best to treat it.
"We will be a bit handicapped not knowing the extent of the disease, its spread, any change in the virus and its response to anti-viral medications," Auglaize County Director of Nursing Cindy Jones said following a health board meeting Tuesday. "We keep our medical providers updated with this info."
The CDC was slated to begin publishing U.S. seasonal influenza data on its website Friday. The online site now states: "Due to the lapse in government funding, regular updates to the CDC influenza website, including the weekly FluView report and updates to guidance for clinicians, will not be possible."
The website (www.cdc.gov/flu) also notes the CDC will not analyze data or test submitted laboratory specimens, and support for outbreak investigations and response to public queries will be limited and not up to date.
Jones said it appears the government's influenza program "is on hold." The disruption does not affect the supply of flu vaccines, which appear to be sufficient in the area.
Despite the lack of guidance and support from the CDC, the Ohio Department of Health will continue to work with local health departments across the state on influenza issues.
Jones and area epidemiologist Deb Scheer will continue to monitor flu cases reported by local hospitals and physicians.
Mercer County health officials already have recorded several cases of flu, one requiring hospitalization.
Scheer said the government shutdown has impacted the Epi-X system she uses daily to get state and nationwide information on all types of outbreaks and treatment.
With flu season gearing up, it's bad timing for a government shutdown, she said.
"It really is a sad thing, especially this time of year," Scheer said.
Jones told board members Tuesday that seasonal flu symptoms mainly include fever, cough and a sore throat - typically not vomiting and diarrhea, which are signs of gastrointestinal flu.
"True (seasonal) influenza is an upper respiratory illness, mostly to the lungs," she explained.
Other symptoms of the seasonal flu are muscle aches, headaches and fatigue, Jones said.
"It can progress into pneumonia, especially for people without full wellness" such as those with compromised immune symptoms, she said. "It can be deadly."
In other business Tuesday, board members,
• heard first reading to adjust fees for pools/spas for 2014. Renewal costs will increase from $180 to $250 for the first pool/spa and from $90 to $125 for a second one at the same location.
County environmental health director Curt Anderson said the pool/spa program is losing a lot of money. He hopes the fee increases help show a profit. A cost methodology will be conducted in 2015 to see if more changes are needed, he said.
• heard first reading to adjust fees for tattoo/body piercing permits for 2014. Current fees are $75 across the board for various services including tattooing and body piercing. The new fees would range from $100 to $150 and include a new service for "time-limited" services for temporary vendors at fairs and other short-term venues.
• learned flu shots are available for walk-ins 8-11 a.m. Tuesdays at the Wapakoneta office; 1-3:30 p.m. today at the Council on Aging, St. Marys; and 3-6 p.m. Thursdays by appointment at the office.
• approved a contract for $1,200 with the Hospital Council of Northwest Ohio to facilitate a public health assessment process. The funds will be reimbursed by Ohio Public Health Partners.
• approved an application fee of $235 for membership in the Ohio Cooperative Purchasing Program, which allows the health department to purchase private vaccine at the same price as ODH.
• held an executive session to discuss personnel but took no action.
• learned the next health board meeting is 8:30 a.m. Nov. 12.