Wednesday, October 16th, 2013
Cardinals, Rangers advance after earning three-set sweeps
By Gary R. Rasberry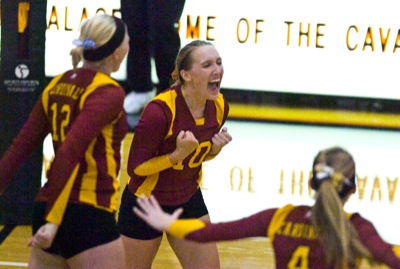 COLDWATER - New Bremen and New Knoxville made it through their first-round Division IV sectional volleyball matches on Tuesday night at The Palace.
The Cardinals fought off a feisty Minster team to earn a three-game sweep in the opening match of the night. New Bremen (15-8) moves on to face top-ranked Marion Local on Thursday night at 6 p.m.
In the nightcap, the Rangers cruised to a convincing three-set win over Spencerville, allowing just 18 points combined in the three games. New Knoxville (15-8) takes on second-seeded St. Henry in the nightcap on Thursday.

New Bremen 3, Minster 0
When the Auglaize County rivals met during the regular season, the Cardinals had to grind out a five-set win.
On Tuesday night, the first set looked like a sequel was in order as New Bremen was down 20-17 before coming back to tie it at 21-all after a Devon Heitkamp kill. The Cardinals followed with back-to-back Julie Brown kills and a Heitkamp ace to get to set point. The Wildcats got a Megan Kaiser kill to temporarily hold off the Cardinals, but Brown got the final kill to give New Bremen a 25-22 victory.
"First six rotations, we played really hard, passed really well and were aggressive," said Minster coach Cami Lefeld. "We were able to slow down their attackers a bit. Those middle six rotations, our passing broke down a little bit. We really allowed New Bremen to be more offensive and aggressive and do what they're good at."
From there, the Cardinals were in control, taking the lead at 9-8 in game two and pushing their lead to 20-11 en route to a 25-16 win.
"We talked about that coming out, playing strong," said Cardinals coach Theresa Jenkins. "Minster is such a great team. I think, especially how close we are in the rivalry, it made it even harder to play each other."
New Bremen was primed to make it a run-away win in the third set, getting out to a 20-13 advantage at one point before Minster (11-12) made a charge, cutting its deficit to three points at 21-18. The Cardinals did not allow the Wildcats to get any closer and Alyse Clune served up an ace to end the match 25-19.
"Before the game, we talked about not worrying about the score, just going point-by-point and always refocusing and getting back in there and not worrying about the errors and mistakes," said Jenkins.
While Brown provided a strong individual effort for New Bremen with 12 kills, Heitkamp added eight kills with Victoria Wente chipping in four kills giving the Cardinals a balanced offensive attack.
"I know Julie makes a lot of big plays for us," said Jenkins. "But we also had some solid blocks from Steph Brandt and Devon Heitkamp. I know hitting is everybody's thing, but a good solid block and hustle plays from our defense means just as much."
Kaiser and Sara Hosey each had eight kills to lead Minster.
New Knoxville 3, Spencerville 0
The Rangers dominated the match from start to finish in getting a 25-9, 25-2 and 25-7 win over the Bearcats (4-19). The first game was as close to a challenge as Spencerville could offer, staying with New Knoxville up to 4-3 before Kalyn Schroer put together a four-point service run. Haley Horstman then followed with six-point run on her serve and she had three aces.
In game two Spencerville served the ball just twice. Rachel Leffel served up the first seven points for the Rangers and then Abby Rohrbach added five more points. Meg Reineke closed the game out with 11 straight points, four coming on aces.
The final game featured another long service run for the Rangers, this time from Madison Lammers, who served up 12 straight, including five aces, to give New Knoxville a commanding 21-4 advantage. Spencerville had just its third multiple-serve rotation of the match to add a couple of points, but Horstman served up the final three points to close out the victory for the Rangers.
"We knew we would have to be maintaining consistency on our side of the court and playing well every single point," said Rangers coach Jill Roode. "At this time of the season, it doesn't matter who's on the other side of the net. You need to be ready to play every single point.