Thursday, October 17th, 2013
Coldwater, Parkway post sweeps to open tourney
Division III Volleyball Sectional at Lincolnview
By Gary R. Rasberry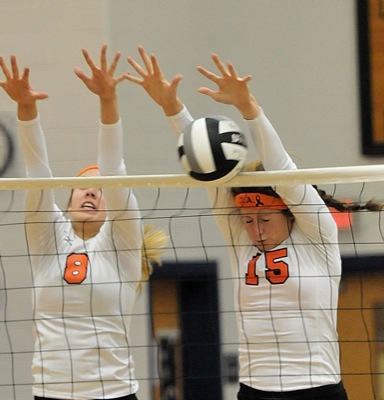 MIDDLE POINT - Coldwater and Parkway opened Division III volleyball sectional tournament play with easy victories on Wednesday night at Lincolnview High School.
The top-seeded Cavaliers got rolling right away and held Paulding to single digits in two of the three sets to get the three-set sweep.
The nightcap featured Parkway dominating the first two sets before holding off Delphos Jefferson in the third to post a three-set sweep.
Coldwater now faces Fort Recovery in one sectional final on Saturday at 6:15 p.m. with the nightcap pitting Parkway against second-seed Lima Central Catholic.
Coldwater 3, Paulding 0
Eschewing the bye that the Cavaliers earned as the top seed, the Cavaliers chose to play in the sectional semifinals to eliminate a nine-day break between matches.
"We wanted to get in here and play the first time," said Coldwater's coach Mike Etzler. "We didn't want nine days off (from their regular season finale last Thursday). Paulding played great defense, they sent the ball back every time. We had a lot of long rallies. It was good we controlled the ball against them."
The match proved to be a good tune up for the rest of the tournament as Coldwater won 25-7, 25-13, 25-9 to give the Cavaliers their third 20-win season in school history.
Long serving streaks helped the Cavaliers pull away from the Panthers in the blowout win. In the first set, Katie McKibben served up 12 straight points to turn a 10-6 lead into a 22-6 advantage for the Cavs. Game two featured shorter streaks as the Panthers hung tough for a short time although McKibben served up the first four points of the game.
In the final game, Etzler began to sub his regulars to give the bench some playing time. Still, Brooke Welsch served up eight straight points, Kim Hosbach served up four straight before being replaced mid-streak by Alysha Diller, who added five more service winners.
"We got everyone in. We had two sets of sisters out there (Paige and Erika Hartings and Brooke and Danielle Welsch), so that was kind of neat," said Etzler. "Was really proud of their effort. It was all about the team."
McKibben and Kelsey Rammel had four aces in the match while Macy Reigelsperger had 10 kills and three blocks.
Parkway 3, Delphos Jefferson 0
The Panthers wasted no time to gaining a quick advantage, jumping out to a 16-1 lead thanks to a 12-point service run by Halle Beougher. The Jeff-Cats didn't help themselves with numerous hitting errors and just one service rotation that lasted more than one serve as Parkway won game one 25-6.
Game two was a near carbon copy, with Parkway taking it with a 25-6 victory. This time it was Raegen Bransteter with a 10-point service run as Madison Roehm had six kills in the game.
"I liked our start," said Parkway coach Jeff Marbaugh. "The first two games, we made a lot of plays."
Parkway began to sub more in the third game to give the starters a break. The Panthers again jumped out with Roehm serving up five straight points to break a 5-all tie and Beougher then served up six straight to make it 19-9 in favor of Parkway.
The Panthers looked poised to put the game away up 22-11, but Jefferson made a modest run to cut its deficit to 22-15.
With Parkway facing match point at 24-10, Jefferson cut the lead to 24-20 before Bransteter hammered her seventh kill of the game and 11th of the match to seal the win for the Panthers.
"Third game we got a little spoiled," said Marbaugh. "We made mistakes we weren't making earlier. You never know, you have to keep playing. Jefferson made some plays and we answered back and got some plays at the end.
"We got some girls in to get their feet wet. Come Saturday, if we need some plays, we have them ready to go," added Marbaugh.