Monday, October 21st, 2013
Local runners perform well on muddy course
District Cross Country at Ottawa
By Bruce Monnin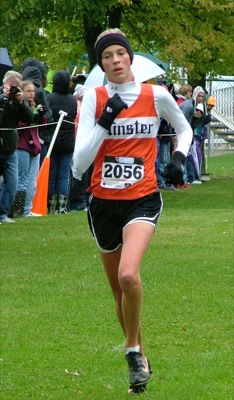 OTTAWA - All the local cross country teams gathered in Ottawa on Saturday to compete in six different district races (three each for the boys and the girls).
It appeared to be a beautiful and potentially fast course at Ottawa Park until the rain came and turned it into a muddy and somewhat dangerous race. For many it was a battle to stay on their feet along a slippery creek bank and down a steep wall of mud, which caused fits for many competitors on the day.
The local athletes adjusted to the conditions better than most as the boys from Celina, Minster, Coldwater, St. Henry and New Bremen all finished in the top four of their respective races to advance to regional competition next week. They will be joined in Tiffin later this week by seven local girls' teams from St. Marys, Celina, Minster, Fort Recovery, Marion Local, Coldwater and St. Henry.
Division II Boys
In the first race of the day the course was in the best condition, although it was run during the hardest rain of the day.
Celina's boys finished fourth as a team to qualify for next week's regional meet. They were led by Cole Mertz, who finished in fourth place individually with a time of 16:40. He ran seven seconds faster than he had at last week's Western Buckeye League meet. Mertz overcame getting bloodied from his hitting a tree during the race, which left abrasions on his shoulder but failed to keep him from contending with the overall race leaders.
Also finishing near the front with an improved time from last week was the Bulldogs' Drew Donovan, who finished 13th. Donovan found the mud already forming on the course to be both a handicap and an advantage.
"The mud early on really sapped my strength," said Donovan. "But I took the muddy hill better than most of the others around me."
Division II Girls
St. Marys and Celina both qualified for the regional meet in the Division II girls' race, as they finished in third and fourth, respectively, in the team standings.
The Roughriders were led by third-place finisher Kristen Dammeyer, whose time of 20:07 was just 20 seconds off the effort of the race winner and five seconds slower than her WBL race. Not far behind was teammate Amanda Dues, who finished 11th with a mark of 20:51. Dues also struggled with the course conditions.
"I almost went down a couple of times on the turns," admitted Dues, "but luckily not on that hill."
Celina's girls were led by the 12th-place finish of Lauren McDonough, who thought it was good racing weather.
"I actually had energy left to sprint at the end," said McDonough, who had difficulties of a different sort, but was helped out by Mertz. "There were two girls that went on the junior high course. I wasn't paying attention and I went with them but Cole yelled and directed me the right way."
Division III Boys
The Division III competition consisted of two races for the boys and girls.
The first race was won by Minster's boys, who edged Lincolnview by a mere four points for the district title. The Wildcats were led by race winner Dominic Slonkosky, closely followed by fourth-place Andy Albers and sixth-place Ben Butler.
Slonkosky, a senior, showed the experience of a wily veteran to claim his victory. He had a very effective method for dealing with the deteriorating course conditions.
"I handled the course by being behind other people," said Slonkosky. "Whatever they did that worked, I copied."
When the course footing became more solid near the end, Slonkosky made his move, taking the lead for good in the final 100 meters. "I thought I could win at the mile-to-go mark, where I usually make my final push. Then with about 200 meters to go, I kicked it in."
The other boys' race was dominated by local runners as New Bremen, St. Henry and Coldwater finished in second-through-fourth places, respectively.
Coldwater was led by Jon Wenning, who repeated his win from last week's Midwest Athletic Conference meet with a time of 16:44. Also near the top for the Cavaliers was Dan Seas, who finished sixth despite going down at one point during the race, and Jordan Obringer, who posted a strong time of 17:59 for 14th place.
St. Henry was led by Spencer Schulze, who finished fourth despite having a time almost a minute slower than last week.
"It was a giant mud pit," described Schulze. "Everyone was sliding everywhere. There were parts of the course where if you didn't slow down you would fall."
Helping secure the Redskins' trip to regionals were Justin Hoying in 11th place and Scott Knapke in 16th.
The second place New Bremen Cardinals were led with a fifth-place finish by Cort Speckman with a time of 17:13. But also finishing in the top 16 were Drew McClung (13th) and Nathan Harriott (15th), who were both led across the line a second earlier by 12th-place Brad Rammel.
"At one point it was so muddy I felt like I wasn't going anywhere," said Rammel. "However, near the end I put on a surge and was able to pass five guys just before the line."
Fort Recovery's Travis Sutter finished in 17th place with a time of 18:03, falling one place and three seconds short of earning an individual trip to the regional meet.
Division III Girls
The first Division III girls' race was dominated by Minster's girls. They posted the lowest score of the three races with 17 points and their seven runners all finished in the top 10. Leading the way with a time of 20:09 was Morgan Pohl, who also led the Wildcats' runners at last week's MAC meet.
In second place was Julia Slonkosky, who had finished in sixth place among the Minster girls last week.
"I was coming back from a bit of a mental breakdown in last week's race," said Slonkosky, who was also celebrating her 16th birthday.
Kaci Bornhorst was close behind in third place, followed by Lisa Barlage (fifth), Gabrielle Barga (sixth), Ali Borgerding (ninth) and Katherine Burke (10th).
Fort Recovery's Elle Sutter finished in the middle of Minster's pack, earning a seventh-place finish. Also helping to give the Indians a second-place finish in the team rankings was Angela Heitkamp (13th), who took a conservative approach to the muddy course.
"I just took the long way around all the corners. It helped avoid some of the slipping," said Heitkamp.
Julie Wendel rounded out the Fort Recovery runners near the front with a 14th-place finish.
Not long after Wendel came the entire Marion Local team. Courtney Albers led the Flyers' parade with a 15th-place finish, followed by Grace Gehle (16th), Sophie Heitkamp (17th), Beth Wolters (18th), Olivia Hemmelgarn (26th), Katie Heitkamp (30th) and Ashlynn Berning (32nd). The close bunching helped Marion Local finish third in the team standings.
The final race of the day was won Coldwater's girls. As usual, Sarah Kanney blazed the way for her Cavalier teammates. Kanney worked the course by paying special attention to her footing.
"The whole time you have to watch the ground and make sure you step in the spots that are less muddy," explained Kanney. "You really have to concentrate on staying up instead of concentrating on going fast."
Kanney went fast enough as the crowd at the finish line had to wait 47 seconds for her teammate Christina Seas to arrive in second place. After that, it was another 40 seconds until New Knoxville's Cassie Boyle (third place) completed her run. Also contributing to the Coldwater win were Kiersten Siefring in seventh place, Lauren Seas in 10th and Kelly Jutte in 15th.
St. Henry also advanced to regional competition by placing second in the team standings. Lindsay Schulze was the first Redskin to finish, placing eighth with a time of 20:42. Schulze was convinced, if not for the weather, she could have had her best performance of the season.
"I thought I could get my PR this week, but it was hard with all the mud," she lamented. "I just pushed through it and ran as fast as I could. That's about all you can do in this mud."
Two seconds behind Schulze was Courtney Kunk in ninth place. The threesome of Jenny Osterholt, Makayla Hoying and Breanna Schulze finished 17th-through-19th to seal St. Henry's trip to the regional meet.
New Bremen and Parkway missed qualifying as a team for regionals in fifth and ninth, however, each team will be sending an individual to Tiffin next Saturday. Aly Elking finished 12th with a time of 21:08 to earn the right to represent the Cardinals next week, while the Panthers' Allison Gaerke secured the 16th and final qualifying spot in the individual standings with a time of 21:46.