Tuesday, October 22nd, 2013
Coldwater keeping Ahrens in their hearts
Cavaliers' volleyball team paying tribute to bus driver with leukemia
By Gary R. Rasberry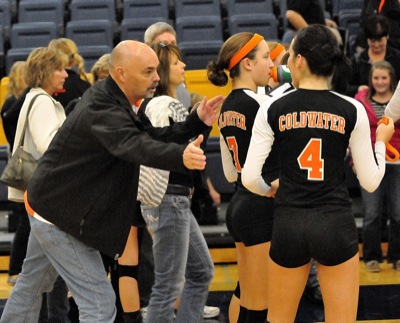 MIDDLE POINT - Team unity in volleyball is usually visible through matching hair ribbons, colorful socks or headbands.
Coldwater's volleyball team is taking the wearing of their headbands a step further, keeping the man who has driven them all over creation for matches the last few years in the driver's seat of their thoughts.
The Cavaliers' orange headbands sport the initials D.A. for longtime bus driver Don Ahrens, who's currently battling a form of leukemia. Early in the season, Ahrens was diagnosed with chronic lymphocytic leukemia, a treatable form of the disease.
The treatment schedule has kept Ahrens away from not only driving the bus to matches, but also away from even watching matches while he begins his treatment regiment at the James Cancer Center at The Ohio State University.
The team, paced by the seniors who have had Ahrens as their chauffeur since they were freshmen, were eager to do something to keep Ahrens in the forefront of their thoughts.
"He's traveled with us every game for four years," said senior Erika Hartings. "We felt like a good way to show him how much we care for him and show support is with headbands."
The choice of headband color wasn't just for school colors, as orange is also the color used in raising awareness for leukemia.
"One of the reasons we made the headbands is he could not be around people," said senior Macy Reigelsperger. "We knew if we made those headbands, he's there with us in spirit and people can see that."
The headbands were not the only way to keep Ahrens in their thoughts, as the team held a fundraiser during their Midwest Athletic Conference match against Marion Local, featuring raffles and bake sales to benefit Ahrens.
"We just like to show our support," said Hartings. It's good for the community and a good cause."
"He's always there with us," said Reigelsperger. "Our community is always supportive and behind each other."
Ahrens, who has three sons with wife Alice, has felt the support, referring to the team as "the daughters I never had" on his Twitter account.
When the team started play in the postseason this past week, they had an extra fan in the stands as Ahrens, who had been keeping up with the success of the Cavaliers through social media ,was able to return home from treatment for a break. Ahrens was in the stands at Lincolnview to watch the team win their first two postseason matches.
"He actually gave us a speech before we came up on the bus," said Hartings. "That was a really good pep talk. It got us excited."
"There's six more games," said Reigelsperger, noting the number of matches the Cavaliers could play if they get to the state title match. "We'll keep wearing these headbands and show our support."