Thursday, October 24th, 2013
Celina cruises past Bryan; St. Marys swept by Defiance
Division II Volleyball District at Leipsic
By Ryan Hines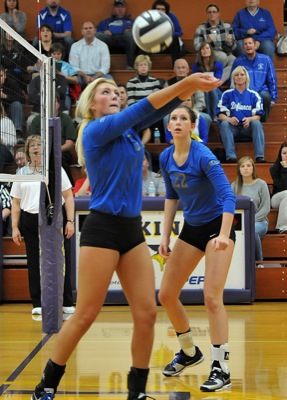 LEIPSIC - It will be a battle of Western Buckeye League Bulldogs on Saturday night for a Division II district championship after Celina and Defiance posted three-game sweeps during semifinal action on Wednesday night at Leipsic High School.
Defiance (14-10) rallied from a six-point deficit to win a thrilling first set 29-27 and then followed with 25-20 and 25-21 victories to knock off St. Marys (13-12) in the doubleheader opener.
Celina (17-9) then closed the night with a dominating 25-17, 25-11 and 25-15 victory over Bryan (15-9).
Celina will now take on Defiance in Saturday's D-II district final at 7 p.m. with the winner advancing to the Ontario Regional. Celina defeated Defiance in four games during their Sept. 9 regular-season meeting 25-22, 10-25, 27-25 and 27-25 at Defiance.
DEFIANCE 3, ST. MARYS 0
St. Marys couldn't have asked for a better start during the early stages of the first set as Defiance made three unforced errors and the Roughriders charged in front 5-0.
The Roughriders pushed their lead to 13-6 but Defiance then countered with an 8-1 run that gave the Bulldogs the lead for the first time at 15-14.
The teams engaged in a tight battle the rest of the way as the set was tied 12 times, including at 27-27, before Defiance closed out the win with a kill from Megan Sewell and a stuff block by Kelsee Bergman.
"Winning the first set was huge. It gave us confidence and we carried it through the final two sets," said Defiance head coach Brooke Shindler. "It was point-for-point a lot of the way but we continued to battle and never hung our heads when things weren't going well."
St. Marys squandered one set point and fought off three others before Defiance emerged with the victory.
"When you get a lead in the first game like we had, you have to put teams away," said St. Marys head coach Monica Vanderhorst. "We let the first game slip away and when you do that it makes a big difference. I think if we would have won that first game, it might have been a little different. Defiance deserved to win tonight."
Defiance carried the momentum into the second set as the Bulldogs used a devastating block to charge in front 16-4. Sewell (6-0), Laura Schrag (6-2) and Danielle McCoy (5-11) combined for five stuff blocks to key the surge.
"They have some outstanding hitters and I think that our block did a great job of putting the ball away," said Shindler. "We have the height and we should be able to do those things."
Vanderhorst was impressed with Defiance's blocking throughout the night.
"Their blocking was phenomenal tonight. We just couldn't put a ball away at the net," said Vanderhorst. "They controlled the net and when you control the net, you are going to win. We got a lot of swings but they didn't result in many kills."
St. Marys then responded by winning 11 of the next 13 points to pull to within three points at 18-15 but that was as close as the Roughriders could get.
Trailing two sets to none, St. Marys never gave up and played right with Defiance throughout the third set. It was tied 12 times before Sewell's kill and two stuff blocks gave the Bulldogs the lead at 23-20. The teams traded hitting errors before Defiance's Schrag blocked LeeAnn Bertke to give the Bulldogs match point. Sewell then hammered home her 12th kill of the night to complete the three-game sweep.
Defiance's advantage at the net was the key factor in its win according to Vanderhorst.
"We made way too many hitting mistakes with 24 errors and they won this match at the net tonight," said Vanderhorst. "We dominated the net when we beat them at their place earlier this year but that wasn't the case tonight."
Shindler admits that losing 17-25, 25-23, 25-17 and 25-23 on Oct. 1 was also a key factor for Defiance in upending St. Marys.
"Losing to them at our place was a motivation for us. They dominated at the net the first time that we played them but tonight we kept it tight and closed the block," said Shindler, who is looking to lead Defiance to its first district title since 2002.
Reagan Aller finished with 12 kills to pace St. Marys' offense while Erika Angstmann and LeeAnn Bertke each had eight.
CELINA 3, BRYAN 0
Celina started all three sets strong and impressed head coach Amy Sutter as the Bulldogs overwhelmed Bryan.
"I think that we played really well overall. We didn't have many errors and hit the ball really well," said Sutter. "I don't have any complaints with our play tonight."
The only adversity that Celina faced all night is when Bryan started the opening set with a 3-0 lead. However, Celina then went on a 9-2 run to build a comfortable 9-5 lead. Michaela Wenning and Emily Dorsten each had three kills to lead the Celina surge.
Bryan never got closer than three points the rest of the way as Celina balanced offense closed out the first set.
Celina led 7-4 early in the second set and then used two kills and a block by Beth Goettemoeller to ignite a 7-1 run that extended the Bulldogs' advantage to 14-5. Seven different Celina players then hammered home kills to close out the set for the Bulldogs.
Celina didn't let up in the third set as it built a 14-3 lead before substituting freely the rest of the way in the three-set sweep. Wenning had four kills and three stuff blocks to key the Bulldogs' strong start.
"When we had Mickey in the front row, we were able to make big runs to pull away," said Sutter.
Wenning led Celina with 11 kills and four blocks while Dorsten added nine kills and 20 assists. Madison Weininger and Goettemoeller each contributed seven kills while Megan Imwalle added five. Nine different Celina players had kills in the match.
"It was really nice to see us go out and spread the wealth on offense like we did tonight," said Sutter. "We got good passes and we were able to set all of our hitters with good looks and they put it away."