Monday, October 28th, 2013
Wilker's early goal earns Roughriders first district title
By Gary R. Rasberry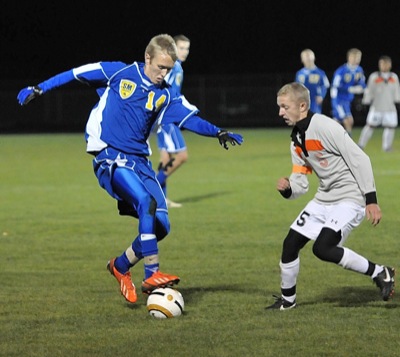 ELIDA - Zack Wilker's goal less than five minutes into the match held up under physical play as St. Marys defeated Elida 1-0 for their first Division II district championship on Saturday at the Elida Middle School.
St. Marys (15-1-3) heads to Graham Soccer Stadium in Findlay on Wednesday night at 7 p.m. for regional semifinal play against Maumee after the Panthers shutout Rossford 3-0 at Toledo Central Catholic on Saturday afternoon.
"First district title, first WBL (Western Buckeye League) title. First in everything," said a jubilant St. Marys coach Dave Ring after the presentation of the district championship trophy. "Most wins. I can go on and on about the firsts for St. Marys. It's just fantastic.
"This is Team 18. We've had our program for 18 years," continued Ring. "We build each team to get better and better. It's been a long haul and these boys deserve all the credit. Great group of guys."
The lone goal of the game came on St. Marys' first shot of the match. With 35:21 remaining in the first half. Wilker, the reigning WBL Player of the Year, got the ball off a free kick by Zac Nelson and put it past Garrett Brinkman.
"My heart's better, that's for sure!" said Ring of getting the early goal, a far cry from Wednesday's 1-0 win over Bryan in overtime.
From that point on, the game was a defensive and physical battle that saw both teams play a strong game. The key matchup was St. Marys' Detrique Mines against Simen Domass, keeping the senior away from the net.
"I told him we knew what he could do and I needed to put my best player (on Domass)," said Ring. "That's what we've done all year, put Detrique on the best player and see who's better.
"I said all year, I think we have the best defense in the state," said Ring. "That's 11 straight shutouts, 14 overall. That's a tremendous job."
Elida was limited to just four shots on goal, while the Bulldogs were able to limit St. Marys to just four more shots after the Wilker goal.
"Hat's off to Elida. What a great team," said Ring.