Monday, November 4th, 2013
Seas paces Cavs to third-place finish
State Cross Country Meet
By Bruce Monnin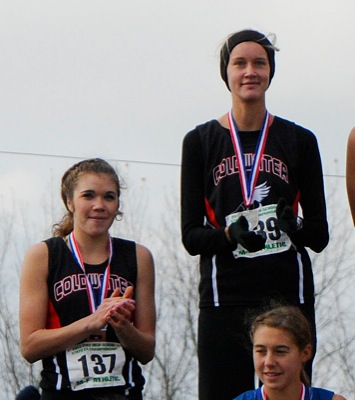 HEBRON - Four cross country teams and seven individuals from the Grand Lake area competed in the chilly and damp state cross country meet on Saturday at the National Trail Raceway in Hebron.
Coldwater's girls team finished as the Division III runners-up in the last two state meets and this year's goal was to claim the state championship.
The beginning of the race featured Coldwater's Sarah Kanney and Liberty Center's Brittany Atkinson battling for the race lead for the third consecutive year. At the one-mile mark, they were side by side (and not afraid to get a little physical with each other), nine seconds ahead of the rest of the field.
Kanney fell back a bit in the second mile and the chase for the lead was instead taken up by her Cavalier teammate, senior Christina Seas. Atkinson ended up winning the race by 12 seconds, but second- and fourth-place finishes by Seas and Kanney gave Coldwater a great start in the team championship race.
Lauren Seas then finished 18th with a time of 19:33, the same time she ran at last year's state meet. This was an unusual occurrence on a day when the course yielded slower times than normal. Kiersten Siefring followed in 38th place (19:58) and Kelly Jutte rounded out the Cavaliers' scoring with a 93rd-place finish (21:05). Coldwater's scoring was eerily similar to its performance at last year's meet, but the total of 113 points was bettered by Liberty Center's 98 and Gilmour Academy's 110.
"I'm happy with my second place," stated Christina Seas after the race. "I'm proud of our team effort but our goal was to win as a team. We gave our best effort, all that we had."
"Obviously we were looking for the gold, so we are a little disappointed," added Kanney. "But I am proud of how the team meshed together this year."
Minster's girls entered the race feeling it had an outside chance to win a state title. They fielded a team of six underclassmen, along with senior Olivia Enneking, who was making her third appearance in the state meet. The Wildcats, however, were not able to match the top teams and finished in fifth place for the second straight year.
Minster was led by freshman Morgan Pohl, whose 14th-place time of 19:17 earned her a spot on the podium and was two seconds faster than her previous-best effort at last week's regional meet. Pohl's goal was to finish in the top 16 to earn a podium spot but she had difficulties early on with the large number of fast runners in the field.
"I was boxed in right from the start," said Pohl about the beginning of the race. "It was hard to get out. But other than the difficult start I ran my own race."
The normal pack of Minster runners became more spread out than usual because of the increased competition. Kaci Bornhorst (19:58) was the second Wildcat to finish in 37th place, followed by Lisa Barlage (20:07 – 44th), Julia Slonkosky (20:18 – 62nd) and Ali Borgerding (20:32 – 74th).
In contrast to the other two local teams, St. Henry's girls arrived at their first state meet with hopes of gaining experience for the future. While finishing 16th in the team standings, all seven runners posted solid times similar to their performances at last week's regional meet.
One member of the team who will not have a chance to use this experience next year was senior Courtney Kunk. She took advantage of her one and only chance at the state meet by leading the team with a 61st-place finish in a time of 20:18.
"I am proud to finish my senior year here along with my team," said Kunk . "Plus I really liked the course."
Fort Recovery senior Elle Sutter was making a return appearance at the state meet for the first time since her freshman year in 2010 and finished in 55th place with a time of 20:16.
Division II Girls
St. Marys' Kristin Dammeyer was the only local runner in the D-II girls' race. In her first and only state appearance, Dammeyer found the competition was in no mood to mess around right from the start.
"I've never gone out that fast before. The adrenaline was crazy," said Dammeyer. "Since I hadn't started that fast all year, it was hard to keep the pace. It drains you."
Even with her fast start, Dammeyer was in 84th place after the first mile. She moved up in the standings during the second mile before finishing 63rd with a time of 20:06.
"I am sad this is my only shot, but happy that I made it. I wish I had another chance to do what I wanted to do here," said Dammeyer.
Division III Boys
St. Henry had the only local boys' team to qualify for the state meet and the Redskins were making their seventh consecutive appearance at the final race of the season. Their 13th-place finish in the team standings did not threaten the championship contenders, but Spencer Schulze made school history by completing the course with a time of 16:27. That was good enough to finish in 13th place, making Schulze the first Redskins' runner to reach the podium at a state cross country meet.
Though somewhat relieved the season was over, Schulze could not hide his joy with the results of his final race of the year.
"It feels straight up great, doing something no one else has done," he said with a grin.
St. Henry's five scoring runners were all juniors, so the Redskins should have a good chance to return to the state meet again next year. Scott Knapke followed Schulze to the finish line in 80th place with a personal-best time of 17:37. Next came Alex Hemmelgarn (99th – 17:52), Justin Hoying (111st - 18:01) and Ryan Barhorst (117th - 18:07).
Coldwater junior Jon Wenning competed as an individual, and although his time of 16:24 was 12 seconds slower than last year's performance, he finished in ninth place and was rewarded with a spot on the podium for the first time.
"It feels amazing to reach the podium," said Wenning. "I've wanted to get on the podium since my sophomore year. I am even more excited for next year about bringing the entire team here."
Part of Wenning's optimism for 2014 comes from seeing sophomore teammate Dan Seas finish in 19th place, just 13 seconds behind him. Two runners in the top 20 should provide a solid foundation for the Cavaliers to build upon for next year.
Like Coldwater, Minster also sent two individuals to the state meet. With senior Dominic Slonkosky struggling with illness during the week, it fell upon sophomore Ben Butler to carry the banner for the Wildcats. He did so admirably, finishing in 36th place. His time of 16:57 was 19 seconds faster than his freshman performance last year.
"We didn't have our team here, so it wasn't as much fun this year," lamented Butler. "However, it was nice the way my season went as my times really started coming down. I have to thank coach (Larry) Topp for that."
Division II Boys
The only local runner in the D-II boys' race was Celina's Cole Mertz, and unfortunately he developed pain in his Achilles tendon during the last week. Mertz decided to give it a go and he stayed with the back of the main pack throughout the early portion of the race. However, it was obvious all was not well with Mertz as he struggled to complete the course, literally collapsing on top of the finish line.
Mertz finished in 114th place with a time of 17:53. This was over a minute slower than the time he posted at the regional meet last week but from his effort it was obvious it was all he could get out of his injured body.