Saturday, November 9th, 2013
Opposition expressed to St. Marys sign plan
City council expected to vote on project at Monday's meeting
By Amy Kronenberger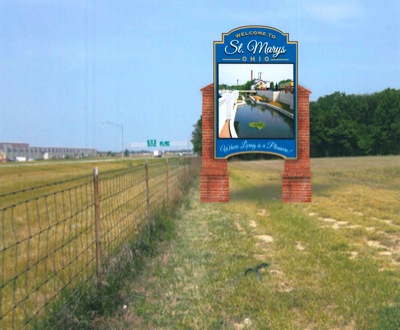 ST. MARYS - Most local residents surveyed oppose a planned $180,000 digital sign to be placed along U.S. 33 to promote the city.
The majority of residents polled on Facebook and in person by The Daily Standard said they were against construction of the 34-foot-tall structure and its large LED television screen because of cost, questionable effectiveness and motorist safety.
Of the 47 survey respondents, 39 spoke out against it, six were in favor and two were undecided.
Several St. Marys city councilors also have expressed opposition to the sign. Council members will vote on an ordinance to repeal its funding during their regular meeting at 7 p.m. Monday at the municipal building.
Most of the people surveyed said the project is too costly and the money should be used for more important things like fixing up downtown, helping clean up Grand Lake or creating safer walking paths to schools. Others questioned how safe a sign displaying events and announcements would be for motorists passing by the middle/high school complex.
Resident Kara Howell wondered how effective the structure would be when drivers are traveling at 65 mph.
"It would seem like a waste of money because people are going 65-70 (mph)," she said. "Who's going to be able to read the sign and see what's going on when they're driving that fast?"
The proposed sign - which would be paid for and maintained by the city through its capital improvement fund - would be located on the north side of U.S. 33, just east of state Route 66, on school property. The school would not be responsible for any of the costs or maintenance.
The sign would broadcast events in the city, emergency announcements and school news; it would not be used for commercial advertising, officials said.
City economic development director Susan Crotty, who spearheaded the idea for the sign, said she was given the option of a 12-foot or 15-foot television screen. The company supplying the sign assured her the smaller screen would be readable by motorists along U.S. 33, she said.
City law director Kraig Noble has noted that similar signs erected on Interstate 75 in the Dayton area are easily read from the highway.
Those in favor of the project said the city needs to spend money to make money and believe the sign would help draw in visitors and possibly new businesses.
"I think it could be a very good idea," resident Bonnie Chaffins said. "It lets more and more people know what's going on around here."
Resident Harvey Mobley agreed.
"I think it's a good idea," he said. "It would probably help; there are a lot of people traveling on that highway."
Crotty said about 16,000 vehicles drive past the location every day; 5.8 million travel by annually. The idea is to share with out-of-area travelers everything the city has to offer, she has noted.
Mayor Pat McGowan has said studies show outdoor advertising has an effective rate of 1 percent, which means the sign could draw 58,000 visitors to the city per year. It would take only one of those visitors to set up a business to make the sign worth its cost, he added.
The proposed double-faced sign would be blue and gold with a large brick post on each side and television screen in the center. Above the screen the sign would read "Welcome to St. Marys" and below the screen "Where living is a pleasure." The screen would be visible by both directions of traffic.
Resident Jerry Rupert said the sign may look nice but the city should make the safety and health of its citizens - especially the children - a higher priority. He believes officials should focus on constructing a safe pedestrian walkway over the state Route 66 overpass for students walking to school.
"In my opinion, the foregoing is an obligation of government to its citizens and comes before a substantial expenditure of funds on a discretionary - effectively community promotion - project with a questionable return-on-investment value," he said.
The state Route 66 bridge across U.S. 33 is outside city corporation limits and beyond city control. It is maintained by the Ohio Department of Transportation, which offers grants each year to promote safe walk paths to school. School and city officials last year applied for a grant to pay for construction of a walkway on the overpass but the state rejected the idea for being too costly.
Council first approved funding for the sign in the 2013 budget. But in recent meetings several council members voiced opposition to the project and requested an ordinance to repeal the funding.
Council member Dennis Vossler in September made the motion to defund the endeavor. He and other councilors thought the project would eventually be voted on for final approval and were upset when they learned that wasn't going to happen.
"We all thought originally it would come to council with an ordinance," he said. "In the past, when we had a project of this size, it was in its own ordinance so we could kick it around ... Some of us wanted an up or down vote because we weren't in favor of it and we wanted a chance to say so."
Crotty in September requested an easement from the board of education to use school land and noted she would bid the project out within within three weeks, if they approved. Vossler said that prompted he and other council members to question when they would be included in the plans.
"We all started wondering, this is starting, when will we see the ordinance," he said. "It got down to the bitter end before we knew anything about it."
Vossler and council members Ron Ginter and Bill Slemmons said they are against the sign because they believe the city should spend the money on more important things. Ginter and other council members would like to restore downtown before advertising it and have received many calls from residents who agree with them.
"I just think it's an awful lot of money for something on the four-lane," Vossler said. "It's a pretty sign and I appreciate what Susan (Crotty) wants to do ... but for a community our size, there are more important things to spend that money on."