Monday, November 11th, 2013
Flyers soar past Vikings for state championship
Division IV Volleyball State Championship
By Randy Bruns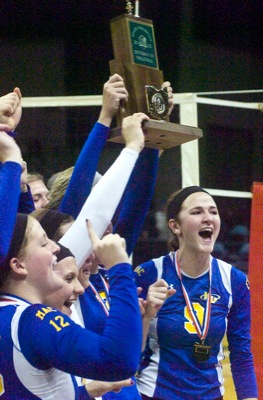 FAIRBORN - It's a sports adage that is used far too often, but sometimes even clichés are true.
"Defense wins championships" is uttered so much that it sometimes loses its meaning, but it could not have been any more true than it was in Saturday's Division IV volleyball championship at the Ervin J. Nutter Center.
The Marion Local Flyers turned in a glittering defensive performance to claim the school's second consecutive title and fifth crown overall in upending the Villa Angela-St. Joseph (VASJ) Vikings by scores of 25-16, 25-22 and 25-23.
It is difficult to quantify defensive prowess in volleyball because statistics alone don't tell the story. A dig is scored as a dig, no matter how much a defender had to contort her body just to get a hand on the ball. But when the opposing coach spends most of his post-match press conference raving about your defense it becomes evident that you just did something special.
"That was a phenomenal team out there," praised VASJ coach Mark Royer, who has seen his share of volleyball in his 17 years at the school. "They are truly state champions because of the defense they played. They are just so linked together. We didn't get on track right away and then finally when the game progressed we seemed to play a little bit better. But no matter how hard we hit the ball or how many open shots we had, Marion picked it up."
Marion Local coach Amy Steininger, who snared her fifth state championship in just her 11th year at the school, judged her team's defensive performance as the best she's seen this year.
"I just told our girls that this was the best defensive match we've played all year," stated Steininger. "We had some incredible saves out there from numerous players where I couldn't believe that they got the ball over with the angles that they had. Just diving on the floor and doing whatever they could to get the ball up. Fighting for every point. It was just really fun to watch our defense tonight because they did a great job."
The Flyers began the match by methodically taking apart the Vikings in the final stages of the first set. Though the Flyers led just 16-14 midway through, Katie Elking stepped behind the service line and knocked down four straight winners to push her team's lead to seven and force a Vikings' timeout.
Though the Vikings responded with two straight points, the Flyers finished with a flourish. Clara Wuebker smacked a kill before Hannah Heitbrink drilled one of her own and then stuffed a Vikings' kill attempt with a termination block to set up set point. Brooke Winner finished with a kill off an assist by Katie Elking to give the Flyers the opening set win.
The second set followed a different format, as Marion Local started off quickly but had to hold on late. Gina Kramer began the set with a kill before Allie Wendel served six consecutive winners for a 7-0 Marion Local lead. Another kill from Kramer later built the advantage to 18-10, but VASJ started to get rolling.
Junior outside-hitter Toni Beuck nailed five kills down the stretch for the Vikings, including three straight at set point, to make the score 24-22. Just as the Flyers' fans began to get nervous, though, a ball handling error by the Vikings brought the set to an anticlimactic end.
The final set can best be described as state championship caliber. The Flyers built a 15-9 lead after an ace by Wendel, but the Vikings quickly proved their mettle. After Wendel served one long, senior libero Casey Timko stepped to the service line and tallied five straight winners to knot the set at 15-apiece.
It was a see-saw battle from there, as the Flyers built a three-point bulge on two different occasions only to see the Vikings rally. The Flyers got to set point at 24-22 after a combo block from Heitbrink and Winner, but Danielle Hicks notched a kill to extend the match. Heitbrink finally continued her habit of match-winning kills when she smashed one to the floor that started a celebratory doggie pile on the Flyers' side of the net.
After the match, most of the talk centered on the Flyers' dominating defense.
"We try to base our team on defense," explained Royer. "You can frustrate a team by picking every ball up, which is what (Marion) did to us today. Every coach knows that defense creates more offensive opportunities."
Though the acrobatic digs in the back row brought most of the oohs and aahs from the fans, Steininger pointed out that Marion Local's defense actually started up front.
"I thought our blocking did a great job slowing balls down for our back row defense," said Steininger. "It wasn't just our back row. It was our front row defense as well and it starts with our blocking. They did a great job."
Even the Flyers' main hitting weapon acknowledged that her success at the net couldn't have happened without the play of the defense.
"Clearly our defense was digging balls like crazy and getting the balls to the setters so we were able to set almost anyone we wanted," said Kramer, who finished with a match-high 12 kills. "We just knew that we had to put the ball away."
The Flyers' latest state title was earned in large part due to the labors of the seven seniors that have given their blood, sweat and tears to continue the tradition of Marion Local volleyball.
"Each state championship is special in its own right, but this one is special because of these seven seniors," noted Steininger. "I don't think we've had a large group of seniors where they've all started and they all played well today. Plus they're all friends off the court and they've been playing together since they've been little girls. They said they wanted to win state since they were in junior high. These seven seniors really led us this year."
Senior libero Megan Wendel summed it up best.
"It is indescribable and I think we're just kind of in awe yet," said Wendel. "For us all being friends and playing since seventh grade together it's just kind of unbelievable that we won a state title together, too."