Wednesday, November 13th, 2013
Health workers have big role in flu prevention
By Shelley Grieshop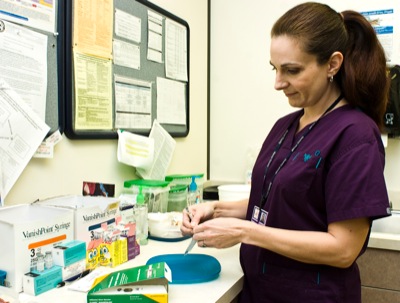 WAPAKONETA - Health care workers have a responsibility to prevent the spread of seasonal flu.
Auglaize County Medical Director Juan Torres during a health board meeting Tuesday said doctors, nurses and other medical professionals have a duty to get a flu shot and practice good hygiene since they frequently are exposed to the virus.
"We have to be role models for the community. It's time to walk the walk," he said.
He reminded the board of the words in the Hippocratic Oath: "First do no harm."
About 70 percent of health care workers protect themselves and their patients by getting the annual influenza vaccine, Torres said.
"But 30 percent do not," he added.
Health commissioner Charlotte Parsons said some health departments in Ohio require their staff to get flu shots. Torres said many hospitals ask workers and visitors to protect others by wearing masks if they exhibit cold or flu symptoms.
Board member Kim Prueter - executive director of Elmwood Assisted Living of New Bremen - asked if she should require employees with a cough to wear a mask while on duty.
"I strongly recommend that," Torres said.
Each year, 5 to 20 percent of the U.S. population gets the flu virus and more than 200,000 are hospitalized with flu-related complications. An estimated 20,000 Americans die annually from influenza.
The seasonal flu can occur as early as October and usually peaks in January and February. It is a contagious respiratory illness caused by flu viruses. Complications include pneumonia, ear or sinus infections and dehydration.
The Centers for Disease Control and Prevention describes current flu activity across the U.S. as sporadic in 34 states including Ohio.
Auglaize County Health Department Director of Nursing Cindy Jones said the hospital emergency room in St. Marys confirmed four cases in victims of all ages. None were hospitalized, she added.
"We're not really seeing it yet and I hope we never do," she said.
Mercer County reported only one hospitalization so far this fall due to the seasonal flu. The case was reported in early September, according to county director of nursing Julia Shaffer.
The board also on Tuesday,
• heard second reading to adjust 2014 fees for pools and spas. Renewal costs will increase from $180 to $250 for the first pool/spa and from $90 to $125 for a second one at the same location.
• heard second reading to adjust fees for tattoo/body piercing permits administered in 2014. Current fees are $75 across the board for various services including tattooing and body piercing. The new fees would range from $200 to $225 and include a new category - time-limited - for temporary vendors at fairs and other short-term venues.
Last month's first reading of tattoo-body piercing permit fees ranged from $100 to $150. The amounts were increased this month after new plan reviews were nixed as a service, county environmental health director Curt Anderson explained to the board.
• approved a 14-day order for Stacey Stephens, 814 Edwards St., St. Marys, to provide proof her St. Bernard was vaccinated for rabies. The dog reportedly bit someone.
• learned the health department currently has 864 clients in the Women, Infants and Children program. The number has decreased from more than 1,000 in the last two years, board members noted.
• learned 45 child car seats were dispersed in the last year through the county's Ohio Buckles Buckeyes Program.
• learned the health department recently received an additional $13,526 in Help Me Grow Home Visiting funds.
• learned area health officials gathered last week for the first meeting of the Community Health Improvement Plan process. The CHIP - which assesses health-related services in the county - is expected to be finalized in March, Parsons said.
She told the board she wants the new assessment to be utilized in a better way than others in the past.
"I do want it to be something meaningful and useful, not just a piece of paper," she said.
• learned the next board meeting is 8:30 a.m. Dec. 10.