Saturday, November 16th, 2013
Celina bank robbed
Warrant issued for man wanted in local heist
By Daily Standard Staff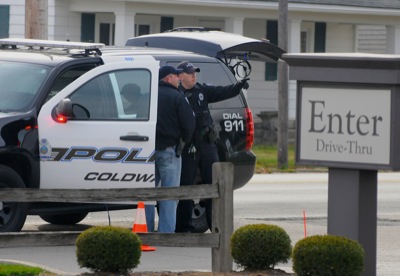 By KATHY THOMPSON and MARGIE WUEBKER
newsdept@dailystandard.com

CELINA - The Peoples Bank Co. was held up by a 22-year-old man on Friday afternoon, according to the Celina Police Department.
An arrest warrant was issued for Cody J. Maxwell, no address listed, who was still at large as of press time.
Maxwell reportedly entered the bank at 309 W. Logan St. shortly before 2:15 p.m. and demanded money from a teller, indicating he had a weapon, interim police chief Cal Freeman told the newspaper.
The suspect fled on foot with an undisclosed amount of cash, heading westbound. At some point, authorities believe he was picked up by a silver/gray minivan.
"We believe there was at least one other occupant (in the minivan)," Freeman said.
Officers initiated an immediate search and were joined shortly by Sgt. Kyle Dues of the Coldwater Police Department and his K-9 unit Vargo. They were unable to track the suspect.
Agents with the Federal Bureau of Investigation in Lima are actively working with the police department in its investigation of the robbery, Freeman said.
A bulletin regarding the robbery was issued shortly after the incident to other law enforcement agencies in the area, along with a description of the suspect's vehicle.
Freeman said his officers did not stop any vehicles matching the description, but did not know whether other departments did.
The bank remained closed after the robbery. Authorities released the scene around 5:30 p.m.
The investigation is continuing. Freeman urges anyone with information about the robbery or Maxwell's whereabouts to contact the Celina Police at 419-586-2345 or the Lima FBI office a 419-223-7761. 
Freeman did not know if a Celina bank had ever been robbed before Friday's incident.