Monday, November 18th, 2013
Chippewa no match for Coldwater
Division V Regional Semifinals at Tiffin
By Gary R. Rasberry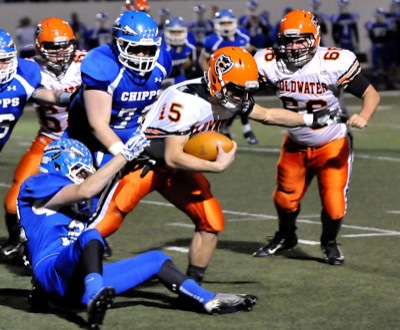 TIFFIN - Two scores in less than a minute at the end of the first half capped off another big night for the Coldwater football team as they advanced to the Division V Region 16 finals with a 49-21 win over Doylestown Chippewa at Tiffin National Field at Frost-Kalnow Stadium in Tiffin.
The Cavaliers (10-2) advance to Saturday's regional final against the Huron Tigers at Donnell Stadium in Findlay. Huron (9-3) defeated Loudonville 17-13 at Medina High School. Chippewa, which was 1-29 during its three previous seasons, ends its first playoff run since 1999 with a record of 9-3.
Once again, Coldwater got the offense rolling early and shut down the Chipps' offense with a strong defensive effort.
It was 14-0 in favor of the Cavaliers after one quarter. Brody Hoying hit Adam Klosterman for a 13-yard score and Hoying then drove the Cavaliers downfield and scored on a three-yard run.
"That's been the protocol the last 3-4 weeks," said Coldwater coach Chip Otten. "We get off to a real good start. The last two weeks we played teams that don't know us very well and don't know what we do. We've got good athletes and got things clicking. ... We just wanted to execute and play hard."
Coldwater was on top 21-0 with under two minutes left in the opening half when the Cavaliers put the game out of reach. Drew Otten scored on a 29-yard run with 1:25 left on the clock in the first half. The Cavaliers' defense then pinned the Chipps deep and used their timeouts to force a punt, which Klosterman returned 42 yards for a first-and-10 from the Chippewa 26-yard line with 49 seconds remaining in the first half. Hoying then fired his second touchdown pass of the night to Derek Thobe on the first play of the drive, covering 26 yards, to give Coldwater two touchdowns in less than a minute and a 35-0 halftime lead.
"It basically breaks them," said coach Otten of Chippewa after the scores. "We scored two real quick. Twenty-one (points) is maybe a possibility, but 35, there's not much of a chance."
While the offense was explosive, Coldwater's defense did well to shut down Chippewa's shotgun Wing-T offense. The Cavaliers' first-team defense slowed down running backs Bo Whetsell and Nick Zollinger and put the pressure on Chipps' quarterback Bailey Breitenstine. The Cavs sacked Breitenstine three times in the first half for a total of negative 34 yards and also added two interceptions.
"That was part of it: to do your job and stay disciplined, because they do a lot of the misdirection and counters," said Otten. "... We did a good job there."
Chippewa coach Mike Bohley was impressed with the Cavaliers' defense.
"Their athleticism is ridiculous!" said Bohley. "Their defensive linemen were chasing down our skill (players). It was just nuts.
"We haven't had that (defensive) pressure all year. They're splitting our double teams with their defensive end like it was nothing. We didn't see that in our league."
Coldwater got two more scores on runs from Mitch Schoenherr and Chris Post before clearing the bench for subs to get some playoff playing time. The Chipps scored three times in the final 14:08 of the game, all on the Cavaliers' second-string defense.
Coldwater closed the night by getting down to the Chipps' four-yard line before kneeling down three straight times to end the game.
Hoying was efficient with his arm and legs. He rushed the ball 12 times for 100 yards and two scores and completed 8-of-11 passes for 143 yards and two scores.
"That Hoying kid is pretty darn good," said Bohley. "... He's special. The scary thing is they're all juniors, including (Hoying). I'm sure we'll be seeing them in Massillon or Fawcett (Stadium in Canton) this year and absolutely next year."
Thobe had three catches for 80 yards while Drew Otten had 61 yards rushing.
Bo Whetsell led the Chipps with 97 yards and a score while Nick Zollinger had 71 yards and a touchdown. Breitenstine was 8-of-20 passing for 83 yards. Tight end Stoney Epling, who had over 1,000 yards receiving this season, was held to one catch for 24 yards.
TICKETS - Coldwater will sell tickets for Saturday's game on Wednesday and Thursday at Westown Shell and at the school on Friday during school hours and from 10-11 a.m. on Saturday.
Tickets are $7 presale and $9 at the gate, with the school receiving a portion of the presale.