Tuesday, November 19th, 2013
Residents want safety improvements at deadly Celina-area intersection
By Shelley Grieshop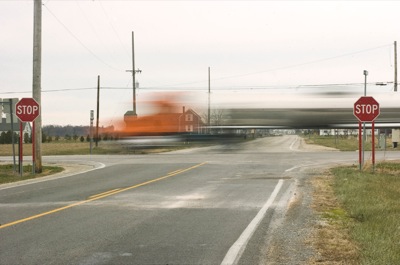 CELINA - Tom Cullinan has grown accustomed to the sound of screeching metal and emergency sirens.
He resides 50 yards from the intersection of state routes 118 and 29, west of Celina, where two people lost their lives in traffic accidents since June. "Something needs to be done. It's a terrible intersection," Cullinan, 62, said.
Three fatal crashes and about a dozen other serious collisions have occurred at the site during the seven years he's lived nearby, he said. He wants to know why the state isn't doing something to improve motorist safety.
"I think there needs to be a stop light or a flashing red warning signal or something out there," he said. "At the very least, a cautionary light of some kind. Anyone who thinks it's not needed, is uninformed."
Stop signs are posted for north/south (state Route 118) traffic; east and west (state Route 29) motorists have the right of way.
Ohio Department of Transportation engineers are "collectively gathering data and will study this intersection to see what further safety measures can be taken," said Denise Heitkamp, program administrator for ODOT.
"We want everyone to be assured that the Ohio Department of Transportation takes motorist safety very seriously," she said.
Crews in the past year have upgraded all traffic signs at the site and in July 2012 new intersection warning signs were added to make the location more visible, she added.
From 2008 to 2012 there were eight crashes at the junction of the state routes; four involved injuries and one was a fatal, ODOT data showed. The accidents occurred at various times of the day. A variety of factors were listed as causes such as motorists unfamiliar with the area and distracted or sleepy drivers, officials said.
Mercer County Sheriff Jeff Grey said his office also is reviewing crash data from previous years following the recent fatal accidents in June and last week.
Area residents told the newspaper another problem may be that southbound motorists on state Route 118 become too complacent while traveling nearly 10 nonstop miles from the village of Rockford to state Route 29.
Eight days ago, a 56-year-old Portland, Ind., man was killed when his eastbound vehicle collided with a southbound semitrailer that did not yield at the stop sign. On June 27, a 36-year-old Maria Stein woman was killed when her southbound vehicle crashed into a semitrailer after she, too, failed to stop at state Route 29.
Linda Hole, who lives about three miles from the crossing, said she'd like to see solar flashing lights bordering the stop signs or rumble strips placed on the road.
"I know when I'm driving (and) hit those rumble strips, that gets my attention," she said. "They're good, too, for when the visibility isn't that great, such as when it's snowing hard or foggy."
Rumble strips have never been used at the intersection, according to ODOT.
Hole said she's also concerned about a "dip" on state Route 29, east of the intersection, that provides a blind spot for motorists approaching from the south on Burkettsville-St. Henry Road (which becomes state Route 118 to the north).
Wade Diehl of Rockford lives northwest of the intersection and also would like to see some type of traffic light added to alert drivers. He believes the installation a few years ago of a flashing stop light at the intersection of state Routes 49 and 707 helped reduce accidents.
"I'm just wondering why this intersection has not been addressed," he said.
John Parker, a resident of Fort Wayne, Ind., and his family frequently travel through the intersection when visiting relatives in Coldwater and Fort Recovery. The journey nearly always reminds him of the horrific crash that impacted the Biersack family of Coldwater on March 3, 1994.
Cletus Biersack, who at the time was superintendent of Coldwater schools, and his daughter, Robin, were killed when he drove southbound through the intersection without stopping. Biersack's wife, Christine, died in May 2005 from injuries sustained in the same accident.
Parker, 39, believes some type of flashing light or other attention-grabbing tool is needed soon before more people are harmed.
"I think they should do something ... the amount of accidents over the years should be enough to show a need," he said.