Thursday, November 21st, 2013
County to buy group home for $1
Commissioners yet to decide what will become of property
By Shelley Grieshop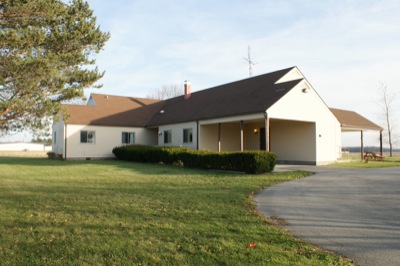 CELINA - County officials plan to spend a buck to purchase a state-owned dwelling that formerly housed adults with developmental disabilities.
The five-bedroom home is one of only a few buildings the state owns on leased land, officials said. Mercer County owns the 1.308-acre property at 4874 Mud Pike and has leased it to the state since April 2006.
The lease agreement between the county and the state doesn't expire until May 2019, but includes a clause that voids the document if both parties agree.
Mercer County Commissioners on Tuesday approved the offer by the state to buy the home for $1. The state also must formally approve the deal before ownership is transferred.
The home, owned by the Ohio Department of Developmental Disabilities, formerly housed eight male clients of Mercer Residential Services. In June, the occupants moved to a newly built facility at 436 W. Wayne St., a former Mersman furniture company parking lot.
Commissioners must decide what to do with the Mud Pike home after gaining ownership. It could be demolished, sold or leased by other county agencies, commissioner Jerry Laffin said.
The county owns the land surrounding the home, as well as a nearby lot where a new county engineering complex is under construction.
Laffin said commissioners have received several calls about the property.
"It's in pretty decent condition," he noted.
Commissioner Rick Muhlenkamp said the home, which includes a basement, is "sound."
"Some people feel its too good to tear down," he said, adding local interest in the building drove commissioners to buy it.