Monday, November 25th, 2013
Marion Local's defense stymies Triad in shutout
Division VII Region 27 Regional Championship Game
By Mark Ruschau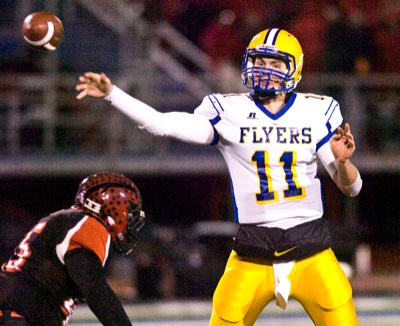 PIQUA - During week three of the postseason, the Marion Local Flyers got back to what their coach Tim Goodwin called "Marion Local football."
The number-one ranked Flyers used scores by their special teams and defense in the opening seven minutes and then used a dominating defensive performance to key a 50-0 shutout victory over the Triad Cardinals in the Division VII Region 27 championship game at Purk Field in Alexander Stadium.
Marion Local (13-0) will take a 20-game winning streak into the state semifinals Saturday night at 7 pm. at Harmon Field in Wapakoneta against Midwest Athletic Conference rival Delphos St. John's. The Blue Jays (9-4) captured the Region 24 title with a 33-0 conquest over Arlington at Lima Stadium.
The Marion Local defense, which gave up 28 points and 300-plus yards in a win over Covington last week, came out with vengeance against Triad. Not only did the Flyers pitch a shutout but they also limited the Cardinals to just 112 yards on 40 plays (an average of just 2.8 yards per play) and five first downs. The Flyers also picked off four passes and recorded six tackles for a loss.
"We wanted to get back to Marion Local football, physical ball. Hopefully we can go back and watch the film on Monday and be pleased with the way we played," said Goodwin. "We worked hard all season and we have been fortunate that all our hard work has paid off."
Triad coach Peyton Prince was impressed by what he saw from the Flyers.
"We saw the old MAC truck roll over the Triad Cardinals tonight," said Prince. "Coach Goodwin does a great job. I was so tickled that he called the dogs off in the second half. That was a class act and they are a class team. Some of the best players that we have seen."
Marion Local's defense set the tone on the second play from scrimmage in the game as senior cornerback Nate Nagel stepped in front of a Doug Lowe pass and returned it 28 yards for a touchdown to put the Flyers up 7-0 just 35 seconds into the game.
After a Peyton Kramer kickoff into the end zone set up the Cardinals at the 20-yard line, the Flyers' defense attacked as Kramer and Chris Lochtefeld each had tackles for a loss to pin Triad at its own 15-yard line and forced a punt.
On their first possession of the game, the Flyers moved the ball to the Triad 19-yard line, but the drive was stalled by a penalty.
Taking over the at their own 19-yard line, Lowe threw three straight incompletions, the last of which was broken up on a nice play by Dustin Rethman. On fourth down, disaster struck the Cardinals as the snap from Andrew Zirkle sailed over the head of punter Scottie Instine and out of the end zone for a Flyers' safety to put Marion Local on top 9-0.
"That interception and the safety in the first couple of series really set the tone early," said Goodwin. "We we were able to jump on the out route and pick it off. That really got things going for us early in the game."
"Those two plays really knocked any wind that had right out off our sails," said Prince. "Hats of to them to make the plays that had to be made. They made plays that championship teams make and they look well on their way to a third straight state championship."
Taking the ball at midfield after the free kick, it took Marion Local just one play to get on the scoreboard again as reserve tailback Aaron Nietfeld took a hand off and motored 50 yards for a score.
The Flyers completed a great first 12 minutes of play by scoring their third touchdown of the opening period. Marion Local marched 44 yards in five plays with Adam Bertke hooking up with running back Jacy Goettemoeller on a 22-yard screen pass for the score.
Offensively, the Flyers had a balanced attack as they rolled up 415 yards of total offense, including 203 yards on the ground. Aaron Nietfeld led the rushing game with 81 yards on seven carries and a score. Goettemoeller added 60 yards and three touchdowns on 12 carries while Ethan Nietfeld gained 50 yards on 11 totes and added a score.
Bertke had an efficient night passing as he completed 17-of-23 for 212 yards and a score without an interception.
TICKETS - Tickets will be on sale for Saturday's game from Tuesday until Saturday at Chickasaw Quik Mart. Tickets will also be on sale Wednesday before school at the elementary and during the school day at the high school.
Tickers are $8 presale and $10 at the gate.