Monday, December 2nd, 2013
Coldwater advances to fifth straight state championship game
Cavs, Flyers punch tickets for Massillon
By Gary R. Rasberry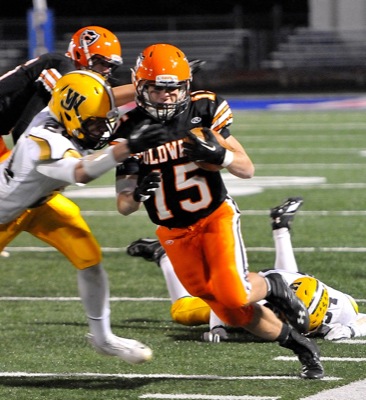 PIQUA - After a long scoring drive gave West Jefferson a first-quarter lead, Coldwater's football team needed a little time to shake it off and then the Cavaliers' quarterback shook up the Roughriders.
Brody Hoying ran for three touchdowns and threw for another score, and the Cavaliers' defense took control the rest of the way for a 35-10 win over the Roughriders in the Division V state semifinals at Alexander Stadium-Purk Field in Piqua.
Coldwater (12-2) advances to its fifth straight state championship game and earns a rematch with week two opponent, Columbus Bishop Hartley, next Saturday at 11 a.m. at Paul Brown Tiger Stadium in Massillon. Hartley defeated Akron Manchester 49-22 in the other state semifinal.
"Big challenge for us today," said Coldwater coach Chip Otten, who makes his fourth state finals appearance in four years as head coach of the Cavaliers. "A bigger challenge for us next week."
Coach Otten was concerned about the Roughriders (12-2) and West Jefferson gave an example of the reason why after forcing a Cavaliers punt on the first series of the game. Quarterback Logan Stepp and Fred (D.J.) Braithwaite drove the Roughriders 80 yards on 13 plays while taking nearly 6 1/2 minutes off the clock. Stepp ran in the final eight yards to give West Jefferson a 7-0 lead with 4:31 on the clock in the first quarter.
"We knew it was going to be a tough battle," said Cavalier linebacker/receiver Drew Otten. "We talked about it all week. They're stout, they're big, but it was like the (first) Hartley game when they scored on their first drive (then) we stood them up a couple of drives and got used to the game. We really adjusted well."
The Cavaliers' next series ended when Hoying was picked off by Hayden Fulton to put West Jefferson at midfield. Stepp and Braithwaite pushed the Roughriders to Coldwater's 9-yard line, but the Cavaliers held tough on a fourth-and-one to get the ball back early in the second quarter.
"Exactly what we were worried about happened the first couple of drives," said coach Otten. "They took a lot of clock. Second drive, they came up about five inches short. That got us back to "Okay, let's score here and get even, then see what happens.' "
"I felt that it kind of clicked," said senior defensive end Andrew Schwieterman. "They only needed a yard. That changed the momentum."
At this point, Hoying went into a mode simply referred to "Brody being Brody."
The junior ran five times and threw three times on a nine-play drive that covered 91 yards. Hoying hit Derek Thobe for a 12-yard score to tie the game at 7-7 with 5:22 left in the first half.
West Jefferson then went nine plays on its ensuing drive before punting the ball and pinning the Cavaliers at their own 2-yard line.
The poor field position didn't last long as Hoying ran 14 yards before breaking loose on an 84-yard TD run to give the Cavs a 14-7 lead with just 42 seconds before halftime.
"It's pretty deflating when someone makes an 80-yard run," said coach Otten. "Before you know it, you're playing good, but losing by a couple scores."
West Jefferson got the ball to start the second half, but on a third-and-five play, Stepp fumbled the snap. As Stepp chased the ball, Coldwater's Mitch Fullenkamp dove and recovered the fumble to give the Cavaliers possession of the ball at the Roughriders' 21-yard line. Six plays later, Hoying ran for a 6-yard score to give the Cavaliers a 21-7 advantage.
Stepp was helped off the field because of injury on the previous fumbled snap and Trey Morris took over at QB for four plays before Stepp returned to the field limping. Stepp started to pass more and pushed the Roughriders to Coldwater's 12-yard line, where Steven Lollo booted a 29-yard field goal.
"That took a huge part of their running game out of the picture," said coach Otten of Stepp's injury.
"It was pretty easy to see he wasn't mobile," said Roughriders coach Shawn Buescher. "They started lighting us up with blitzes and pinning their ears back. They took a lot of our quarterback run game away."
It took just one Hoying run to put the kabosh on a Roughrider rally, as Hoying raced 77 yards for a score on the first play to give the Cavaliers a 28-7 lead.
The final Coldwater score came midway through the fourth after Thobe picked off a Stepp pass. Mitch Schoenherr broke free for a 20-yard run to cap the scoring.
Hoying had his second 200-plus yard rushing game of the playoffs, going for 236 yards on 20 carries while passing just 14 times and completing eight for 90 yards with two interceptions.
"He's a great athlete. No question," said Buescher. "They've got a playmaker. Every time he touches the ball, he's a threat to go the distance."
The Cavaliers shut down the running of Stepp, who was held to just 27 rushing yards. Stepp was 17-of-31 through the air for 220 yards.
TICKETS - Coldwater will be selling tickets for Saturday's championship game starting Tuesday at the high school. No tickets will be sold at Westown Shell.
On Tuesday, tickets will be sold to parents of team personnel starting with senior parents from 6-6:30 p.m., juniors 6:30-7 p.m., sophomores 7-7:30 p.m. and freshmen 7:30-8 p.m. A limit of 10 tickets per family will be enforced.
On Wednesday, tickets will be on sale to reserved season ticket holders from 6-7:30 p.m. with a limit of four tickets for each season reserved ticket.
The general public will be able to purchase tickets on Thursday during the school day and from 6-7:30 p.m. and also on Friday during the school day.
Presale is $8 with per ticket.