Monday, December 9th, 2013
Flyers soar to third straight state title
Marion Local shuts out Glouster Trimble in inaugural D-VII championship game
By Gary R. Rasberry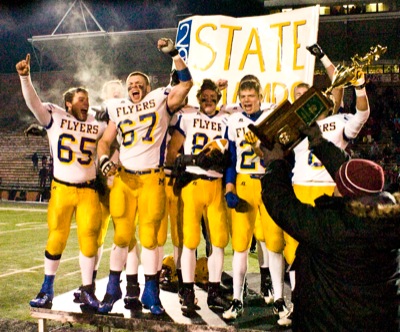 MASSILLON - As Marion Local football coach Tim Goodwin anticipated, Glouster Trimble gave the Flyers a stiff battle in the first half.
The second half, though, showed why the Flyers are the best in Division VII.
Back-to-back interceptions on the Tomcats' first two offensive possessions of the third quarter turned into points for the Flyers, and Marion Local scored 20 in the quarter en route to a 33-0 win in the inaugural Division VII state championship game on a frigid Saturday night at Paul Brown Tiger Stadium.
The Flyers completed their second-ever 15-0 season to win a third straight state title - the previous two in Division VI - and the seventh in school history, good for fourth all-time in the state. Trimble, making its first state title game, ends the year at 14-1.
"It means a lot to us as a team and community," said Flyers senior quarterback Adam Bertke. "Just to be out there with top schools in the state, it's an awesome feeling. We knew we had a good chance to get back here with the players we had coming back (Marion Local graduated just six seniors from the 2012 team and had nine seniors this season)."
Marion Local's offense was hitting on all cylinders on its first drive. Bertke hooked up with favorite receiver Troy Homan three times on the nine-play drive for 30 yards before hitting Jacy Goettemoeller for a 19-yard TD on a screen pass to put the Flyers on top 7-0 with 8:15 to play in the opening quarter.
The Tomcats' defense, though, settled down and forced a Flyers' punt on Marion Local's second possession and then recovered a Goettemoeller fumble on the third drive. Marion Local tried to make it a 10-0 lead late in the second quarter but Peyton Kramer's 32-yard field goal attempt was wide left.
"They're a scrappy group," said Goodwin of Trimble. "They played hard. We knew they would be all excited and knew we had to withstand their initial excitement and motivation."
Offensively, the opening drive for Trimble proved to be its best effort to score, thanks to a tricky handoff on the kickoff return that gave the Tomcats the ball on their own 45-yard line. Quarterback Konner Standley and running backs Justin Jenkins and Jacob Koons worked the ball downfield, getting to the Flyers' 4-yard line for a first-and-goal opportunity. After Standley lost a yard on a run and fired an incomplete pass on second-and-goal, Joe Schwieterman came up with an interception to end the Tomcats' scoring threat.
"We started out the game and put together a nice drive with a good mix of run and pass," said Goodwin. "Then they put together a great drive that put us on our heels a little bit."
Marion Local got the ball back with only 43 seconds to play in the first half and Bertke took control. He connected with Hunter Wilker on two straight passes for 28 yards and then hit Homan for 16 yards before a Ryan Bruns 25-yard reception put the Flyers on Trimble's 2-yard line. After an incomplete pass, the Pittsburgh-bound senior ran to the corner of the end zone with two seconds on the clock to give the Flyers a 13-0 advantage at halftime.
"We didn't come here to have a close game. We wanted to go for the win," said Trimble coach Phil Faires about not trying to run out the clock in the first half. "We gave Bertke time for another score."
"Me and Adam have real good chemistry," said Homan. "We've known each other since seventh grade. Adam is a great quarterback. He puts it where it needs to be."
"We knew a score would be nice at the end," said Bertke of the late first-half drive. "Basically, it was the line blocking, Jacy picking up the blitzes and Troy making plays. I read my keys, as far as I go."
At the start of the third quarter, Marion Local's defense increased the pressure and Kramer picked off Standley at Trimble's 21-yard line before returning it to the 11-yard line. Goettemoeller then took the hand off on the first play and rushed to the end zone for a 19-0 Marion Local lead.
The next possession was nearly a copy of the first for the Tomcats, as Standley was picked off by Chris Lochtefeld at the Trimble 24-yard line. Two Bertke-to-Homan passes picked up 21 yards and Bertke covered the final three on a running play to give the Flyers a 26-0 lead.
"That really fired us up. We work on that all the time," said senior right tackle/nose tackle Jason Brunswick. "That got us going. Just to let everyone know, I'll take credit for that second interception. I read the screen and made him throw it late."
"After that first drive (in the first half), our defense took control of the game," said Goodwin.
The Flyers forced a turnover on downs on the ensuing Tomcats' possession, setting up the final score of the game as Goettemoeller got his second rushing touchdown of the game - third overall - with a one-yard burst into the end zone.
"It was going to be tough just to get the two scores (to answer the 13-0 halftime deficit)," said Faires. "(Then) giving up the short field...You make mistakes against good teams, they'll make you pay."
For Goettemoeller, who finished with 44 yards on nine carries, it was a perfect way to finish the state championship game after missing most of last year's state final with a torn ACL.
"Last year, I went out (with the injury). This year, I came back and was able to do it again," said Goettemoeller.
The Tomcats were limited to just 104 yards of total offense on 50 plays in the game.
Bertke wrapped up his stellar career in fine fashion, going 17-of-28 through the air for 216 yards with a touchdown and added 47 yards rushing and two scores. Homan had 10 caries for 119 yards and completed a 36-yard pass on a double-reverse pass play.
"They're good at all 11 positions," said Koons. "They have no weaknesses. They're well-coached and very diverse."