Wednesday, December 11th, 2013
Goodwin helps Notre Dame finish as national runner-up
By Robb Hemmelgarn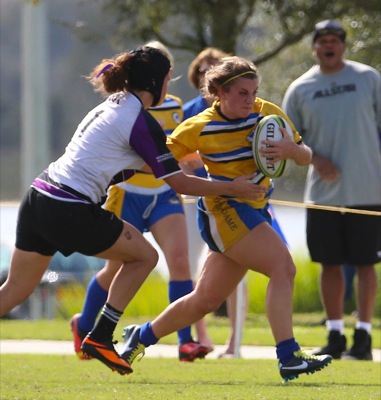 If you predicted three years ago that there would be a story reminiscing on the athletic exploits of St. Marys Memorial High School graduate Maddie Goodwin, it would have been a safe bet to say the piece would revolve around softball.
That thought is so three years ago.
This past weekend, Goodwin and the Notre Dame College Falcons earned the national Division II runners-up trophy in women's rugby.
Goodwin, a two-year captain on the squad, joined the school's rugby team during its infancy a couple of years back.
"My mom sort of freaked out about me playing and dad certainly didn't know what to think at first," said Goodwin, who led the squad in tackles and was third in scoring this season.
"This is only my second year of playing and the program is relatively new with players that really didn't have any experience, so our accomplishments this year have been very significant," added Goodwin. "My teammates and I didn't know anything at all about the game when we started. We tried our best to learn the game and keep in shape to keep up with other programs that had been established for a while, so that was an adjustment initially."
The Falcons rolled to a 10-1 record this season, including wins over Division I programs Cincinnati, Miami (Ohio), Ohio University, Ball State, Kent State and Marshall. They opened the tournament with victories against Grand Valley State, Shippensberg and Ithaca College before defeating Vassar 34-19 in the first game of the Final Four. They eventually fell to Winona (Minnesota), 28-14, in the American Collegiate Rugby Association Division II championship over the weekend in Tampa, Fl. The Falcons led 14-5 late in the contest before slipping in the end.
"One of the first things I learned is that the clock in the game doesn't stop for anything," said Goodwin, who earned all-tournament accolades over the weekend. "Even if a player is laying there hurt, everyone just keeps on playing, and they do their best to cart her off of the field as quickly as they can so it doesn't interfere with play."
Goodwin, an All-Ohio softball player at St. Marys, graduated in 2010 and initially went to college at Capital University. She played softball for a season before transferring into Wright State University's nursing program, while continuing her career in summer softball. She then went to Notre Dame College, where she has taken up the new challenge for the past two seasons.
"It wasn't that long ago that I hardly knew the sport even existed," said Goodwin, who is a flanker and earned All-Tournament All-Star Team honors this year. "It has been great to get involved with though. Everyone on the field is involved in the game pretty much the whole time and it has really been a lot of fun. Obviously there are no similarities to softball, which I played my whole life. It is a lot more like a mixture between football, soccer and wrestling. We don't have a lot of fans at the games unfortunately, but we have a group of very dedicated parents who follow us and it is still a lot of fun whether we play in front of 10 people or thousands."
Maddie's parents, Gene and Cheryl Goodwin of St. Marys, made the trip to Florida over the weekend and were excited to watch their daughter play.
"When she first went to college to play softball, it was great because we knew a lot of her expenses were covered," said Gene Goodwin. "She was originally going to play softball at Notre Dame, but after a couple of days decided to go the rugby route instead. My wife, Cheryl, and I supported her 100 percent. We didn't miss any games this season and just got back from Florida, where it was 85 degrees. This season was a wonderful experience for all of us."
Goodwin will have one more season to suit up for the Blue and White but her past two years brought on a chapter of her life in which not many, if any, girls her age from the Grand Lake area have experienced.
"I was really upset when we lost at first, but when I realized we didn't have to practice four times next week, I was relieved," said Goodwin. "Afterward, the coach explained that although we didn't win it, we needed to be happy. We developed many friendships and relationships over the course of the season that we wouldn't have made if we weren't there. That is so true and I definitely plan to use what I learned this season to help me next year. We are planning to come back and win it all."