Saturday, December 14th, 2013
Homan's big night leads Cardinals past Panthers
By Gary R. Rasberry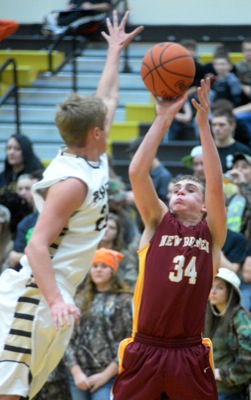 ROCKFORD - A strong inside presence mixed with solid defense helped New Bremen picked up its first Midwest Athletic Conference win of the season on Friday night as the Cardinals defeated Parkway 48-39 at Panther Gymnasium in Rockford.
Led by 6-6 senior Ben Homan, the Cardinals scored the bulk of their points in the paint. After missing his first two attempted shots, Homan connected on nine straight during the first three quarters and finished 11-of-15 from the field for a game-high 23 points.
"He played like a man tonight," said Cardinals coach Adam Dougherty of Homan. "He commanded the ball. It helps having Trey (guard Trey Naylor) on the perimeter. The ball moves well when (Naylor) is back there.
"When we ran what was called and executed properly, we got something near the rim," added Dougherty. "Ben was really good tonight. He was solid at both ends."
"They kind of sealed us inside-out, made some good plays and passes," said first-year Parkway coach Rick Hickman. "We didn't have enough pressure on the ball and they were able to get inside on us more than anyone has this year."
Brant Barna got off to a hot start for Parkway as he scored the first nine points of the game for the Panthers, who trailed 15-9 after the first quarter. However, Barna only attempted one shot in the second quarter, that coming just before the halftime horn. With Barna corralled, New Bremen jumped out to a 20-9 lead as Parkway didn't score until the halfway point of the second quarter when Austin Dennison hit a free throw. New Bremen took a 24-15 lead into the halftime break.
"I thought our ball pressure by our guards was good most of the night," said Dougherty. "We still had defensive lapses where we'd lose guys on the weak side. We just made a lot of mistakes mentally, but our ball pressure bailed us out."
In addition to 11 turnovers in the first half - 20 for the game - the Panthers connected on only 6-of-22 from the field, with Barna hitting five of his six shots.
"With any team you've got, you have to put it in the hole," said Hickman. "We've got several kids who can step up and be good outside shooters. Tonight, a lot of them didn't fall."
Parkway cut the deficit to 24-19 early in the second half, but Homan helped push the Cardinals' lead back into double figures late in the third quarter. The Panthers clawed no closer than six points the rest of the way.
"We played hard the first three games but tonight the kids played with a lot of heart," said Hickman. "The shots just didn't fall (Parkway was 16-of-46 from the field in the game). We had some missed assignments on the defensive end. It was a nine-point game, but nine points isn't that hard to make up when you correct mistakes defensively and a few shots fall."
Cardinals post players Brent Goettemoeller and Nolan Fox added six points apiece in addition to Homan's big night while Carson Manger added six.
Barna finished with 13 points to lead Parkway while Matt Heindel scored 10 and Dennison added nine.
Both teams are back in action at home tonight. New Bremen plays host to Anna and Parkway welcomes Indiana rival Adams Central to town.