Monday, December 16th, 2013
Demand, food donations up at local pantries
By Doug Drexler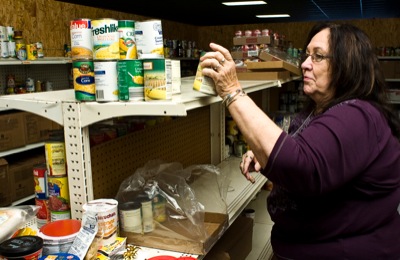 A weak economy has increased demand at local food banks, but an influx of donations is ensuring, for the most part, needs are getting met.
More people are coming to the food banks because they have seen their income shrink due to reduced work hours or lower-paying jobs, officials say.
"It just boils down to the economy," said Lanna Samaniego, who operates the food pantry at the North American Indian Cultural Center in Celina.
She has heard from people who were making $20 an hour before being laid off and taking minimum-wage jobs. She knows of others who lost hours to stay under Obamacare's 30-hour-a-week cut-off for insurance benefits. Her shelves were recently cleaned out in three weeks after a food delivery came in from the West Ohio Food Bank. She has since restocked. The center helped 300 families in three weeks last month.
Edna Backs of OUR Home Family Resource Center, Celina, said Mercer County's good unemployment numbers hide the struggle going on behind the scenes.
"Mercer County may have the lowest unemployment rate (in Ohio), but people are willing to work for less here," she said. "Mercer County is full of hard-working people, and they'll take a lower-paying job to help get by."
The agency's food pantry has experienced an increase in demand and now helps 70 families per month. She said their supplies are good at the moment, but the group could always use more donations so it can supply more to those in need.
Pantries count on extra supplies given during the holiday season to get through the lean months that normally follow, Backs said.
Demand rises during winter months as increased costs associated with heating and Christmas spending put the squeeze on families' food budgets, she said. Attempts to extend unemployment benefits and expand food assistance programs in the recent federal budget deal also failed, leaving recipients fearing loss of benefits, she added.
Officials at Agape Ministries have seen donations and requests for help increase as the temperature has dropped.
"We are seeing a lot of donations, but we are also seeing a lot of need," said Kathy Bayless, Agape executive director.
Her group, which serves 300 to 400 families a month, has noticed many people trying to stretch their food stamps. Toward the end of the month people arrive after exhausting all other aid, Bayless said.
The pantry also has adjusted its spending to stretch its budget, Bayless said. In past years, Agape supplied a turkey dinner for Thanksgiving and a ham for Christmas. This year, ham was so expensive the group decided to supply turkeys for both meals when Pantry Pride offered a good deal.
The Rockford area has witnessed a 30 percent increase in demand for the needy, said the Rev. Thurlow "Chip" Steffy of Rockford United Methodist Church. The pantry, operated by the Parkway Ministerial Association, serves those living in the Parkway school district.
"While the increased use of the food pantry may be tied to the economy, it may also be a result of increased awareness of this resource for families in the Parkway school district," Steffy said.
In addition to donations from churches and individuals, the pantry benefits from supply efforts by Boy Scout Troop 98, Parkway Local Schools FFA program, Rockford Belle, Colonial Nursing Center and the Dollar General store in Rockford, he said.
The food pantry of Holy Trinity Catholic Church, Coldwater, expanded services about 25 percent this year to serve about 135 families a month, said Jess Steinke, who operates the service.
"A lot of people come through for two, three, four months," then their situation improves enough they no longer need the help, he said. Increased donations have managed to keep pace with the increased demands.
The Rev. Tim Clutter, who operates CALL Food Pantry in Celina, said demand has risen 10 percent over the last year. The agency recently served 80 families in one day, he said. The pantry supplies 55,000 meals each month.
CALL has some new clients but many whose situation had improved a few years ago are returning after getting work hours cut, Clutter said. Food donations are about the same as a year ago; generous donations this month made up for a deficit experienced in November, he said. Cash donations are still running behind, he added.
Recent food drives in Minster have kept the food bank at Calvary Chapel Baptist Church well stocked, the Rev. Brad Smith said. The church pantry has seen a slight increase in clients lately, but demand has not matched that of 2008 when the recession hit, he said.

Area food pantries:
Agape Ministries
1220 E. Spring St., St. Marys
419-394-8700

CALL Food Pantry
420 N. Brandon Street, Celina
419-586-3574

Calvary Chapel Baptist Church
71 N. Hamilton St., Minster
419-628-3717

Holy Trinity Catholic Church food pantry
Mercer Health-West Campus
830 W. Main St., Coldwater
419-678-4802
North American Indian Cultural Center
304 E Anthony St., Celina
419-586-6567

OUR Home Family Resource Center
117 W. Fayette St., Celina
419-586-4663

Parkway Ministerial Association
at Rockford United Methodist Church
202 S. Franklin St., Rockford
419-363-3230

Addresses identify food bank locations. Pantries set their own hours and eligibility qualifications and may not be staffed at all times.