Tuesday, December 17th, 2013
Panthers jump out to big lead
Parkway takes the lead for good with 11-0 run during the first quarter
By Gary R. Rasberry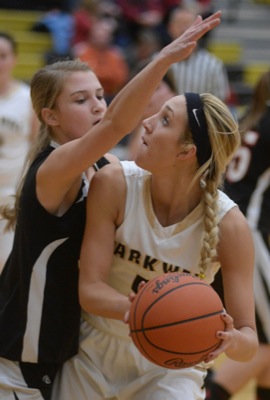 ROCKFORD - An 11-0 run in the first quarter gave Parkway the lead and the Lady Panthers never trailed the rest of the way in a 64-47 victory over Mississinawa Valley on Monday night in Rockford.
The BlackHawks took a quick 2-0 lead at the start of the game but the Panthers quickly took control of the game. Parkway scored 11 straight points in just 3 1/2 minutes on buckets from Cami Hellwarth, Lydia Heindel, Kayle Heckler and Sierra Fent.
"We told the the kids we needed to push the ball down the court and we did," said Parkway coach Lynn Hughes. "We got a great lead and I thought we did a great job the rest of the game switching our defenses and throwing them off."
Mississinawa Valley rallied to as close as four points in the second quarter, but every time the BlackHawks threatened, Parkway was able to push the lead back up to a comfortable margin.
In the second half, Parkway continued to keep Mississinawa Valley from getting back into the game, keeping the lead in double digits for most of the third quarter.
Mississinawa Valley made one last rally in the fourth quarter, cutting Parkway's lead to 51-44 with five minutes on the clock and prompting Hughes to call a timeout to get the team back on track. The Panthers took the coach's words to heart, finishing the game on a 13-3 run that pushed the lead up to 20 points at 64-44.
"I thought we handled the pressure and took care of the ball at the end," said Hughes, whose squad had 14 turnovers, five in the fourth quarter. "A couple times, I thought we shot too quick (when) we needed to pull it out. We did a good job handling the ball and making decisions."
It was a balanced scoring night for Parkway. Of the eight players that got playing time, seven scored with four players reaching double figures. Hellwarth scored 15 with Gehron and Fent scoring 12 each while Heindel added 11.
"We had four in double digits and one (Heckler) with nine," said Hughes. "With Raegen (Bransteter) being hurt, we're down to eight players (in the rotation). All eight came in and did a nice job tonight.
"My big concern was we didn't shoot free throws as well as we would have liked," continued Hughes, as the Panthers were 17-of-28 from the charity stripe. "But overall, it was a great team win."
Logan Nelson led the BlackHawks with 12 points while Mackenzie Dirmyer added 11.
Parkway is off until after Christmas when it hosts the Chatt Insurance Holiday Tournament on Dec. 27 and 28. Parkway takes on Delphos Jefferson on Dec. 27 at 4:40 p.m. following the Fairlawn and Lincolnview matchup at 3 p.m. The championship game will take place at 6:20 p.m. on Dec. 28.