Monday, December 23rd, 2013
Flyers open season with victory over Roughriders
By Gary R. Rasberry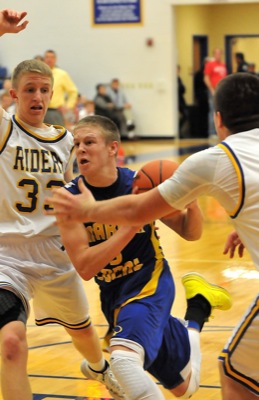 ST. MARYS - Marion Local's boys basketball team struggled for the first three quarters of their season-opening game on Saturday night before outscoring St. Marys 18-5 in the fourth quarter to earn a 45-38 victory at Murotech Court.
"People have been asking all week, 'You have them ready, coach?' " said Flyers coach Kurt Goettemoeller. "I had no idea what to expect. I knew we wouldn't shoot the ball very well (Marion Local shot 42.5 percent from the field). It takes time and you can't do it in a week and a half (of practice)."
After a fairly competitive first quarter with St. Marys (2-4) leading 16-14, both teams struggled offensively in the second quarter. The Flyers outscored the Roughriders 4-2 and the game was tied 18-18 at halftime.
In the third quarter, the Roughriders appeared ready to pull away. Freshman Derek Jay, who hit a trio of three-pointers in the first quarter, hit another trey and knocked down three free throws to put the Roughriders up 31-22 with 3:45 on the clock.
Quinn Zaerr, who held his own against the intimidating size of Luke Knapke (6-10), Ryan Bruns (6-7) and Adam Bertke (6-6) to score nine points in the first quarter, then got a stickback bucket to give the Roughriders a 33-24 advantage.
"Derek finally came out and shot the ball well," said St. Marys coach Dan Hegemier. "Quinny (Zaerr) played well."
However, Marion Local's Dustin Seitz hit a three-pointer with a minute to play in the third quarter to cut the Roughriders' lead to 33-27 with eight minutes to play in the game.
The Seitz trey sparked the Flyers as the fourth quarter began. Bruns got a layup to fall at the start of the quarter and Knapke followed with an alley-oop slam dunk to pull the Flyers to within two points at 33-31. Knapke then hit a pair of free throws to tie the game before Dustin Rethman put the Flyers in the lead with a three-pointer at the 5:58 mark.
"Dustin Seitz, who I didn't play as much as I should have, knocked down a big shot in the corner to get us going," said Goettemoeller. "Then Dustin Rethman finally hit a shot. From there, it snowballed."
St. Marys was struggling to handle the Flyers' fullcourt defensive pressure. The Roughriders turned the ball over on their first three possessions of the final quarter. After Nathan Wilker missed the front end of a one-and-one opportunity at the free-throw line, St. Marys had two more turnovers before Marquis Wilson scored at the 3:35 mark with the Flyers holding a 40-35 advantage.
"I felt in the fourth quarter we needed to up-tempo the game," said Goettemoeller. "They were running circles around our 2-3 zone and running clock."
"Kurt went to the 32 (3-2 zone) and it just stymied us," said Hegemier. "We did not have good ball movement and tried to press too much. It is what it is."
Knapke finished with 15 points and 12 rebounds for Marion Local and Bruns added 10 points while Bertke scored eight points and pulled down eight rebounds.
Jay finished the night with 15 points while Zaerr, who was averaging seven points per game, had 14 points.
Marion Local is back in action tonight, traveling to Wapakoneta. Hegemier's next chance for his 500th career win comes at a familiar location, his alma mater New Knoxville, on Friday night.