Monday, December 30th, 2013
Flyers rally to take title
Asset Allocation Associates Holiday Classic
By Gary R. Rasberry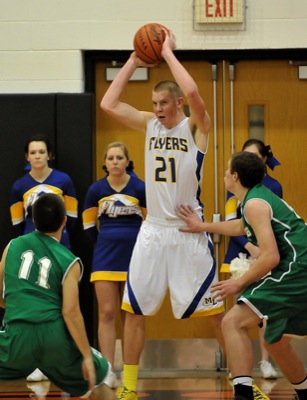 COLDWATER - Ryan Bruns found the perfect time to hit his lone bucket of the evening.
The Marion Local junior hit a three-pointer with 33 seconds left to put the Flyers in front of Celina by a point. Two Dustin Rethman free throws in the final two seconds completed the 51-48 comeback win in the championship game of the Asset Allocation Associates Holiday Classic at The Palace in Coldwater on Saturday. The Flyers move to 4-0 with the win as Celina drops to 4-3.
St. Henry (5-3) rebounded from Friday's overtime loss to Celina to beat Coldwater (0-3) 57-39 in the earlier consolation game.

CHAMPIONSHIP GAME
Marion Local 51, Celina 48
After a flurry of action in the third quarter that saw five lead changes in the first four minutes of the quarter, the Flyers took a 36-31 lead going into the fourth quarter and were up eight points at 43-35 with six minutes to go after Luke Knapke buried the alley-oop slam dunk.
Just as quickly, though, the Bulldogs came back. Braelen Bader hit a three-pointer with 5 1/2 minutes left, followed by a Ryan Hoyng trey with 4:48 to go to cut it to 43-41, prompting Flyers coach Kurt Goettemoeller to call timeout.
"We haven't got to the point where we learn to salt away, when you get up 5-7 points," said Goettemoeller. "We need to learn to take care of the basketball (Marion committed 15 turnovers, nine in the second half). I think you give a lot of credit to Celina. Any Chris Bihn-led team is just going to battle their (tails) off. They did (that) the whole way."
"We wanted to get after those guys as much as we could and make them play with energy," said Celina coach Chris Bihn. "I thought our guards did a good job of pressuring them in the full court. They brought their bigs (6-10 Knapke, 6-7 Bruns, 6-6 Adam Bertke) up the sides, which hurt at times, but I thought our bigs (Mason Ross, Caleb Hoyng and Logan Delong) adjusted pretty well."
The Flyers promptly turned the ball over, and Caleb Hoyng got a stickback to fall with 4:09 remaining to tie the game at 43-all. After the teams traded missed chances to score, Ryan Hoyng was fouled and nailed a pair of free throws with 2:34 to go to put Celina back in front 45-43. After a Flyer turnover, Alex Schiavone knocked down a trey from the corner to push the lead up to 48-43 with 1:55 left.
Marion roared back as Rethman hit a three-pointer with 90 seconds left to cut it to one. Celina worked the ball around to force the Flyers to foul, but Cole Griesdorn got a deflection and steal to give the Flyers a chance.
That set up Bruns, who was 0-for-3 from the field and 0-for-3 from the foul line. Bruns stepped outside three arc and swished a three-pointer with 33 seconds left to put Marion up 49-48.
"Ryan didn't score like he did last night," said Goettemoeller of Bruns, who had 22 points in the win over Coldwater on Friday. "Him and Luke in the interior, along with Adam, I would say had 8-10 blocked shots. Even though Ryan wasn't a factor offensively, he was such a factor defensively."
After a Celina timeout, the Bulldogs tried to get the ball to Ryan Hoyng, but Griesdorn got another deflection. Celina had to foul twice to put Marion in the bonus, where Rethman hit two tosses with 2.3 seconds left to make it a three-point game. Ryan Hoyng's try for the tying three-pointer fell short at the buzzer.
"That was one of those things where you get things rolling, the momentum carries you for awhile," said Bihn. "Unfortunately, Marion was able to swing the momentum back their way."
Knapke had 20 points and 14 rebounds to earn the Most Valuable Player award for the tournament. Griesdorn added 10.
Ryan Hoyng led Celina with 23 points.
CONSOLATION GAME
St. Henry 57, Coldwater 39
The Redskins used defense to get out to a quick 10-3 lead as the Cavaliers turned it over on four straight possessions after a Brody Hoying three-pointer. It was 16-9 after the first quarter in favor of St. Henry before Coldwater chipped away at the deficit and got it down to 18-14 with just under six minutes left in the first half. Tyler Schwieterman came up big for the Redskins, scoring seven straight points to push the lead back up to 25-14 in less than two minutes. Coldwater again cut it back down to four at 25-21, only to have Ryan Mikesell score six of his 20 first-half points in the final 84 seconds of the quarter to put the Redskins up 31-23 at halftime.
"Proud of Tyler. He's playing at the level we knew he could play," said St. Henry coach Eric Rosenbeck. "He missed an entire month with an ankle (injury). He comes back and he's not all the way (back)."
St. Henry came out firing in the opening moments of the third quarter, again taking advantage of Coldwater missing shots and turning the ball over to roll the lead up to 36-23 before Brandon Wolters broke Coldwater's scoreless skid with 4 1/2 minutes left in the quarter.
"The first half, they had one turnover and we had nine," said Coldwater coach Mike Bruns. "... The press bothered them a bit. I think it was more of a mental thing than a physical thing. After awhile, they grew into it."
From there, St. Henry took the lead margin above the 20-point mark in the fourth quarter as both teams cleared their benches in the final minutes.
"I love the mental toughness of these guys," said Rosenbeck. "We've been knocked a couple times already this year (all three St. Henry losses have come by a total of five points). Every single time, we've got off the mat the very next night."
Mikesell finished with 28 points. Schwieterman added 11.
"We allowed too much dribble-penetration, which set up their shooters," said Bruns of St. Henry, who were 22-of-40 from the field and 7-of-16 from the three-point line. "They do a good job of helping each other score. Those threes weren't from someone creating them themselves, it was by a teammate setting them up."
Hoying led Coldwater with 14 points with Wolters scoring 12 and pulling down eight rebounds.
ALL-TOURNAMENT TEAM - Joining Knapke on the All-Tournament team were Flyer teammates Bruns and Adam Bertke, Ryan Hoyng, Mikesell and Wolters.