Tuesday, December 31st, 2013
Cavs bury Bulldogs during the first half
By Gary R. Rasberry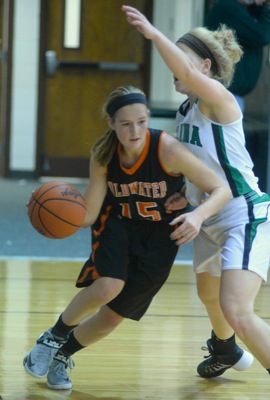 CELINA - Stoked by a strong start, Coldwater jumped out to an early lead and rolled to a 64-37 win over Mercer County rival Celina in girls basketball action on Monday night at the Fieldhouse.
The Cavaliers (7-2) hit six of their first eight shots of the game as Lauren Leugers and Erica Sudhoff had the hot hands early to help Coldwater build a 19-6 lead at the end of the first quarter.
Coldwater's defense made it tough on Celina (1-10), which struggled against the Cavaliers' fullcourt pressure defense and also finished 3-of-10 shooting from the field.
"I told the girls the first half was about - effort-wise and shooting-wise - as solid as we've played all year," said Coldwater coach Nick Fisher. "I thought that was huge."
"That's just something you can't simulate in practice," said Celina coach Toma Hainline of Coldwater's defense, which forced 27 Bulldog turnovers in the game. "We've been trying. We've had older girls, last year's team, coming in and trying to do that simulation. (Coldwater) is just a little bit bigger, stronger and faster than us. It's hard to re-create in practice. We had three plans to break (the press), but you still have to execute it."
Coldwater extended its lead to 38-17 by halftime as Sudhoff connected on a pair of three-pointers while Leugers and Denise Schwieterman dominated the paint, combining for 17 points.
Celina regrouped a bit in the third quarter and cut its 21-point halftime deficit to 15 midway through the quarter before trailing 47-30 with just eight minutes remaining in the game. Heather Heiby scored all eight of her points for Celina in the third quarter.
"We talked about trying to chip it away and (how) you can't get it all back at one time," said Hainline. "We wanted to rebound better and try and pass the ball up the court more. Those things got a little bit better in the third quarter."
However, the Cavaliers scored the first eight points of the final period to push their lead back into the 20s on a permanent basis as Celina turned the ball over 10 times in the final quarter.
"I thought we regrouped a little bit in the fourth quarter," said Fisher. "We got it going again. We got complacent in the third quarter and (Celina) got on the attack mode. They got after it and we didn't. We regrouped and got what we needed done."
The Cavaliers got balanced scoring. Leugers led the way with 20 points while Sudhoff contributed 14 off the bench and Sarah Kanney added 12. In all, eight of the 12 Cavaliers that got into the game scored at least two points.
"I think a lot of that goes back to what we talk about in practice," said Fisher. "Our practices are getting more intense and aggressive. I think that just fosters the way we're playing out here."
Celina's Kelly Stahl, hampered by foul trouble for most of the game, finished with 13 points and six rebounds for the Bulldogs. Jenna Berry scored all nine of her points in the second half.
Coldwater returns to Midwest Athletic Conference action on Thursday, hosting Delphos St. John's. Celina is back in action on Saturday, hosting Minster.