Thursday, January 9th, 2014
Steininger steps down at Marion Local
By Gary R. Rasberry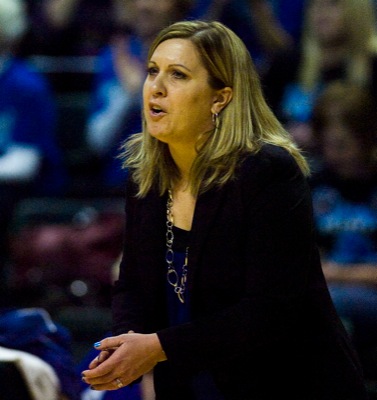 As far as a perfect way to bow out, Amy Steininger found the best way.
After coaching Marion Local to the program's fifth state championship in November, Steininger stepped down as head coach on Tuesday evening after 11 years and 258 career wins.
Steininger, who gave birth to her third child just a week after the Flyers won their second straight Division IV state title, cited a number of reasons for stepping down, most notably her family.
"My (older) kids are nine and six, and my husband Jeff travels a lot for work," said Steininger. "It's very hard when he's traveling during volleyball season and Kyle has soccer and Kyra has soccer and dance. I can be there for them more often and take care of the baby, and to take more time for my mom, who hasn't been doing well."
The decision was tough, but going out as a coach of a state champion softened the blow.
"The hardest part was telling the girls," said Steininger. "There were some tears, on their part and my part. It was just really hard. I told them we had great memories together and you'll make new memories with the new coach. They'll have their own traditions and things to do with them that they can share to be special. The girls will be fine.
"I want the program to stay on top, win more state titles and for the new coach to experience the joy I had at Marion because the community and the support of the administration was top-notch. I could not ask for a better experience coaching my 11 years. I had so much fun with the girls and the family," added Steininger.
Since taking over in 2003, Steininger has been one of the most successful coaches in the state. Marion Local won state titles in 2007, 2008 and 2009, and then added two more in 2012 and 2013.
In addition to the state championships, Marion Local won five Midwest Athletic Conference titles. The Flyers were 85-14 in the MAC under Steininger and over the last five years posted an impressive mark of 44-1 in conference play.
"I just can't pick one moment," said Steininger when asked about any single memory she cherished most from coaching. "The first state title was very special because it was the first for Marion. (The title) in 2008 was pretty special because we had a young team, a bunch of sophomores. We were definitely the underdog that year. Every state title had different players on it, that made it special in its unique way."
Steininger was quick to praise the other coaches in the program, especially longtime assistant Mary Lou Bruns, whom Steininger succeeded as coach in 2003.
"It's certainly not all about me, it's about all the assistant coaches we have had that built this program to what we have today," said Steininger. "Starting with Shorty (Bruns) coming in as an assistant coach in 2007 and being with us ever since. She's so invaluable to us because she knew the program. Then Karla (Frilling, who left to coach Versailles to a Division III state title this past season), Beth Streib, so many coaches. The junior high coaches have been instrumental in the program because it really starts down there. Jackie Winner, mother to (former Flyer and current Ohio State player) Alyssa, has been there for 15 years."
Steininger hasn't ruled out returning to coach in the future.
"I can always get back into coaching, and I told the girls that," said Steininger. "I still want to coach someday, whether it's junior high or club, maybe varsity again down the road when my daughter gets older. But for now, it's best I step down from coaching varsity altogether, it's such a huge time commitment.
"I told the girls this program is so much bigger than one coach or one player," continued Steininger. "We had great players come in through the program and graduate and maintain the excellence we wanted to maintain. It's going to be the same with coaches. I have no doubt this program will continue to thrive under the new coach."

By the numbers:
Amy Steininger's coaching career totals at Marion Local:

Overall record: 258-38
Winning percentage: .872
MAC record: 85-14
MAC Titles: 5 (2007, 2009, 2010, 2012, 2013)
State Titles: 5 (2007, 2008, 2009, 2012, 2013)
Division IV State Coach of the Year: 6 (2006, 2007, 2009, 2010, 2012, 2013)