Saturday, January 11th, 2014
Common Core prompts new teaching style
By Amy Kronenberger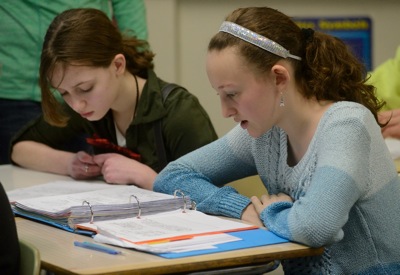 Teaching methods in public schools are changing with the implementation this fall of Common Core State Standards.
Area school districts have spent three years preparing for the new standards that will be fully implemented by the 2014-2015 school year. Common Core in Ohio includes standards in math and language arts and has been adopted by 44 other states. It focuses student learning on critical thinking and a deeper understanding of the material, according to the Ohio Department of Education.
"One of the biggest changes with the Common Core is not what is being taught but how it is being taught," New Bremen Local Schools Superintendent Howard Overman said. "Teaching practices have gone to more project-based applications and inquiry to engage the learners in the process. This is difficult for many students because they want to be told what to learn. Now they must work or research to find the solution or answer."
The new standards outline what concepts students should know by the end of each grade level. Districts must implement curricula and lesson plans to best help the students reach those goals.
An example of language arts standards includes, for grade five, students should be able to "conduct short research projects that use several sources to build knowledge through investigation of different aspects of a topic." An example for seventh grade is, students should be able to "draw evidence from literary or informational texts to support analysis, reflection and research."
A mathematic standard for second grade states students should be able to "use addition to find the total number of objects arranged in rectangular arrays with up to five rows and up to five columns and write an equation to express the total as a sum of equal addends."
The complete list of standards can be viewed at www.education.ohio.gov.
Minster schools superintendent Brenda Boeke said her teachers have spent many hours developing the new curriculum, aligning what they will teach to the new standards.
"They have had to redesign their lessons when content areas were moved from one grade level to another, rethink how they present information so that our students are not only memorizing information but thinking more in depth and then problem solving with that information," she said.
According to ODE, the standards were developed to ensure high school graduates are college- or career-ready and will not need remedial classes in college. Ohio House Education Committee chair and state Rep. Gerald Stabelton, R-Lancaster, in a press release said 40 percent of Ohio college students need remedial math.
Celina schools superintendent Jesse Steiner said one of the changes he likes about the standards is the number of objectives for math and language arts is reduced.
"Some say that's dumbing down, but it's not," he said. "It gives the teacher a chance to delve deeper into a subject and really get into it."
Steiner said Ohio is known for "never meeting a standard it didn't like," meaning the state continued to add more and more standards over the years without reviewing and eliminating old, outdated objectives.
That changed when Ohio House Bill 1 passed in 2009. The legislation requires the state to review, update and revise the previous standards and continue to update and revise them every five years.
Celina resident and retired mathematics professor Jesse Parete was one of the many educators asked to help review and amend the math Common Core standards before they were approved. He said Common Core is needed because old standards are "a mile wide and an inch deep."
"The biggest change in math is having a sequence that is age appropriate," he said. "Dumbing down is a complete misrepresentation."
Parete, a former member of the State Mathematics and Science Coalition and former committee member of the state Board of Education, said under previous standards kids started learning fractions in the first grade. Teachers would add a little each year so by third grade they knew everything about fractions.
"But they don't have the maturity to retain that much information, so by the fourth grade, teachers have to reteach it," he said. "They (teachers) have so many topics, there's no way to cover it all. They spend so little time on each topic that the kids don't retain it."
Ohio and U.S. students perform very well on tests in the third grade, but by the eighth grade students fall to 36th in the world in mathematics, Parete said.
"Somewhere between third and eighth grade our students are getting left behind," he said.
Common Core steers students away from just memorizing a lot of information and encourages them to understand the theory behind the data using critical thinking, Parete said.
Parkway schools superintendent Greg Puthoff said the new standards are considered to be the minimum a student needs to attend a community college or start a career. For this reason, ODE is allowing districts to add up to 15 percent more standards to offer more rigorous classes.
"We have to remember that when we look at these standards, these are minimums," Puthoff said. "Parkway's always followed higher standards ... We have advanced math courses here, we have honors English, advanced social studies and we're hoping to do more advanced English in the future."
By allowing districts to add 15 percent to the standards, Parkway and all districts in the Grand Lake area will be able to continue offering calculous and other advanced courses for students wanting to further their studies, Puthoff noted.
Area superintendents agreed more rigorous learning standards should be welcomed.
"Why wouldn't any school district or parents in the district not be an advocate for more rigorous math or in depth instruction concerning the writing process or how to read and comprehend what you're reading?" asked St. Henry schools superintendent Rod Moorman. "Who isn't cool with that?"
Testing consortia Partnership for Assessment of Readiness for College and Careers was created to develop new student standardized tests to align with Common Core's new style of teaching. PARCC is working with Ohio and 18 other states to create the new assessments.
Steiner said the wording of the sample assessment questions he's seen so far is the second thing he likes most about Common Core.
"With the current testing it's a lot of regurgitation of information," he said. "But the new questions, they're much harder. You really have to demonstrate your knowledge and show that you really know the answer. There's no way someone can guess on one of these questions and get it right."
St. Marys schools superintendent Shawn Brown said his district's eighth-graders were chosen to take part in a pilot test of the new assessments in language arts. PARCC will use results from St. Marys and other pilot schools to determine if the exams are a good match to the standards. The pilot test will be given in late March or early April.
Lisa Gray, project director for the Ohio Standard Coalition, said she disagrees with the critics who claim the standards treat students like a workforce instead of individuals. She said employers are looking for leaders, candidates with unique qualities who can bring a competitive edge to the company.
"The new standards ensure students have practical experience applying math, reading and writing skills to real world scenarios, and this helps employers to hire qualified young people," she said. "Sophisticated skills form the core of a great leader. The Common Core State Standards emphasize the ability to effectively collaborate, communicate and tackle challenges in teams, and this helps our state to grow future leaders."

Digesting Common Core:
Common Core series
• How Common Core began (published Jan. 4)
• What are Common Core standards?
• Political bias and standards versus curriculum
• Common Core funding and cost to local districts
• Is Common Core Constitutional?
• A teacher's perspective and local implementation
• Data mining: Protecting student identity
• What's next: Repeal bill in Ohio legislature