Monday, January 13th, 2014
Cardinals knock off 'Riders
By Robb Hemmelgarn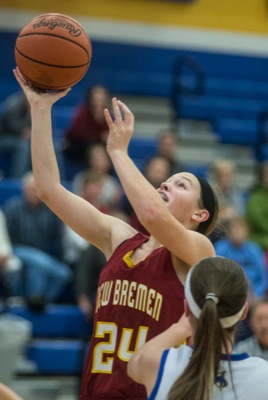 ST. MARYS - Chris Burden and Kelly Fulmer both entered Saturday's non-league girls basketball tilt seeking a dose of momentum as the second half of the 2013-14 regular season gets underway.
Burden's New Bremen Cardinals were treading near the .500 mark at 6-5, while Fulmer's St. Marys Roughriders were bogged down with 10 losses in 12 outings.
The Cardinals left Murotech Court with a 41-35 victory over their Auglaize County rival.
"I give a lot of credit to our girls today," said Burden. "They gained a couple of leads and St. Marys pulled back into it, but we kept our composure. We have a young group of players who saw some things from St. Marys defensively that they haven't seen this season and we managed to stay patient and finish things with the win."
A trio of New Bremen youngsters got the visitors off to a strong start as the Cardinals (7-5) got five points from sophomore Alyse Clune, four points from sophomore Debbie Paul and three more from freshman Rosie Westerbeck to build a 12-4 lead.
The Cardinals' lead was 14-5 after a little more than two minutes in the second quarter, but the Roughriders (2-11) calmly stormed back. A bucket from freshman Quincy Rable and a long ball from Erika Angstmann trimmed the Cardinals' lead to four points.
After a New Bremen basket, Angstmann drilled another trey to pull her team to within three points at 16-13. Unfazed, Clune drained a three-pointer to bump her team back ahead by six points but Reagan Aller scored off an offensive rebound a few moments later before another 18-footer from Clune and a pair of free throws by Paul gave New Bremen a 24-15 lead at halftime.
"They made a run at the end of the first half, but we kept moving the ball and attacked the basket," said Burden. "I felt if we could do that, good things would happen. We were able to move the ball against their zone and it gave us great looks. I think the way we responded at that point was one of the keys to the game."
The Roughriders shifted to a box-and-one defense at the onset of the third quarter and held New Bremen to its lowest offensive output of the game, however, St. Marys failed to gain any momentum offensively. The Roughriders trailed by as many as 11 points near the end of the third period, but a pair of free throws by Angstmann trimmed the Cardinals' lead to 32-23 entering the fourth quarter.
The Roughriders continued to chip away at their deficit in the final eight minutes of play as another three-pointer from Angstmann clipped the Cardinals' cushion to six.
However, a six-point spurt by the Cardinals seemingly put the game on ice. A jumper by senior Karli Jones, followed by a steal and lay up from Clune, combined with a pair of free throws by Paul gave New Bremen a 38-26 advantage with just over two minutes remaining in the game.
St. Marys' deficit hovered around 10 points until a three-pointer by Angstmann sliced her team's deficit to six points with 11.2 seconds to play. "We knew coming in that Angstmann would be tough on the outside, so we felt we needed to contain her a little," said Burden. "There were a couple of points where she got hot, but for the most part I am happy with how we performed. They came out in a match-up zone and we moved the ball and attacked the basket pretty well. I am very proud of the girls today."
Angstmann paced all scorers with 16 points for St. Marys, while Clune and Paul spearheaded the Cardinals' attack with 15 and 12 points, respectively.
New Bremen is back in action again on Tuesday at home against Delphos Jefferson, while St. Marys hosts Lima Bath on Thursday.