Tuesday, January 14th, 2014
Bulldogs blow out Flyers
Celina earns second straight win over a state-ranked opponent
By Ryan Hines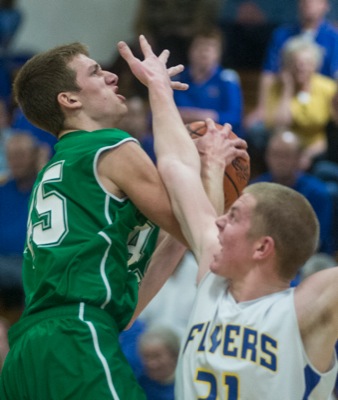 MARIA STEIN - Marion Local scored the first two points of the game but Celina dominated the rest of the way en route to a 60-41 victory over the previously-undefeated Flyers.
It's Celina's second straight win over a state-ranked team. Celina (7-3) also knocked off Defiance (ranked #4 in Division II) on Friday prior to defeating Division IV's second-ranked squad on Monday.
"I think our kids showed a lot of heart and desire in winning the last two games. They came ready to play against two really good teams and it showed," said Celina head coach Chris Bihn. "I thought we were ready mentally and physically. We need to keep it that way and keep it rolling."
Luke Knapke put the Flyers on top 2-0 just 36 seconds into the game before Grant Laffin, Alex Schiavone and Ryan Hoyng each scored to put Celina in front for good.
The Bulldogs were on top 9-6 after the first quarter but Schiavone and Eric Moeder each connected on three-point shots to open the second quarter, pushing Celina's advantage to 15-6.
"They had several guys, like Schiavone and Moeder, that stepped up and hit big shots. If they can get contributions from multiple guys, they are tough to defend," said Marion Local head coach Kurt Goettemoeller. "That's the sign of a good team."
Celina maintained a nine-point cushion at the halftime break and then took a commanding lead in the early stages of the third quarter. Logan Delong made a nice post move for a deuce and Ryan Hoyng hit a pair of free throws before Delong and Moeder buried three-pointers to cap a 10-0 run that propelled the Bulldogs to a 29-11 lead at the 5:28 mark of the third quarter.
"We attacked their 3-2 zone with penetration and utilized the high post pretty well to get open shots," said Bihn. "Their size makes the zone tough to get the shot you want, but we did a good job of being patient and finding the open man."
Marion Local cut Celina's lead to 11 three different times in the opening three minutes of the fourth quarter but Delong answered each time with a score in the paint as part of his 13-point second half.
A three-pointer by Marion Local's Dustin Rethman closed the gap to 10 points at the 2:59 mark but Ryan Hoyng converted a three-point play off a fastbreak opportunity and the Bulldogs closed the game with an 8-2 run for the 19-point victory.
Celina shot 47 percent from the field (21-of-45) and Moeder led a balanced Celina offensive attack with 15 points while Delong and Ryan Hoyng had 13 and 12 points, respectively. Schiavone and Laffin also added eight points apiece.
"Our balance was huge tonight. We got a little bit from a lot of guys and that added up to being enough," said Bihn.
Celina's physical pressure defense frustrated Marion Local into a 14-of-42 night from the field (33 percent).
"We wanted to pressure them as much as we could. We couldn't let them get the ball in the paint and we just tried to stand in the way in their cuts to the basket," said Bihn. "We were trying to prevent them from cutting to where they wanted to go and I thought we did a pretty good job of that. It was a very physical game and our guys stood their ground."
Goettemoeller was disappointed in how the Flyers responded to Celina's physical play.
"We didn't play strong. We haven't learned how to play strong yet. The only way teams are able to defend us is if they bump us and be physical with us. We haven't learned how to play through contact yet but we'll get there," said Goettemoeller. "You have to give Celina a lot of credit because they took us out of a lot of the things we like to do. We aren't even close to where we need to be right now. We have a long way to go to get to where we want to be. We have to clean up a lot of things in order to beat the good teams on our schedule."
After losing to Marion Local 51-48 in the championship game of the Asset Allocation Associates Holiday Classic on Dec. 30, the Bulldogs held a double-digit lead for the entire second half against the Flyers.
"You hate to get beat by a team twice. I thought that we corrected some of the things that we struggled with the first time we played them," said Bihn.
The Bulldogs and Flyers are both back in action again on Friday. Celina is hosting Wapakoneta and Marion Local entertains St. Henry.