Wednesday, January 15th, 2014
Ohio AG talks illegal drugs with local officials
By Amy Kronenberger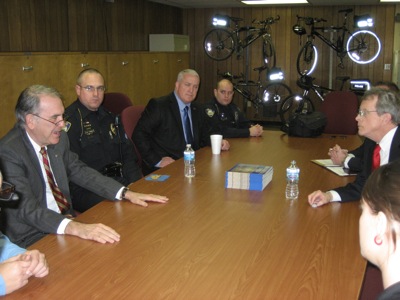 ST. MARYS - Ohio Attorney General Mike DeWine on Tuesday met with St. Marys and New Bremen officials and discussed heroin, synthetic drugs and programs offered by the state to assist residents and police departments.
St. Marys Police Chief Mark Ernst said the biggest concern his department is dealing with is heroin. DeWine said heroin is an epidemic affecting every county in Ohio.
Ohio had about 800 deaths directly caused by heroin last year and likely the same amount in indirect deaths, DeWin said.
"So it's huge. It really is an epidemic," he said. "When I started as county prosecutor in the late '70s, we expected to find heroin in Dayton ... We didn't find it in St. Marys. It was found in the cities. But it's in every county now and in every economic group, every social group. It's just everywhere and it's cheap."
DeWine's office has set up long-term, high-level investigations in response to the heroin issues, he said, and set up a unit to help communities start a grassroots program to battle the increasing drug addictions.
"I'm convinced that all of us aren't going to solve the heroin problem," he said to the group of officers and other officials. "It's going to take the community getting upset, getting mad and making a grass roots effort."
The attorney general said similar efforts to stop prescription drug issues have worked well. He asked if St. Marys is seeing any issues with prescription drugs. Ernst said it's always been a problem.
"We have four units dedicated to that, so it continues to be a problem," he said.
St. Marys sergeant Ted Copeland said he is also seeing an increase in popularity of the drug synthetic cannabis called K2 or Spice. He said the drug is not a controlled substance and is most popular with juveniles.
DeWine said with issues like this, he has to seek approval from the state pharmaceutical board to place a drug on the list, which can take several months. He is working on legislation that would allow him authority to place a substance on the list in emergency circumstances.
He asked if the officers were having trouble with any businesses selling synthetic drugs. Copeland said one gas station used to sell a large amount of the drugs, but all establishments have been notified by the police and no longer sell it.
"I think word is getting out by local law enforcement," DeWine said. "Now, they can still get it under the table ... but you gotta ask."
DeWine said synthetic drugs are very dangerous because the industry has no quality control.
"A guy can go in, buy it and get high and be happy with that, but when he goes in again he dies," he said.
DeWine's office has created a unit to investigate online sex predators, he said. The unit actively investigates suspects and offers training to local police departments. The attorney general asked if St. Marys would be interested in training.
Ernst said his department already has two officers trained in computer forensics and one of them tracks predator work.
"We've arrested at least a dozen or two dozen people from doing that," he said. "I'd say we're pretty forward thinking here ... It's special for a department our size ... For the little amount of guys we've got, we try to do as much as we can."
DeWine applauded the officers, calling their work phenomenal.
He also asked if any of the officers have done any simulator training. Ernst said no but he was in the process of setting something up.
DeWine told the group that his office used some of the casino revenue set aside for police training to set up seven mobile simulator units throughout the state. He said one is a driving simulator and the second is a shoot-don't shoot simulator with about 300 different scenarios.
"We decided to do that, one, because I wanted to take it to the smaller departments who might not have the opportunity to have that kind of training, and two, I wanted to take it to the departments so they didn't have to lose any time going some place," he said.
Statistics show the top reasons an officer dies in the line of duty is from being shot and from a car crash, DeWine said. His office developed the simulators with the hope of lowering those statistics.
DeWine also said his office offers assistance to victims of scams or identity theft. The unit can't prevent the crime but walks victims through the steps of what they need to do after the crime takes place.
"We have a packet we can send them or we can actually do it for them," he said. "It's so prevalent statewide that we have our own separate unit. It's a big, big problem."