Thursday, January 16th, 2014
Growth boosts taxes
Higher collections signal economy is improving
By Doug Drexler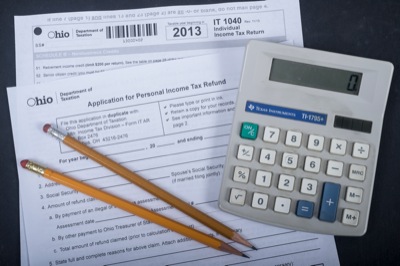 Increasing income tax collections indicate area businesses are adding to their payrolls through hiring or higher wages.
"It means people are working - and working within the county," said Jared Ebbing, Mercer County's economic development director.
Local officials say the increase indicates the area has survived the recent economic slowdown and is starting to see a better job market.
Municipalities and schools are seeing the benefits.
"I think we're just about clear of the recession," said Parkway schools treasurer Debbie Pierce.
"I think the improving economy, and the businesses around here have weathered the storm and are starting to grow again," Minster village administrator Donald Harrod said.
Ebbing sees tax collections as a better indicator of the county's economy than its unemployment rate, which has been the lowest in the state for more than two years. By itself, a low unemployment rate presents an incomplete picture, he said. The low rate could indicate that people are either working outside the county or people who do not have jobs are leaving the county.
More tax collections combined with low unemployment present a good picture, he said.
The next vital indicator will be to see if the county population rises when the Census Bureau releases new numbers in a couple years, he said. Falling income tax collections and population would be serious warning signs for future growth, he said. However, if all three numbers are headed in the right direction, it would indicate the county is thriving.
"All three is the trifecta we want to hit," he said.
There are signs the population is growing, according to Ebbing. Home construction is occurring, particularly in the southern part of the county. That tells him that young people are likely staying in the area to work and live, giving the area vitality.
That vitality gives employers confidence to increase payrolls - either by hiring or increasing pay for current employees, he said.
Coldwater had a record income tax collection of about $1.5 million in 2013.
"We just didn't seem to get hit hard with the business downturn," Eric Thomas village manager/engineer said. "The sky wasn't falling here."
He credits the growth to savvy local business owners who managed to expand despite economic challenges. With the exception of 2009, which saw income tax revenues drop to $1.248 million from $1.251 million in 2008, the village has seen income tax revenues grow annually from $640,723 in 1988 to $1.512 million last year. The most recent total was an increase of about $50,000 from 2012.
The additional funds let the village avoid cutting back on services or going to voters for tax increases, Thomas said.
The growth has also somewhat offset the cut in funding from the state, finance director Clyde Bellinger said. In 2006, Coldwater received $195,524 in Ohio local government funds, but that amount dropped to about $98,000 last year.
Thomas said the elimination of the inheritance tax cut another income stream to the village. Coldwater had received as much as $30,000 to $40,000 from that tax some years, he said.
Celina also has seen a slow, steady growth in income tax collections in recent years, city auditor Betty Strawn said. The city received $4.8 million in income taxes in 2012 and just over $5 million in 2013, a 4 percent increase. Collections are the highest ever, even after adjusting for the additional 0.5 percent tax added in 2011.
"It's just staying real level," she said. "I think it's a good indicator that things are going steady, and that's a good thing. It's not a loss."
Collections for Celina schools are basically holding steady, said treasurer Mick Davis. While the district's income tax collections had been on a slight, steady increase - rising from $2.221 million in fiscal year 2012 to $2.447 million in 2013, he projects 2014's to be about $2.416, a 1.25 percent drop. In the first half of last year, the district collected about $764,000 compared to about $695,000 this year.
"We hope to gain a little back, but probably not the whole amount," he said. The income tax represents only a portion of the district's $27 million in total revenue, he noted.
Fort Recovery Village Administrator Randy Diller said he sees the village's growing tax collections as a sign of a strong economy.
"It's indicative that we have a good economy around here," he said. "Our biggest industries are still growing."
Village income tax revenues had fallen from the previous record high of $999,294 in 2010 to $865,955 in 2011 and $796,930 in 2012. They rebounded in 2013 to just over $1 million, a record. The added income has afforded the village the opportunity to do projects that would have been put off, Diller said. It has also allowed the village to get more grants and better loan terms, including the zero-interest loan to finance the sewer separation project.
He said the village can start looking forward to projects such as improving the wastewater treatment system and, in the future putting up a water tower, so the village is prepared for future growth.
Fort Recovery school district has seen some growth in its collections, although some one-time payments have introduced some swings in the totals. The total jumped almost 11 percent from about $1.69 million in 2011 to $1.87 million in 2012 before returning to a more normal $1.61 million in 2013, treasurer Lori Koch said.
The collections indicate steady economic growth with a strong local workforce, she said. The district has one of the highest income tax rates in the state at 1.5 percent. That rate, though, lets the district keep its property taxes lower, which generally benefits farmers, she said.
"We are very, very lucky with that," she said.
Coldwater schools treasurer Michelle Mawer said the district's income tax collections had risen for the past three years after a steep drop in fiscal year 2011. In 2009, the district collected about $729,000 and about $771,000 in 2010. Both of those years results were buoyed by one-time windfalls, in which taxpayers earned unusually large incomes, Mawer said.
Tax income fell to $635,000 in 2011. Since then, collections have risen to $758,000 in 2013 and $465,564 in the first half of the current fiscal year, a level Mawer considers normal. Those taxes form just a part of the district's $12 million annual budget.
"The district's not getting rich, but we're getting back to where we were four years ago," Mawer said.
St. Henry's steady collection level indicates a slow, steady growth, Ruth Miller, fiscal officer/tax administrator, said.
Collections dropped to $794,000 in 2013 from $859,000 a record high in 2012, she said, noting that 2012 was unusually high because some companies had made large overpayments on estimated profits. Those overpayments carried over to 2012, so the two years should be seen as basically level, she said.
The village does expect to see some growth from both new business and expansions in 2014, she said.
Parkway schools had seen their collections fall with the economy, dropping from an all-time high of about $1.15 million in 2008 to about $1.02 million by 2010, Pierce said. Since then they have slowly rebounded to $1.14 million in 2013, about 11 percent of the district's $10.1 million general fund budget. She sees the increases due to the district's agricultural base.
"We do have that farming income," she said. "When the farmers do well, we do well."
St. Marys has seen strong growth in its economy, and backed up that growth with an increased focus on collecting taxes due, safety service director Gregory Foxhoven said.
"The sum of it is the health of the economy," he said. "Our top employers are paying taxes on projected profits."
As a result of the diverse local industry, mandatory filing and increased enforcement, St. Marys saw its collections rise more than 7 percent from $3.9 million in 2012 to $4.2 million in 2013, Foxhoven said. Those numbers compare to $3.8 million in 2010 and $3.7 million in 2011.
Minster saw its collections reach a record high of $3.44 million in 2013 up from $3.25 million in 2012, Harrod said.
Minster school figures were not available for this article.
New Bremen saw its collections rise about $650,000 from $2.27 million in 2009 to about $2.94 million in 2013, the highest total in five years, said fiscal officer Diane Gast.
"The economy in general has been better," she said.
New Bremen's school district has seen volatility in its collections, treasurer Deb Meyer said. The tax hit a low of $1.346 million in 2011 before hitting $1.762 million in 2012 and falling back to $1.655 million in 2013, she said.
Looking at the numbers, Meyer said it seemed that the money employers had withheld from employees was steadily growing, but business owners' payments on estimated profits were lagging. That may indicate businesses were still recovering from the effects of the slowdown, she said.