Saturday, January 18th, 2014
Cavs escape with win in Rockford
By Gary R. Rasberry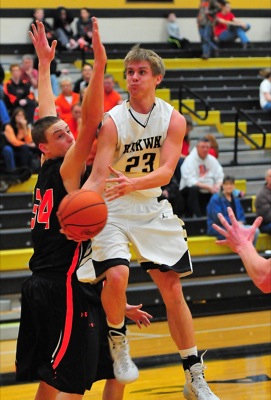 ROCKFORD - Coldwater and Parkway both provided solid defensive efforts, but it was the Cavaliers holding off a late Panthers' charge for a 42-40 Midwest Athletic Conference victory on Friday night at Panther Gymnasium in Rockford.
Coldwater improves to 3-5 overall and 1-2 in MAC play.
"At halftime, we talked about being 1-of-12 from the three and ahead by one," said Coldwater coach Mike Bruns. "(Parkway) was shooting 60-some percent (inside the three-point line). We knew at that point we could play a lot better than that. I thought all the kids contributed."
Parkway falls to 4-9 overall and 0-4 in the MAC.
"Our defensive effort was good," said Panthers coach Rick Heckman. "It wasn't without some missed assignments, but overall when you hold a team to 42 points, you should have a chance to win, and we did."
The second quarter featured seven lead changes but Coldwater took a 22-21 lead at halftime after Brandon Wolters' stickback with 12 seconds left in the first half.
A big key to the Cavaliers' first-half success was rebounding as Coldwater had nine offensive boards, compared to two for Parkway.
"That's one thing we talked about at halftime," said Heckman. "Most of their points are coming off penetration or missed shots. Even when they penetrated and missed, they got rebounds and putbacks. I thought we did a better job of that in the second half."
The Cavaliers started to pad their lead in the third quarter as Wolters, Derek Thobe and Brody Hoying each contributed scores that pushed Coldwater's lead up to eight at 36-28 as the horn sounded to end the period.
With Coldwater leading 38-30 with seven minutes remaining in the game, Parkway began to rally. Brant Barna started the Panthers' comeback with a bunny in the lane, and after a Coldwater turnover, Tanner Bates connected on a three-pointer that cut the Panthers' deficit to 38-35 at the 5:49 mark.
Ted Fisher hit two of three free throws to push Coldwater's lead back to five before Bates drove in the lane and scored to make it a three-point game with 3:40 left.
A Thobe bucket gave Coldwater its last points of the game with 2:05 on the clock. The teams then traded empty possessions before Barna drove hard to the basket and got fouled as the ball went through the hoop with 57 seconds left. The completion of the hoop-and-harm three-point play cut Coldwater's lead to 42-40.
Coldwater then worked the ball around the perimeter before the Panthers fouled, sending Thobe to the free-throw line. Thobe, who was 4-of-4 up to this point, missed the front end of a one-and-one opportunity and Barna grabbed the rebound and advanced the ball to halfcourt before Heckman called timeout.
Parkway then tried to lob the ball to Barna in the post but Wolters deflected it out of bounds with 4.8 seconds on the clock. Parkway then passed the ball to Brandon Gibson on the ensuing inbounds play and his three-pointer missed before Matt Heindel collected the rebound and missed as the final horn sounded.
"Shots didn't fall," said Heckman, whose squad actually had a better shooting percentage (40.5 percent) than Coldwater (39.0 percent). "The shots fall, everybody looks great. They don't fall, you don't look good."
"We still have to take care of the ball in pressure situations," said Bruns. "That's been the story all year, but we've been better than that. You look at the games earlier, it was turnovers that killed us. You look at tonight, we were a little more confident with the ball (committing only eight turnovers). That's a positive thing at the middle of the season."
Hoying and Thobe each scored 10 points to lead Coldwater while Wolters added eight points and 10 rebounds.
Barna finished a game-high 13 points and seven rebounds. Heindel scored nine points and finished with 11 while adding five rebounds.
Both teams are at home tonight in nonleague action. Coldwater takes on the Green Wave of Greenville while Parkway plays host to the St. Marys Roughriders.