Monday, January 20th, 2014
Dangerous intersection gets safety upgrades
Larger signs installed; overhead flashing light coming in spring
By Shelley Grieshop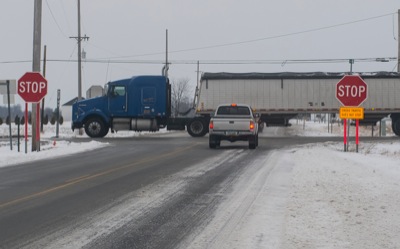 CELINA - Officials hope larger signs and an overhead flashing signal will help reduce accidents at an intersection west of Celina where two drivers were killed last year.
Following the conclusion of a safety study last fall at the junction of state Routes 29 and 118, and Burkettsville-St. Henry Road, the Ohio Department of Transportation enlarged stop signs and Cross Traffic Does Not Stop signs from 36 inches to 48 inches.
A more visual upgrade will take place early this spring when an overhead flashing red and yellow light is installed, according to ODOT spokeswoman Denise Heitkamp.
"This overhead traffic signal device will provide the driver ... an additional warning device of the intersection's location," she said.
The signal will flash yellow to alert drivers on state Route 29 and red on the opposite roadways, Heitkamp added.
Stop signs currently are posted for north/south traffic (state Route 118 and Burkettsville-St. Henry Road); state Route 29 motorists have the right of way.
ODOT officials in recent months surveyed neighbors in the area about the possibility of installing rumble strips - grates in the pavement that create vehicle vibration and noise - along state Route 118.
"The responses were not in favor of the rumble strips," Heitkamp said.
Nearby residents feared the noise - particularly from semitrailers - would be too loud, especially during nighttime hours, she said.
From 2008 through 2013 eight crashes occurred at the intersection; four involved injuries and three resulted in fatalities, according to ODOT data. The accidents occurred at various times of the day. Factors varied and included motorists unfamiliar with the area and distracted or sleepy drivers, officials said.
Both of the deadly accidents in 2013 were caused when southbound drivers failed to stop, law enforcement officials said. An accident in late June took the life of 36-year-old Michelle Bruns of Maria Stein. The second fatality killed Ronald Albers, 56, of Portland, Ind., in mid-November.
ODOT in November told The Daily Standard they would begin collecting data to see what safety measures could be taken. Heitkamp, at that time, said all traffic signs at the intersection had been upgraded and new warning signs had been installed in 2012.
ODOT previously discussed the issue with officials from the county sheriff's office and engineering department, as well as the local Ohio State Highway Patrol. County engineer Jim Wiechart said the changes show a sincere intent by ODOT to promote motorist safety.
"All of the actions ODOT - (those) already taken or are in the process of completing at the intersection - are above and beyond the minimums required in the Ohio Manual of Uniform Traffic Control Devices for an intersection of that type," he said.