Thursday, January 23rd, 2014
Cavaliers advance to semifinals
Wrestling Team Regional Tournament Roundup
By Gary R. Rasberry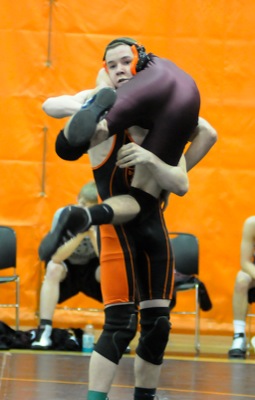 Compiled by Gary R. Rasberry

Coldwater's wrestling team earned two quarterfinal victories on Wednesday night at The Palace to advance to the Division III regional semifinals of the state wrestling team tournament.
The Cavaliers opened with a 45-24 win over Paulding before defeating Wayne Trace 45-26.
"Good wins," said Coldwater coach Rob Schmidt. "We wrestled well, but we could have wrestled better. It wasn't our best night, but not a terrible night."
Coldwater is back in action again next Wednesday against Delphos St. John's at a site to be announced later this week.
Against the Panthers in the opener, Coldwater picked up eight wins out of 14 matches but tallied five pins among the victories while Paulding posted just two pins. Against Wayne Trace, Coldwater scored three pins.
Jay Uhlenhake (113 pounds), Spencer Seibert (126), Jordan Obringer (138), Reece Kaiser (145), Jake Schmidt (160) and Justin Post (220) each went 2-0 on the night for the Cavaliers, with Obringer and Post getting pins in both of their victories.
DIVISION II AT WAPAKONETA
Celina lost a hard-fought 45-33 decision to Benjamin Logan in the first round of the regional quarterfinals at Wapakoneta High School.
The Bulldogs appeared to be in control in the early stages of the matchup. In the opening matches between 106 pounds and 152 pounds, Celina won five of the eight bouts as Jacob Whitaker (106), Austin Hines (113), Aaron Crites (126), Alex Schlotterer (132) and Andy Garwood (152) earned victories.
The momentum swung directly to the Raiders in the heavier weight classes, as Celina could only manage one win - Curtis Silliman via decision at 182 pounds - during that stretch. Ben Logan scored three straight pins to overtake Celina down the stretch.
"We put out a lineup with only eight of our starters," said Celina coach James Miracle. "We lost (Kyle) Balthis to injury last week and another did not pass a skin check. And the one who won in the last six matches hasn't practiced all week (Silliman). We're not healthy right now."
Ben Logan lost in the last match to the host Redskins 47-26, allowing Wapakoneta to move on to next week's regional semifinal.
DIVISION II AT INDIAN LAKE
St. Marys won both of its matches at Indian Lake High School to advance and will now face Wapakoneta next week at the regional semifinals. The Roughriders defeated Bellefontaine 35-34 before knocking off top-seeded host Indian Lake 37-34.
In the opening bout against Bellefontaine, Spencer Knous (195) and Chance Hicks (220) won two big matches down the stretch to give the Roughriders the tight victory.
In the final match against top-seeded Indian Lake, St. Marys' Tate Carlon scored a pin in the heavyweight match to clinch the win for the Roughriders.
Knous and Garrett Hower (113) were the only St. Marys wrestlers to record two wins on the night.