Monday, January 27th, 2014
Snowmobiler's body recovered from lake
Friend reported St. Henry man missing early Saturday
By Kathy Thompson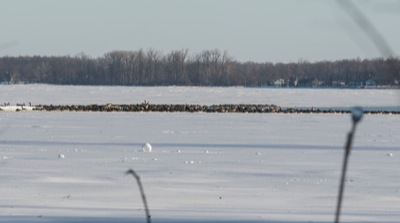 MONTEZUMA - An attempt to cross Grand Lake on a snowmobile resulted in the death of a St. Henry man on Saturday.
The body of Dale Bruns, 34, was recovered Saturday morning just east of Dayton Island, about 500 yards from the lake's south shore near Kozy Kampground, according to Montezuma Fire Department Chief Ron Schulze.
Bruns was last seen at Shocker's Night Club in Montezuma between 11:30 p.m. and midnight Friday, the chief said at a press conference Saturday afternoon at the Montezuma firehouse. Bruns' friend called the Mercer County Sheriff's Office at 1:20 a.m. to report him missing. He told authorities Bruns had left the bar on a snowmobile.
Mercer County Sheriff Jeff Grey said he immediately dispatched seven deputies to the area between the bar and Coldwater, searching for Bruns along roadways.
"We were using our spotlights in the fields and along the roadways," the sheriff said during the press conference. "Some of the deputies we brought in were off duty because we knew it was serious after learning Mr. Bruns was on a snowmobile and the weather conditions."
Grey had issued a level 2 snow alert at 11:30 p.m. Friday, advising residents that county roads were becoming impassable with blowing and drifting snow. The recorded temperature at 8 p.m. Friday was 15 degrees.
Volunteers and family members scoured the area, Schulze said. Participating in the search were 87 people from various departments including Chickasaw, St. Henry, St. Marys Fire Department, Montezuma, the sheriff's office, Ohio Department of Natural Resources, Celina Fire Department and Coldwater EMS, he said.
Schulze said the lake was not searched since it was dark and he did not want anyone out there due to the open water areas.
"We used the utmost safety," he explained. "Our policy is no ice is safe. There is open water out there and I didn't want anyone else to come up missing."
About 2:30 a.m. Saturday, the sheriff's office was able to ping Bruns' cellphone at a location near the gas station on state Route 219 near Windy Point. A prior ping at 11:10 p.m. Friday had shown the same location, Schulze said.
The search expanded at daylight and at 9:57 a.m. an officer with ODNR located what was believed to be a snowmobile helmet floating in the water; Bruns' body was found nearby. Members of the Montezuma and St. Mary's Township fire departments entered the water to recover the body.
Grey and Schulze called the incident a "tragic accident."
"We have no reason at this point to believe any foul play was involved," Grey said. "An autopsy is not going to be done, but we are having routine blood tests run."
Schulze said he did not know if alcohol played a part in the accident. The incident is being investigated by the sheriff's office.
"We would like to thank all those who came out and assisted us," Schulze said. "This is such a tragedy."