Saturday, February 1st, 2014
Celina man knows what it's like to be among homeless
By Doug Drexler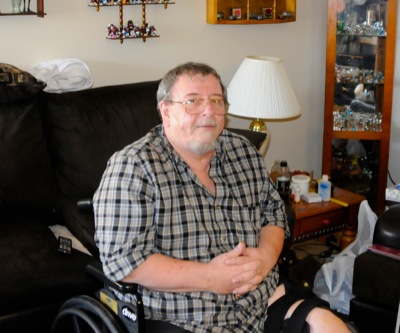 CELINA - Jim Carpenter believes the area's homeless likely hid overnight Tuesday to avoid the bitter cold and police as officials attempted to count them.
That's what he would have done when he lived on the streets more than 25 years ago.
"Whatever number they come up with is going to be low," the 58-year-old said during an interview Tuesday in his apartment in Celina. "They're not going to find them. They would be too worried about being arrested for vagrancy."
The homeless count was the first of its kind by Sources Community Network Services. It was part of a campaign by the U.S. Department of Housing to combat the problem.
Carpenter's personal experience gives him a unique insight into the lives of street people.
"They kind of try to stay out of sight," he said. "I was one of those people a long time ago. I lived in my car. I've slept on park benches. I've done it all."
Sitting in his warm living room, Carpenter calmly spoke of his past life. He stared ahead as if looking back in time to recall the mind-set of someone who is down and out.
"People who are homeless are very protective of what they have, you get very defensive," he said.
He recalled trying to dodge authorities when he was living on the streets and he still finds himself acting on those survival habits, though he hasn't been homeless for decades.
Carpenter's life hasn't been easy; he uses a wheelchair since breaking his leg in three places Jan. 6.
Inside his apartment is a blue storage bin full of candles; others fill nearby shelves. Candles can give light and keep the apartment warm if the power fails - a tip he learned long ago, he said. He also collects small knickknacks and other items easy to carry and trade.
"There's a big difference of what's important to a homeless person than to someone who's never had to do without," he said. "Everything I have is trade-able. Nothing is irreplaceable. Everything can be a commodity."
Carpenter keeps handy a pocketknife with a variety of tools, a flashlight and a rain poncho from his homeless days. At one time the poncho also functioned as a tent or a bedliner to separate him from the snow as he slept in winter, he said.
"You start finding things that have more than one purpose," he said.
A ball of twine also has many uses such as holding up the walls of a cardboard shelter.
Growing up in Winchester, Ind., gave him an advantage over homeless people in cities, he said.
"I grew up in the country. I knew how to live off of what was out there," he said, adding fishing and foraging were ways to stay fed.
The city's homeless are more likely to be drug addicts, he said. During a rare emotional moment, Carpenter angrily bashed drug addicts for giving homeless people a bad name. He also had little respect for able-bodied people receiving government help without being required to work.
"Those are the kind that abuse the help," he said.
Carpenter displayed an old file with positive reviews and recommendation letters from his past jobs. There's evidence of promotions to management and jobs with much responsibility, he said. He had managed seven restaurants and a printing company, and had moved up to general manager at a security guard business after just 18 months.
Then the tough times arrived.
In 1980, he crushed three vertebrae in his back trying to free a pallet while working for a box company in Springfield. The injury left him with months of rehabilitation and his doctor limited his lifting to 10 pounds.
"Who's going to hire you?" he asked.
His first marriage ended about the same time and he grew apart from his ex-wife and her children. He continued to re-injure his back on the job and later had trouble finding and keeping employment.
"It's hard to maintain a house, a family, anything when you're in and out of the hospital," he said.
He had experienced a brief bout of homelessness in the 1970s. After serving five months in the Army he received an honorable discharge in 1972 for a hearing problem. He took off to see the country and traveled from New York to Florida, Mexico and Canada, covering most of North America. He had considered it an adventure.
"I'd go with the weather," he said.
When he was went back to living on the streets it was different.
Society doesn't always understand the world of the homeless, Carpenter said.
"Being homeless changes the way you look at things," he said. "Family doesn't understand your values. I just wish I could get people to look at the homeless differently. Not all of them are off mentally. Some are, but most want to work for something."
Isolation sets in as friends and family tire of helping and turn away, he said.
"You don't want to talk to them (homeless); they're dirty and nasty. Well, there's a reason for that," he said.
People living on the street have no place to wash up or clean their clothes, he explained.
"It's not that you're a deadbeat or you're lazy. You don't have a choice," Carpenter said. "They're not looking for a handout, they're looking for a hand up."
He wasn't in the Army long enough to be considered a veteran so he was ineligible for government assistance when he couldn't find a job, he said. With no means for housing, he lived on the streets.
Carpenter looked for abandoned buildings or other warm places to stay. He frequented fairgrounds because they often were heated for boarded animals. Junk yards also were popular because vehicles offered shelter, and he could usually find change left behind in cars.
He'd take jobs as a day laborer to make enough money for a room at night, he said. Without giving much detail, he talked about the darker side of those times.
"Never turn down anything that's offered," he said. "You can't always do what's legal. You have to do what's available to survive. It doesn't make you feel too good. You'd really have to experience it. I pray to God no one has to. People say 'I'd never do that' but until you have to, you don't know."
As he aged, he no longer could take the street life, he said. He was selling vacations in the late 1980s when his company eliminated its sales force. With just $100 in his pocket and a carload of possessions, he headed to North Carolina for a lead on a sales job. He quickly discovered the position wouldn't be available for three to four months.
To avoid living on the street he took day jobs to pay for nightly room rent. Sometimes he'd visit small gas stations to trade something from his car for a tankful of gas.
"I may not have lived in the best of places, but it was a roof," he said.
He contacted area ministers for job leads, he said.
"The church doesn't look down on the people," he said. "They treat them like a person ... not just a homeless person."
After saving enough money, he moved in with family members in Indiana and took a job with Cooper Farms in St. Henry. He eventually moved to Fort Recovery, then Celina.
Carpenter said his life is much more stable now. Foundations Behavioral Health Services, Celina, helped him complete a three-year process to attain disability benefits and housing aid, and Sources helped him get government assistance.
He thinks people in smaller communities are more willing to help the homeless.
"When you see a neighbor in trouble, you help," he said. "You don't help a stranger. The smaller the community, the friendlier they are."
People in less populated areas are more likely to donate items such as food or gloves, Carpenter said.
To pay back the community that helped him, Carpenter began volunteering at Salvation Army and Sources, of which he is now a board member.