Monday, February 3rd, 2014
Heitkamp captures WBL championship
By Gary R. Rasberry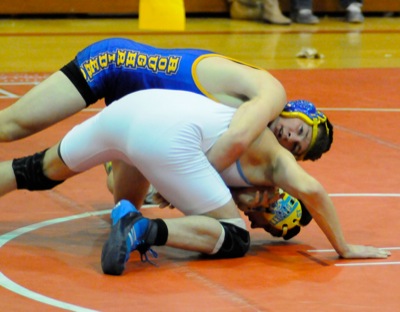 KENTON - The question of the day at Kenton High School on Saturday was if anyone would give Defiance a run for its money at the Western Buckeye League wrestling meet.
The answer was no, as Defiance coupled its undefeated regular season with the tournament title to take sole possession of the league championship.
Defiance tallied 220 points and brought home four individual champions. Bath was second but finished well behind with 154 points, three-points ahead of third-place Wapakoneta.
Celina, which was 6-3 in league duals, only had two wrestlers compete for championships and finished sixth.
"Very disappointed," said Celina coach James Miracle. "We came in here fourth after the duals. Kind of expected to come in fourth or fifth on the tournament side. Just had some matches get away from us. Would have liked to come out with at least one champion. Our goal was to get seven placers (top four). Anything below that we thought would be a disappointment. We had five."
Cross-lake rival St. Marys won one title and had two runner-up finishes to finish fifth as a team.
St. Marys coach Larry Gruber was pleased with the effort of the Roughriders.
"You always want to do better," said Gruber. "There's always something you can see that you can go back and work on. Overall, we're fairly pleased. It's just the matter of going back and getting ready for next week."
The lone local champion came at 160 pounds as St. Marys' Jaden Heitkamp battled Bath's Zach Garrett. The bout turned for Heitkamp in the second period with a takedown and three-point near fall that had the lead at 9-2 before Garrett scored a late reverse to end the match at 9-4.
"It was pretty intense," said Heitkamp. "The big five-point move was pretty important. Feels amazing. Can't wait to go home and share it with my family."
Celina senior Andy Garwood had a great battle facing Defiance's Robbie Bowers in the 152-pound final. Garwood led 1-0 in the second period after an escape, but was hit with a second passivity call to give Bowers the tying point. In the third period, Bowers chose the down spot at the start and quickly escaped to grab a 2-1 lead. Garwood worked to get a takedown in the final minute to try and get the win, but Bowers held off every challenge until the final horn.
The Bulldogs' Kevin Lockwood had a tough challenge in the 220 final, facing defending champ Jarred Carpenter of Wapakoneta. Carpenter got a takedown, and after a competitive first period, Carpenter finally took control and scored a pin at the 3:49 mark.
St. Marys' Garrett Hower also had a battle as he faced Blaine Hunter in the 113 pound final. It was a close battle, but Hunter held on for the hard-fought 6-3 decision.
Austin Quellhorst was the other Roughrider runner-up, losing to Defiance's Riley Zipfel via pin at 2:30.
Celina claimed a third-place finish from Austin Crites at 126 pounds, pinning Ryan Kalb of Bath in 2:12. Tyler Dillion took fourth at 145, falling via pin to Defiance's Seth Meyer. Curtis Silliman also took fourth at 182 points, losing via 10-1 major decision to Kenton's Dylan Castle.
St. Marys' Justin Nedderman placed third at 106 pounds with a 4-2 overtime win over Kobe Cunningham of Bath while teammate Boston Hensley took third at 138 via a 5-3 decision over Bath's Jacob Horstman. Roughrider Eddie Reier was fourth at 120 after losing via pin to Drew Robenalt at Wapakoneta.
Both teams have one more regular-season invitational before the start of the postseason individual tournament. Celina, due to having the Celina/Wapak Lions Invitational cancelled because of weather, will travel to Warsaw to take part in the River View Invitational on Saturday. St. Marys will compete at the Rossford Invitational.