Monday, February 10th, 2014
Vacant commercial buildings dwindling
By Doug Drexler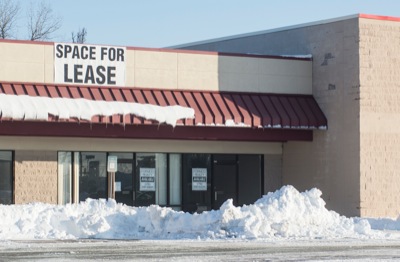 CELINA - Local economic development officials and real estate brokers say a dwindling supply of vacant commercial buildings signals growing optimism by business owners.
A planned Hot Head Burrito restaurant will fill the second to last storefront in the Lakewood Village Shopping Center on Havemann Road. The shopping area formerly anchored by Walmart - which abandoned the building in May 2005 - has been filling up in the last two years with the addition of Ruler Foods and Dunham's Sports.
Other moves include Frysinger Machine relocating into the former Heckler Martz cabinetry building on East Market Street, Mercer Landmark purchasing the former city service building on West Market Street, and Rubber Recycling Technology taking over the former Qualitec building on Grand Lake Road, according to Celina Safety-Service Director Tom Hitchcock. Lockwood Performance now occupies the former Aquatech building.
In the southern portion of the county, a new restaurant is starting up in the Meinerding building in Fort Recovery, Linda May, owner-broker of May Realty, said. The eatery will feature good dining and a sandwich menu when it opens in late spring.
"We try to partner buyers with sellers," Hitchcock said. "You hate to see empty buildings, but if you don't have empty buildings, you have no opportunity to bring in something new."
Recruiting new businesses to the county takes a team approach.
"If we can't get them into the city, we want to keep them in the county," he said.
His office often refers potential buyers to Mercer County Community Development Director Jared Ebbing to show a united front in luring businesses.
Area villages also work well together. If a potential business contacts one community looking for space and none is available, they often refer the company to a nearby municipality with a suitable site, he said.
"It's a very good team. It's probably the best economic team I've been involved with," Hitchcock said.
Ebbing said the local area needs more industrial structures.
"We have more people asking than we have available space," he said, adding 10 to 15 empty buildings have been filled in the last three years.
Ebbing sees a need for industrial buildings of 5,000 to 10,000 square feet. Demand is high enough that constructing such a site on speculation may soon make sense, he said.
"It's an interesting dilemma," he said. "There's always that kind of ebb and flow."
The many recent successes are shadowed by several unoccupied buildings seeking tenants, Ebbing said. Abandoned structures include the former Copy Super Center, Stock (Lumber) Building Supply and Bob Evans in Celina, and Carter Lumber east of the city.
The only other empty commercial buildings Ebbing reported are the former drive-in theater along state Route 703 and the Heiby farm in front of Celina's solar field.
"Other than small sections left in the former AGCO New Idea building, there really aren't any other empty commercial buildings that are sitting empty right now," Ebbing said.
The real estate agent selling the former Bob Evans at the corner of Market and Lake Shore Drive in Celina said he expects a purchase soon.
"We have some serious offers that are in the pipeline that are being considered," Matt Arnovitz of CBRE Group said. "My guess is something will happen in four to six months."
A deed restriction on the site has limited the number of potential buyers, he said. The purchaser cannot own and/or operate a family-style restaurant at the site for 40 years after recording the deed. A family-style restaurant is described as "a sit-down restaurant serving moderately priced food in a casual atmosphere ... such as Cracker Barrel, Denny's, Applebee's and Panera Bread." Fast-food restaurants are not banned under the clause.
Sites such as the lumber yards or the former Big Bear grocery store in Celina can be tough to sell, Hitchcock said. They are too large for small, start-up companies, and those needing big spaces are likely to construct a building to suit their specific needs.
In some cases, a move can be good news for one community and bad news for another.
Casad Company recently moved its operations out of the Hilgeman building between Celina and St. Marys to the former New Idea plant in Coldwater. The move left the 11,000-square-foot building vacant, Ebbing said.
Some interest has been shown in the former Stock Lumber site on West Logan Street, May said.
"I have lots of people go through it," she said. "It's bigger than they thought it was."
The lot spans more than seven acres and has eight buildings with a total 62,991-square-feet of space, according to a web ad. The owner is considering leasing part of the site, May said.
Location is a complication for many vacant buildings, May added. Property located on the east end of town near the four-lane highway and Harbor Square along Havemann Road demand higher prices and move more quickly.
The former Big Bear grocery on Wayne Street has a location dilemma, Hitchcock said. When the store opened, it was at the edge of town where new development was occurring. Business growth now is centered near the Walmart Supercenter and Menards.
"That's now the corridor," Hitchcock said.
The size of the former grocery store also inhibits buyers, he said.
"We've taken a lot of people through there," he said.
Still, Hitchcock said he has hopes for the building.
"It just takes that one person," he said.