Wednesday, February 12th, 2014
Indians edge Bulldogs by one
Siefring's late free throw proves to be game-winner
By Gary R. Rasberry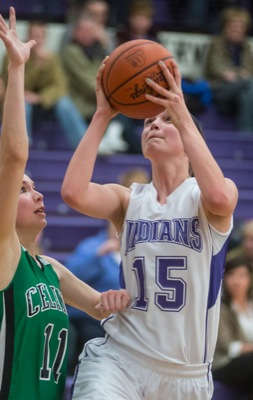 FORT RECOVERY - In a hotly-contested matchup between Celina and Fort Recovery on Tuesday night, it was Kendra Siefring's free throw with 44 seconds left in the game that propelled the Indians to a 47-46 win over the Bulldogs at Fort Site Fieldhouse.
The biggest lead for either team was four points throughout the game with seven ties and 12 lead changes.
"We missed some bunnies early on. If we had made those, it might have let us pull away a bit," said Celina coach Toma Hainline. "... I told the kids I was proud of them. They really tried to execute everything we tried to do tonight. I couldn't ask for more. I thought we played much better than we did last Thursday (against Shawnee)."
"Kids played hard, and I think (Celina) played hard," said Fort Recovery coach Doug Bihn. "It was tough all night. It was a good game. Celina is better than their record."
Celina (3-18) led 24-23 at halftime and maintained a one-point lead at 37-36 at the end of three quarters.
Fort Recovery (9-10) quickly regained the lead in the fourth quarter on back-to-back baskets from Kara Jutte and Siefring after a pair of Celina turnovers. The Indians were up four at 45-41 with just under 4 1/2 minutes on the clock, but the Bulldogs climbed back as Heather Heiby hit a field goal and added a free throw to tie the game at 46-46 at the 1:41 mark.
Both teams had chances to break the tie on their ensuing possessions but came up empty. Caley Schoenherr was fouled going for an offensive rebound but missed two free throws that would have put the Indians ahead. Celina had solid looks from Jenna Berry and Heiby on a possession, but both shots missed and Siefring pulled down the rebound.
After a timeout, Siefring was fouled with 44.4 seconds to go. Siefring missed the first free throw, but buried the second to put the Indians up by a point.
Celina moved the ball on the perimeter on the ensuing possession, looking for either Berry or Heiby. It was Heiby that got open at the top of the three-point line and took the shot, but it was off target and Tori Lennartz collected the rebound before being fouled with 4.5 seconds left. Lennartz missed the front end of the one-and-bonus, with Celina's Trish Dennis getting the rebound and passing to Heiby, whose 3/4-court heave hit the rim, but bounced harmlessly away at the buzzer.
"We made some plays late, got some easy buckets late," said Bihn. "If we could have made some free throws (Fort Recovery was 10-of-19, but 4-of-11 in the second half), it would have helped us out a little better, too."
Lennartz finished with 18 points to lead the Indians, shooting 6-of-18 from the field thanks to primary defensive work from Berry.
"(Lennartz) got some shots, but we had a tough 5-4 freshman on her (who) was able to body her up a bit," said Hainline. "At the end, we were bringing back-side help because we knew she would spin to the middle."
Kourtney Fark paced Celina with 13 points with Heiby scoring 12.
Both teams wrap up their regular season on Thursday. Fort Recovery makes the short trek east on Ohio 119 to face St. Henry in Midwest Athletic Conference play. Celina is at home on Thursday at the Fieldhouse to take on Kenton in Western Buckeye League action.