Wednesday, February 19th, 2014
Celina knocks off rival St. Marys
Division II Sectional at Spencerville
By Ryan Hines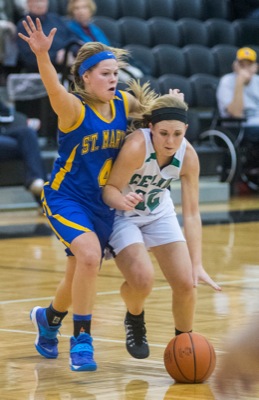 SPENCERVILLE - Celina's girls basketball team was able to withstand a second-half charge by St. Marys and the Bulldogs led wire-to-wire for a 56-46 win over the rival Roughriders on Tuesday night in Division II sectional semifinal action at Spencerville High School.
The Bulldogs (5-18) have earned the right to meet top-seeded Bath in Saturday's sectional final at 6:15 p.m. Bath (18-3), the four-time defending Western Buckeye League champions, will be a heavy favorite over the Bulldogs after having defeated Celina 65-27 on Dec. 12.
Celina knocked St. Marys off for the second time this season with a strong night at the free-throw line. The Bulldogs connected on 25-of-31 (81 percent) free throws in the game, including 12-of-14 in the fourth quarter.
"There have been games when we would shoot great at the free-throw line and other games where we shot poorly. We always seemed to shoot decent in practice. Of course, it's always easy to shoot them when there isn't any pressure," said Celina head coach Toma Hainline.
St. Marys head coach Kelly Fulmer was impressed with how Celina closed out its win at the charity stripe.
"We were trying to foul to get back in the game but they were knocking down their free throws and that was commendable today," said Fulmer.
Even though the Bulldogs won by 10 points, there were some tense moments in the game.
Celina was clinging to a 16-13 lead early in the second quarter but created a bigger cushion with a 10-2 run during a span of 2:39 that put the Bulldogs on top 26-15. Heather Heiby hit a mid-range jumper and St. Marys' Kelsey Rohrbach answered with two free throws but the Bulldogs then scored the next eight points. Kourtney Fark made a shot in the lane and then Trish Dennis, Heiby and Kelly Stahl each added a pair of free throws to complete the run.
The Bulldogs took an eight-point lead into halftime but St. Marys regrouped and came out strong early in the third quarter.
Erika Angstmann and Rohrbach hit back-to-back buckets and Reagan Aller scored four points to help spark a 9-2 run that cut the Roughriders' deficit to 32-31 at the 2:50 mark of the third quarter.
"I just tried to remain calm with the girls. I know if I get too excited, they get too excited, so we just tried to remain calm," said Hainline. "They were composed when it got tight and that was good to see."
Stahl then closed the third quarter with four straight points to give the Bulldogs a 36-31 lead entering the final eight minutes of action.
"We were able to pound the ball into the post and got to within one point but Stahl came back into the game after some foul trouble and helped them pull away. She was a game-changer at that point," said Fulmer.
An Aller bucket with 7:14 on the clock in the fourth quarter pulled the Roughriders to within two points at 38-36 but Celina then had an 8-1 run that put the Bulldogs comfortably in front by nine points at 46-37 with 3:22 remaining in the game.
St. Marys never got closer than seven points the rest of the way as Celina closed the game by making 10-of-10 at the free-throw line.
Leading Celina's charge at the free-throw line was Heiby, who connected on 12-of-14 for the game, including 9-of-10 in the fourth quarter.
"I was telling (assistant) coach (Steve) Bader on the bench, does St. Marys know they are fouling a free-throw champion when she was in junior high?" said Hainline. "We were patient at the end of the game and Heather stepped up and hit her free throws."
Heiby finished the game scoring a game-high 18 points while Stahl added 13 points.
Rohrbach led St. Marys with 16 points while Angstmann added 15 points.