Thursday, February 20th, 2014
Cavs lose tourney opener in overtime
Division III Sectional at Wapakoneta
By Gary R. Rasberry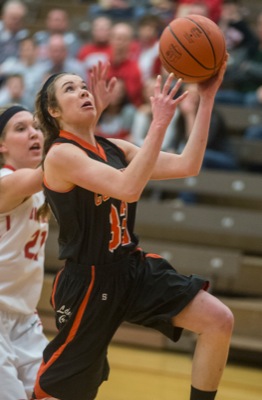 WAPAKONETA - Coldwater had a chance to win late in the fourth quarter but had to settle for overtime, and in the extra session, Columbus Grove's Julia Wynn connected on a pair of free throws with 1.8 seconds on the clock to lift the Bulldogs to a 51-49 win over the Cavaliers on Wednesday in the Division III sectional semifinal action at Wapakoneta High School.
Columbus Grove (14-9) now takes on Northwest Conference rival Allen East at 6:15 p.m. on Saturday while Coldwater ends its season at 14-9.
The game started well for the Cavaliers as Sarah Kanney hit a pair of three-pointers and added a deuce to put Coldwater on top 8-3, just three minutes into the game.
However, it would take the remaining 13 minutes of the first half for the Cavs to score 12 more points as missed shots and turnovers  tightened the game with the teams tied at 20-all at halftime.
"I thought we got into a little bit of a rhythm early, then Columbus Grove used their press and did a good job of fighting back into it," said Coldwater coach Nick Fisher. "We went through the second quarter and didn't execute well.
"There was really no flow to the game," continued Fisher. "I give Columbus Grove credit. They did what they had to do. We executed at times, but not consistent enough."
The teams traded the lead five times and were tied four more times in the second half. Columbus Grove built a 31-24 lead late in the third quarter and was leading 35-31 with 5:10 left in the fourth quarter after a Wynn bucket and two Kyrah Yinger free throws.
Coldwater quickly tied the score on buckets from Hannah Bruns and Brooke Welsch. After the Bulldogs went up 37-35, Morgan Grunden, who played junior varsity all season, nailed a three-pointer with 2:40 to go to make it 38-37 in favor of the Cavs. Sammi Stechschulte put Grove back up 40-38 with a trey of her own, but Kanney hit two free throws to tie the score at 40-all with 1:33 to go in regulation.
"It was a back and forth game, basically the last whole half," said Bulldogs coach Brian Schroeder. "They jumped out to a lead and we'd battle back. I don't know how many ties or lead changes, but there were a lot of them."
After Jade Clement broke the tie with two free throws, Bruns connected on one to leave the Cavs down by one point. After the Bulldogs lost possession on a jump ball, Kanney drove into the lane and was fouled with four seconds left. Kanney missed the first free throw before hitting the second to force overtime.
The teams traded the lead three times in the first three minutes of the extra session, and Coldwater led 49-47 with 51 seconds on the clock after an Erica Sudhoff three-pointer. Wynn got the ball inside and scored with 34 seconds left to tie the score once again.
On Coldwater's ensuing possession, the Cavs were patient trying to get the ball in the post. Bruns got the ball, but missed as Wynn pulled down her 10th rebound of the game and was fouled by Bruns, ending her night with five fouls.
Wynn stepped up and calmly hit both free throws to give her team a two-point lead. Kanney then got the inbounds pass and sprinted up court, heaving a halfcourt shot that fell short as the horn sounded.
"I basically said 'Hey, this is a lot of fun, girls, I don't want this night to end, but Julia, you can go ahead and hit those free throws,' " said Schroeder. "She seemed cool, calm and confident. That first one goes in, that certainly makes the second one easy."
"There were opportunities," said Fisher. "We just didn't execute effectively."
Kanney finished her night with 17 points while Bruns added 14.
Wynn scored 14 points to lead the Bulldogs. Lynea Diller scored 11 before fouling out late in regulation and Clement added 10.