Friday, February 21st, 2014
Heitkamp surprised record not broken sooner
By Robb Hemmelgarn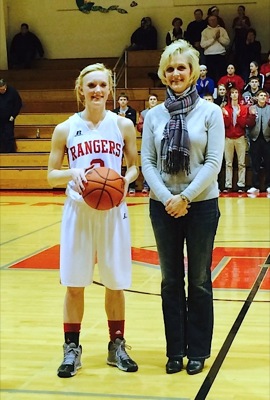 More than three decades have passed since Jill (Henschen) Heitkamp's name flashed in the headlines of local newspapers on a regular basis, but the former New Knoxville basketball standout hit the news wire quite a few times recently when current Rangers' standout Haley Horstman cruised past her into the top spot as the all-time leading scorer.
Until Feb. 6, Heitkamp enjoyed an extended vacation at the pinnacle of the program's record book with 1,178 points that she logged from 1980-1983, a mark that was the oldest remaining leading scorer record of any of the Midwest Athletic Conference schools.
"Honestly, with some of the outstanding teams and players that have come through New Knoxville in the past 30 years, I figured it would be broken sooner," Heitkamp advised. "I followed Haley's last few games and was in Fort Recovery when she passed the record. She is an outstanding player who excels both offensively and defensively. She works so hard, so it didn't bother me at all that she broke the record because who wouldn't want to be passed by such a great player who is the complete package?"
When Heitkamp's career at New Knoxville tipped off in 1980, the MAC was less than a decade old, but playing at the smallest school in the league didn't deter her from evolving into one of the premier players in the Grand Lake area from an early age. She accepted the distinction of role player as a freshman, an aspect that paid dividends in the long run.
"Never in a million years did we ever use the size of our school as an excuse to not be competitive," said Heitkamp, who also excelled in volleyball. "All of the junior varsity basketball players dressed varsity because our numbers were so low, but we were never intimidated. I came off of the bench often as a freshman and gained valuable experience from playing that role in 1980. It is sort of funny because I usually went in for Lynn Schroer - who is Haley Horstman's mom - and she was notorious for picking up fouls early in the game and usually had to sit out, so it gave me a great opportunity at a young age."
As a sophomore, Heitkamp earned a spot in the Rangers' starting rotation and with her dad, Dennis, as the head coach she poured in 13 points per game and was selected first team All-MAC in 1981.
"I started for the first time when I was a sophomore, but I don't recall ever really being nervous," she commented. "I played with a lot of great seniors that season which also helped to take off some of the pressure. Girls like Jo Ann Bambauer and Jill Shiley helped to make the transition easier and taught me things that I took with me for the next couple of years."
Heading into her final two seasons in New Knoxville, Heitkamp escalated her scoring each year to 15 and then 20 points per contest, while also repeating as first team all-conference during both campaigns. Although the Rangers didn't have particularly glaring seasons as far as wins and losses were concerned, Heitkamp pointed out that both years were still extremely enjoyable for her and her friends.
"They were both rebuilding seasons and we didn't perform so great record-wise, but we had a lot of close games that if there were a three-point line at the time, we probably could have won," she explained. "Although we didn't win as many games as we would have liked during the regular season, the highlight was defeating state-ranked New Bremen in the sectional tournament each season and advancing to the district finals."
The curtain closed on Heitkamp's career with a defeat to Marion Local in the district final in 1983, and from there she elected to further her basketball and volleyball careers at Ohio Northern University and later at Wright State University-Lake Campus.
"I played basketball for just two years after high school," she remarked. "I figured out in a hurry that the older you got, the harder it was to recover after games and from injuries. It was a very difficult decision to give up playing the sport that I loved, but as competitive as I was, it was even more difficult to not be able to compete at the same level as I had in high school."
Today, Heitkamp and her husband, Greg, live in New Bremen while their three children - Clay, Devon, and Diana - are all involved in athletics. She enjoys catching high school games in the area and following the success of local teams on the hardwood.
When reflecting on her own playing career, Heitkamp quickly acknowledges her dad, who still coaches New Knoxville's eighth-grade girls' team, as her biggest inspiration on and off the court.
"He was my head coach all four seasons that I played, and I knew what he expected so it took away some of that apprehension early on. We watched a lot of film together after games, while my brother compiled the statistics. It was truly a family event," said Heitkamp. "He was also very good at keeping basketball issues inside the gym and out of the house, but we still bonded a lot through the sport when we were back at home. The most notable life lesson that I learned back then was that you have to give 110 percent all the time with passion. The world is a competitive arena. Athletes need to give it everything they have at an early age or they will never know what they are capable of achieving."