Monday, February 24th, 2014
Wintery conditions boost number of house fires
Eight fires recorded in the area since mid-December
By Shelley Grieshop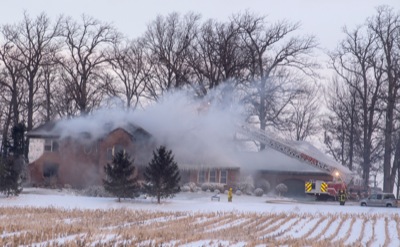 Bitter cold weather this winter is linked to half of the eight house fires investigated locally since Dec. 16.
Determination of the exact causes of most of the fires in Mercer and Auglaize counties is pending by the State Fire Marshal's Office or insurance experts. However, old or overloaded wiring, a chimney and wood-burning stoves were the sources of blazes in Fort Recovery and St. Henry, and two in St. Marys, officials say.
Residents often make poor choices that result in devastating consequences, St. Henry Fire Chief Matt Lefeld said.
"People do a lot of things they shouldn't do," he said.
Officials say there are several sources routinely blamed for winter home fires.
"Sometimes it's those space heaters that get too close to beds and curtains, or fireplaces that stay dormant all year and don't get cleaned out properly before being used," Lefeld said.
Chimney fires - like the one his department battled Jan. 22 that destroyed a home on Fort Recovery-Minster Road - can be deceiving, he said.
"You can see smoke coming out the top and think everything's OK. But if the flue isn't cleaned out well, heat will build up inside and can start the walls of the home on fire," he said.
Winter conditions definitely increase the risk for fire, he added.
"With the extended winter and the cold, cold temperatures we've had, the potential is here," he said.
State Fire Marshal spokesman Michael Duschesne said the extreme winter conditions since January have led to a statewide increase in house fires, although statistics are not yet available. State Fire Marshal Larry Flowers said Ohioans need to heed warnings.
"The cold weather and a need to keep warm can lead to behaviors that enhance the possibility of residential fires," he said. "The use of alternative heating sources can greatly increase the chance of a fire occurring."
The Southwest Mercer Fire Department on Dec. 16 responded to a house fire that razed a dwelling on Lowry Road. The blaze likely originated in a wood-burning stove but the official cause remains undetermined, fire chief Kim Day said.
"We've been kind of lucky lately ... fewer people are burning wood these days," he said, adding it was a more frequent cause of fires in the past.
Homeowners today tend to overload circuits, he said.
"The biggest problem we see now is electrical overload," Day said, adding people often have too many extension cords in use to accommodate heat sources.
His overall suggestion to homeowners: "Be aware of your surroundings. If you're using a heat source, watch where you place it."
A frozen fire scene last week prevented Celina Fire Department officials from completing their investigation of back-to-back fires that destroyed a home on Mercer-Auglaize County Line Road on Feb. 1.
Celina Fire Chief Doug Wolters said most local fires are due to electrical malfunction.
"When it's really cold, there's a lot of strain on the wiring and panel. People plug in space heaters that can pull more power than their wiring allows," he said. "Then the breaker fails and people turn it back on. There's a reason why that breaker failed."
St. Marys city and township crews battled three house fires since late January. Poor wiring and a wood-burning stove were the sources of ignition for two, according to St. Marys City Fire Department Capt. Wayne Sweigart.
"The insurance adjuster said the wood-burning stove probably had been in use too long," he said.
The department in recent years responded to fires that began when residents accidentally put gasoline in kerosene heaters, he said.
"They just grab the wrong can," Sweigart said.
His department fields more calls during the winter months than any other time of the year. Often residents inquire about unusual odors in the home or because their carbon monoxide alarm is sounding, he added.
"Most of the time, the calls are from people who don't get their furnace or chimneys serviced properly or don't replace their (furnace) filters before winter," he said. "They throw a log in their fireplace to take the chill off but forgot to clean the flue and then there's problems."
With spring still weeks away and unusually cold temperatures back in the forecast, fire officials ask residents to use caution.
"It's been an interesting winter, that's for sure," Day said.

Advice on preventing house fires:
• Have furnaces inspected annually, especially older models.
• Only use kerosene and space heaters according to manufacturer's instructions.
• Keep kerosene and other flammable liquids in approved metal containers in well ventilated areas outside the home.
• Never fill a kerosene heater while it is operating or hot.
• Do not use the kitchen oven to heat a home. It can be a fire hazard and a source of toxic fumes.
• Wood stoves must be properly installed at least 3 feet from combustible materials and have proper floor support and adequate ventilation.
• A wood-burning stove should be burned hot twice a day for 15-30 minutes to reduce the amount of creosote buildup.
• Have chimneys inspected annually and cleaned, if needed, especially if not used recently.
• Keep a glass or metal screen in front of fireplace openings to prevent embers or sparks from jumping out or unwanted materials from entering.
• Ensure fireplaces are out when you go to sleep.
• Do not overload electrical circuits when using electric heaters, and avoid using them in bathrooms or areas where they may come in contact with water.
• Never thaw a water line pipe with a blow torch or other open flame. Use hot water or a lab-tested device such as a hand-held dryer.
• Practice fire escape routes with every occupant in your home.
• Be sure all fire/smoke alarms are in working order.

- State Fire Marshall's Office