Tuesday, February 25th, 2014
Looking for a change
Current sectional tournament format not favored by coaches
By Robb Hemmelgarn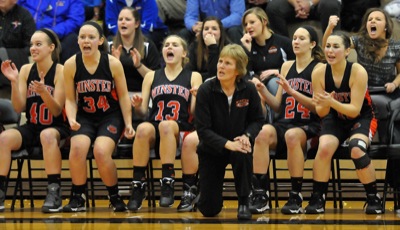 As Allie Thobe hoisted her desperation three-pointer toward the rim with less than a second remaining in Saturday's sectional championship between her Marion Local Flyers and the Minster Wildcats, the 1,500-plus fans inside The Palace at Coldwater High School drew a collective breath.
No matter the outcome of the shot, a very good girls basketball team was going to call it a season before ever making it past their second tournament game. The ball nestled between the rim and backboard for a brief moment before dropping to the floor, sending the Minster fans into a frenzy. Unfortunately for Treva Fortkamp and her 10th-ranked Flyers, the campaign was over, and they were forced to pack their bags in sectional despite the realistic hope they had for advancing to the regional and possibly the state tournament. The Wildcats and Flyers were two ranked teams in the Division IV sectional at Coldwater along with New Knoxville, which entered the postseason 18-4 and on a 16-game winning streak.
"I just don't understand how every district other than the Northwest offers a larger sectional setup. It is unfair," remarked Fortkamp. "Berlin Hiland and Fort Loramie were watching the teams at our tournament. Other districts definitely have a scouting advantage in that regard. We have to focus on every game right off of the bat and if we make it to regional, we have just four days to prepare for the next opponent."
Year after year, the girls sectional in Coldwater is stacked with state-ranked teams in both boys and girls basketball, as well as volleyball. Many of those squads could likely devour the competition down the line while enjoying extended tournament runs of their own but are normally forced out by another very good team, because the Northwest District does not utilize an expanded sectional tournament format. This does not sit well with local coaches, who have been extremely vocal about the subject for quite a few years and feel they haven't received valid reasoning for their concerns.
"This topic surfaced 15-20 years ago when we would have a district board member show up for the tournament draws in basketball," recalled Minster boys' basketball coach Mike Lee. "We asked about going to this format and they always reasoned that our schools would have to travel more and they didn't see it as a good thing for the Northwest District. That was their answer year after year, although we explained that we would travel an extra 15-30 miles if necessary. We already send cross-country teams to Youngstown for a regional, as well as our district swimming team to Cleveland, so travel is not the issue for our fans."
Much in line with the theory of the NCAA basketball tournament, ideally the postseason should become progressively more difficult at each level, but this is far from the case in the Northwest District. Last season in order for the Fort Recovery Indians, who finished 18-4 in the regular season, to advance to the regional tournament, they would have had to upend three state-ranked teams, but they were knocked from the sectional tournament by Marion Local, who ended the regular season 10-12.
"I feel teams should be rewarded for having a good regular season," explained Marion Local boys' basketball coach Kurt Goettemoeller. "In comparison with Fort Recovery last season, Versailles finished with a comparable record, but were struggling at the end of the year. They however, had the good fortune of going to the Southwest District into a 20-plus team super sectional. Theystarted with two or three games against lesser competition. It allowed them to right the ship and gain confidence, and they made their way all the way to the state final. They earned the right to have some easier games in the beginning of tournament by virtue of their record. There is little reward for teams in our area for having a solid regular season come tournament time."
This year's boys' sectional in Coldwater includes Marion Local (17-5), who began the season as the number-one ranked team in Division IV, as well as Fort Recovery (15-6) and Spencerville (15-5). The trend isn't unique to basketball, as sectional volleyball is annually stuffed with state-ranked squads, including two seasons ago when four of them finished their season in the final Division IV state poll.
"I fought very hard when I was coaching at New Knoxville to get a super sectional type of draw - we researched the pros and cons along with the opinions of the coaches involved and presented our findings to district board," commented former New Knoxville and current hall of fame volleyball coach, Chuck Braden. "We explained that the district should be one step higher in competition versus sectionals, which it wasn't. Currently, the first round of district games is weaker than sectional final matches in many instances. We tried to make the case that a different arrangement would provide better competition, which in turn would provide more revenue, but nothing has changed."
Midwest Athletic Conference teams battle against some of the best competition in Ohio throughout their regular seasons, as is evidenced with the conference's more than 100 state championships in team sports. Critiquing the opponents that the surviving teams face later in the tournament trail, it is the general opinion among fans and media that many of the league's middle-tiered teams would have competed very well at the regional and even state levels on occasion. Unfortunately those teams never have the chance of making it through one or at the most, two post-season games.
"When I look at first round sectional games from the Southwest District and see 110-52 and 90-29 scores, it is a little upsetting - I guarantee no score in Coldwater will even come within the same universe as those and those teams can make it to the district final without even playing a team with a winning record," New Bremen boys basketball coach Adam Dougherty pointed out. "There is also a two-week window to complete the sectional, which leads to nothing but scheduling nightmares during the regular season with make-up games with schools from other districts. I think every district should run the tournament the same way whether it is everyone has a super-sectional type of format or no one has one at all."
If a team from the Coldwater sectional should advance to the regional tournament in the coming weeks, they will likely square off with the defending state champion Fort Loramie Redskins from the Southwest District, who opened this season's tournament with an average margin of victory of 55 points.
"The district is always saying that they have to cut costs and money is an issue, but do they realize that when the largest fan bases are knocked out of tournament in the first game or two that the money goes with them?" Fortkamp questioned. "I don't want to hear the excuse about travel because they don't have a problem sending our cross country teams an hour and a half north for tournaments. It is just a shame that some of the best athletes in this area never get out of sectional and those are the ones that are getting their dreams crushed."
At this point it is uncertain whether our area will ever see the format adjusted, but the day can't come soon enough for local coaches, fans, and administrators if it is. Perhaps there is some light at the end of the tunnel though, as this season a larger sectional will be implemented for baseball and will include seeding more than a dozen teams, with the first round being played on the home field of the higher seed. Although basketball and volleyball coaches feel this is a step in the right direction, some question the higher-seed hosting the first round.
"I really like the idea of a bigger sectional and we have been pushing it for years," commented Coldwater Athletic Director Eric Goodwin. "I don't like the idea of the top team being the host school though because I feel it takes away the tournament atmosphere. I feel the Division IV setup at Coldwater is special and I think having the higher-seed host would lose that tournament feel."
Following their triumph over Marion Local on Saturday, Minster girls' head coach Nann Stechschulte summed it up in her postgame interview.
"I wouldn't say this if we lost tonight, but we won and I feel the same way. There is absolutely no reason to have two ranked teams, as well as New Knoxville, who I feel can beat anyone in the state, in the same sectional. Some schools in other districts have the luxury of looking four games ahead and we can't even look one minute ahead on our path and I wish that is something the Northwest District would fix. Right now it is very unfair."
Despite numerous email requests, officials from the Northwest District Athletic Board did not provide comments for this story.